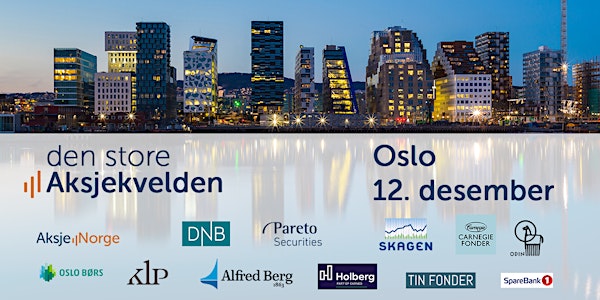 Den store aksjekvelden i Oslo
Hva kan vi forvente for aksje- og fondsparingen vår fremover? Delta på gratis helaften om aksjer, fond og investeringer!
When and where
Location
Oslo Kongressenter Folkets Hus AS 21 Youngs gate 0181 Sentrum Norway
About this event
Den store Aksjekvelden er et fysisk gratis-arrangement i regi av stiftelsen AksjeNorge.
Aksjekvelden avholdes i samarbeid med Oslo Børs, Pareto Securities, DNB Markets, DNB Asset Management, SKAGEN Fondene, ODIN Forvaltning, HOLBERG, Alfred Berg Kapitalforvaltning, KLP, Carnegie Fonder, Tin Fonder og AksjeNorge.
På scenen vil du høre noen av Norges fremste aksje- og investeringseksperter, analytikere og økonomer. Vi skal innom temaer som:
Markeds-situasjonen og veien videre
Hvordan bygge en robust portefølje
Norske og nordiske aksjemarkeder
Sektorforedrag innen sjømat, energi, shipping, helse
Bærekraft, svanemerking og rød-grønne investeringer
Konkrete aksjetips fra aksje-ekspertene
Kortversjon av programmet (detaljert program oppdateres etterhvert på www.aksjenorge.no):
Kl. 17:00: Oppmøte og mingling
Kl 17:30: Foredragene starter med korte innlegg om dagens markedssituasjon og deretter med en panelsamtale med aksjeeksperter. Videre blir det korte og konkrete foredrag om sparing i aksjer og fond, ulike sektorer, konkrete aksjetips og om bærekraftige investeringer. Detaljert program kommer straks.
Pauser: Det blir to pauser, men servering av kaffe/vann og noe smått å tygge på i én pause. Husk å spise middag på forhånd. I pausen kan du besøke de ulike med-arrangørene på stand og stille spørsmål eller bare snakke med hyggelige folk med samme interesse.
Kl. 21:00: Vi avslutter dagens event.
Hvem passer dette for? Dette passer for alle som er nysgjerrige på aksjer og fond enten du er nybegynner eller ekspert, ung eller godt voksen.
Opptak: Det blir ikke gjort opptak men vi vil tilstrebe å dele videoer med de fleste av foredragsholderne på et senere tidspunkt.
Påmelding: Klikk på den oransje knappen for å registrere din påmelding. Husk å skrive inn din e-post-adresse når du melder deg på. Da får du beskjed om oppdatert program. Vi ønsker at flest mulig melder seg på i separate påmeldinger for at alle deltagere får personlige påminnelser om tid og sted, men du kan godt melde dere på to-og-to. Ta med en venn eller yngre/eldre familie-medlem du vil skal lære mer. Tidligere har vi sett foreldre ta med tenåringen sin, så gjør det gjerne. Dette passer for alle. Dette er også en unik mulighet å stille egne spørsmål til ekspertene i pausene.