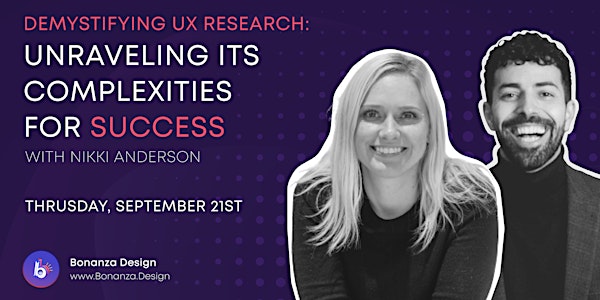 Demystifying UX Research: Unraveling its Complexities for Success
In this live event you will discover the true essence of UX research, breaking the myth of perfection
Date and time
Thursday, September 21 · 9 - 10:30am PDT
About this event
1 hour 30 minutes

Mobile eTicket
In this insightful webinar on UX research featuring renowned expert Nikki Andersen, you will discover the true essence of UX research, breaking the myth of perfection and emphasizing the value of embracing imperfection for personal and professional growth. 
You will gain a holistic perspective on validation approaches and learn why negativity and challenges are essential for driving innovation, exploring the pivotal role of a researcher as a catalyst for change, guiding teams towards user-centric design decisions. 
Behrad and Nikki will candidly discuss the inevitability of mistakes in user research and their transformative potential. 
Whether you're an experienced professional or a newcomer, be inspired to embrace the learning process, fostering a culture of continuous improvement and resilience. 
Here we will unravel the complexities of UX research, offering valuable insights to empower and elevate your skills. 
Don't miss this opportunity to gain a fresh perspective and join a supportive community that champions growth and collaboration in the field of user research.
About the speakers:
Behrad Mirafshar is the founder and CEO of Bonanza Design GmbH.
Bonanza Design is a rapidly-expanding Innovation Studio with a global team based in Berlin, Germany. Behrad started the company in 2020; within just 2.5 years (and during a worldwide pandemic), the team has grown from two to 16 with annual revenue of over 1€ million. Through his passion and hard work (and without any venture capital), Behrad has built business relationships with companies such as wefox, Zalando, and HomeServe.
User Research Academy founder and user research coach, Nikki Anderson, is a passionate advocate for user researchers. With a background as a UXR since 2015, Nikki understands the challenges of working as a team of one and the feelings of loneliness and self-doubt that can arise. This motivated her to create a thriving user research community, offering support, empowerment, and a sense of belonging. Through User Research Academy and the membership program, Nikki aims to inspire and empower user researchers, providing them with the tools, knowledge, and confidence to excel in their careers. By fostering a supportive environment, she encourages user researchers to embrace new methods and approaches while having fun and finding fulfillment in their work.
The ultimate training program for anyone looking to kickstart their career in the exciting field of UX design!
Transform poorly designed websites and apps into high-quality case studies for your portfolio with UX Gym's 12-week program!


No BS, just badass design skills you'll acquire. 


And when it's all said and done, you'll have a portfolio with 4 killer case studies.
Click here to learn more!
About Bonanza Design
Bonanza Design is an innovation boutique specialized in designing fintech & productivity apps. Turn around your business and get to exponential growth using
1. Lean Innovation Sprint: A factory line approach to innovation. Tackle the risks of developing new businesses upfront by validating your core hypotheses using throwaway MVPs and rapid experimentation through a continuous 3-week cycle of Learn-Prototype-Test.
2. UX Design & Research: Bonanza Design's Lean UX Sprint boosts your product discovery efforts by maximizing your learnings through a continuous 3-week cycle of Learn-Prototype-Test.
By signing up for this event, you agree to be included in our email newsletter list. You can opt-out at any time.
About the organizer
At Bonanza Design, your innovation powerhouse, we help organizations such as Siemens, Zalando, and Wefox find their differentiation point by identifying the most pressing needs of their customers.
.
We hold periodic events for the public and companies to share how we solve problems using different techniques including design thinking and sprint, service design, etc. What you get is how we solve problems.
.
.
.
(Abbas) Behrad Mirafshar
Managing Director and Partner
Website: https://www.bonanza.design/
LinkedIn: https://www.linkedin.com/in/behradmirafshar/
Instagram: https://www.instagram.com/bonanzadesign/