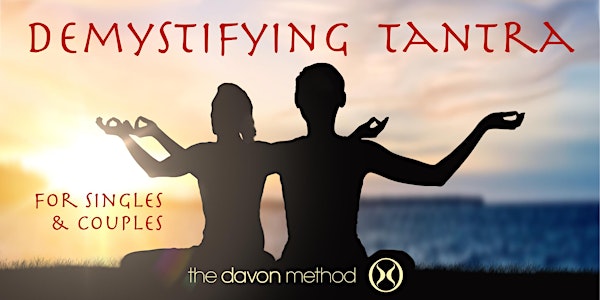 Demystifying Tantra for Singles & Couples with Alicia and Erwan Davon
Join us for an evening workshop for both singles & couples and learn practices to demystify this sacred practice so anyone can enjoy it!!
When and where
Location
The Center SF 548 Fillmore Street San Francisco, CA 94117
Refund Policy
Refunds up to 30 days before event
Eventbrite's fee is nonrefundable.
About this event
**This event is sold out AND we have scheduled our next event at The Center led by Erwan & Alicia on 2/18 for those of you that didn't get tickets for this one in time!**
"Where Breathwork & Tantra Meet- increase vitality & love for singles & couples"
Sign up here https://www.eventbrite.com/e/523094438547
Have you ever wondered what Tantra is really about and how you can practice it as a single or a couple?
Or, are you already practicing Tantra and interested in expanding your experience even more in terms of depth and enjoyment?
Tantra is a popular and commonly heard phrase these days, and for many of us, it is intriguing, and different images and ideas come to mind when we hear it, but we are often left feeling a bit in mystery about what Tantra actually is!
Tantra is a meditative sensual practice that can lead to greater intimacy and connection between partners as well as spiritual development. But what does that look like in practice, and how can we access this practice no matter how much experience we have had with it?
Can a spiritual practice really be complete if part of us is left out? Especially a vital, energizing part of us that can supercharge anything we do?
Truly understanding Tantra and knowing how to use it can not only make your love life take off but increase your energy all around.
Both singles & couples often have the interest and desire to bring more depth and sizzle to their relationships, but few know how to ask, who to ask and what to ask!
Erwan and Alicia are experts in the field of bringing sensuality and spirituality together, and they provide a time tested, practical, safe yet sophisticated, exciting and tantalizing approach to tantra and sensual energy in relationships.
In this class we will explore the most essential of the Tantric practices including:
Breathing and synchronizing the breath with a partner (you don't need a partner for this class)
Circulating the energy throughout your body and between your body and the partner's body
How to build energy in erogenous zones without touching them, and how to touch somebody without touching them, all the way to an experience of non-dual Unity
You will leave with a set of skills and a special set of touching practices that are safe and easy to get into, which you can practice yourself or with a partner.
There will be plenty of time for discussion and Q&A so you get all of your curiosities and questions addressed.
The evening will be very experiential. There will be no explicit sexual activity on the part of the facilitators or the participants.
Wear comfortable clothing and bring a yoga mat if you have one! Yoga mats will be provided by The Center but they are limited.
Erwan and Alicia are very entertaining, so expect to have fun. They'll be available after the class in the main tea room for social time, discussion or questions.
All ages, genders, races and body types are welcome. You are guaranteed to meet some fun people. Come as you are! Please arrive on time, event will start on time and doors will close by 8pm!
About Erwan & Alicia Davon of The Davon Method- Your Facilitators
Erwan & Alicia Davon are longtime teachers based in the SF Bay Area, developed their signature process, the Davon Method, and have taught it to over 15,000 students in groups, retreats and individual sessions. As a married couple, they have been teaching singles to get into relationship & couples to thrive in relationship for the last 25 years. They have become the go-to place in the San Francisco Bay Area for all things romantic and sexual and are quickly becoming that worldwide through online learning.
Erwan and Alicia have a unique approach to relationship coaching that combines their educational backgrounds in psychology and aspects of Zen Buddhism to provide a holistic method to effectively improve connection with the self and others
Erwan studied psychology and graduated with honors after a difficult childhood and an early introduction to therapeutic work. He went on to live and study in a Zen Monastery, direct a Yoga ashram, and teach personal development at one of the world's largest personal grown organizations. Erwan's passion for helping and teaching people led him to found The Davon Method in 1995, specifically to help people improve their romantic relationships.
Alicia holds a Master's degree in Integral Psychology with a focus on women's romantic and sexual expression. She trained as a therapist before meeting Erwan and led numerous women's groups devoted to female pleasure and life fulfillment from career to relationship. She met Erwan 20 years ago and started teaching with him soon after.
They have spent years perfecting their curriculum and techniques and provide a safe place so you can improve chemistry, connection, communication, and passion in your love life! Get ready to have fun because working with them is a blast!
www.davonmethod.com, Instagram + Tik Tok @davonmethod