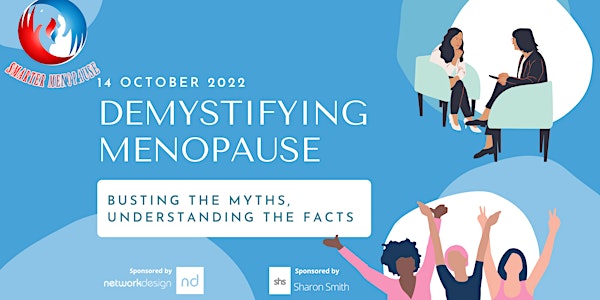 Demystifying Menopause: Busting the myths and understanding the facts
An online event with experts to provide clarity around perimenopause and menopause for personal health and in the workplace
Refund Policy
Contact the organiser to request a refund.
Eventbrite's fee is nonrefundable.
About this event
There's been so much about menopause in the media in the past 12 months that it can be confusing. It's time to get some clarity.
Whether you are experiencing menopause symptoms or managing employees at this stage of life there is essential information for you in this summit.
If you can't attend some or all of the sessions, purchase a VIP Ticket to have access to the recordings and bonus resources.
There is a line-up of specialists :
Pat Duckworth - Women's Wellbeing and Workplace Menopause Specialist
Dr Rachel Cady - Obstetrics and Gynaecology, Minnesota
Lesley Fettes - Healthy and Happy Hormones. Director at Network Design
Sharon Livermore - Kameo Recruitment, Domestic Abuse Campaigner
Amelie Prot - Founder Amelie Wellness, Menopause Specialist, Health and Nutrition Coach
Sarah Jons - Transformational Breath Trainer
Maggie Fordham - Cambridge Personal Fitness
Hannah Caulfield - Station Manager, Cheshire Fire and Rescue Service
Kirsty Dixon, Menopause Consultant, Pause for Thought Consultancy
At the end of the summit you will understand:
the role of menopause support in the workplace as a wider determinant to good health outcomes
the impact of early menopause on personal and private life and how to mitigate it.
the contribution of nutrition to reduce and control menopause symptoms
how to assess the personal risks and benefits of hormone therapy for menopause
how to change your exercise regime at menopause to optimise health
practical steps employers can take to support women experiencing domestic violence
breathing techniques to reduce menopause symptoms
how to promote an environment normalising menopause at work.
Sponsored by Network Design and Sharon Smith, creator and host of Focus Reset 2.0 Coffee and Coach.
Places are limited so reserve your spot today.
To have access to all the session recordings purchase a VIP ticket.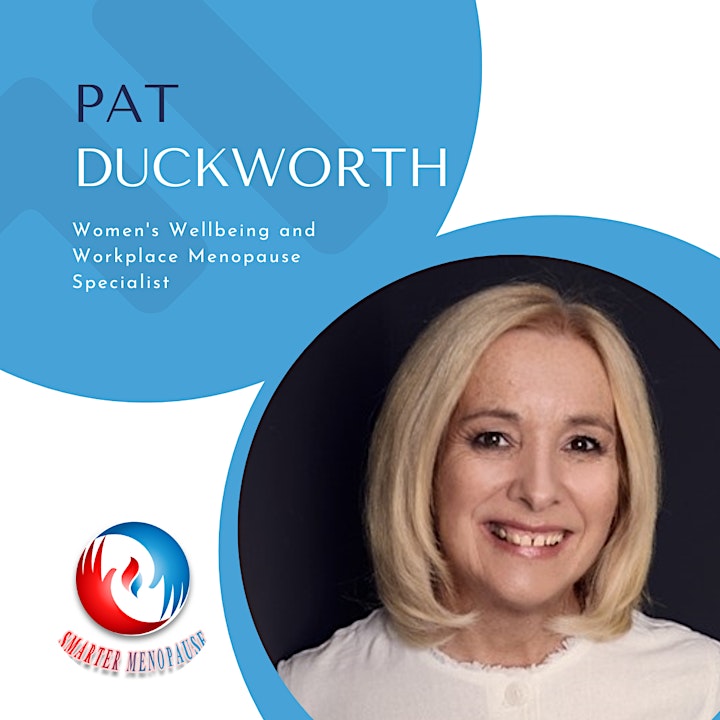 Pat Duckworth is a Women's Wellbeing and Workplace Menopause Strategist, Author and International Public Speaker. After over 30 years working in the public sector, Pat retrained as a therapist and coach. She specialises in menopause and advises employers who are committed to supporting people in the workplace at this transitional stage of life.
Pat has published five books including the Award-winning 'Hot Women, Cool Solutions: How to control menopause symptoms using mind/body techniques.' Her latest book, 'Menopause: Mind the Gap - the value of supporting women's health in the workplace' was published in January 2021 and was awarded a 9/10 rating by getAbstract.
Pat is a sought after Public Speaker and has spoken at events worldwide including America, India, Singapore, Iceland, The Netherlands, Spain and Denmark. She makes the subject of menopause accessible for everyone.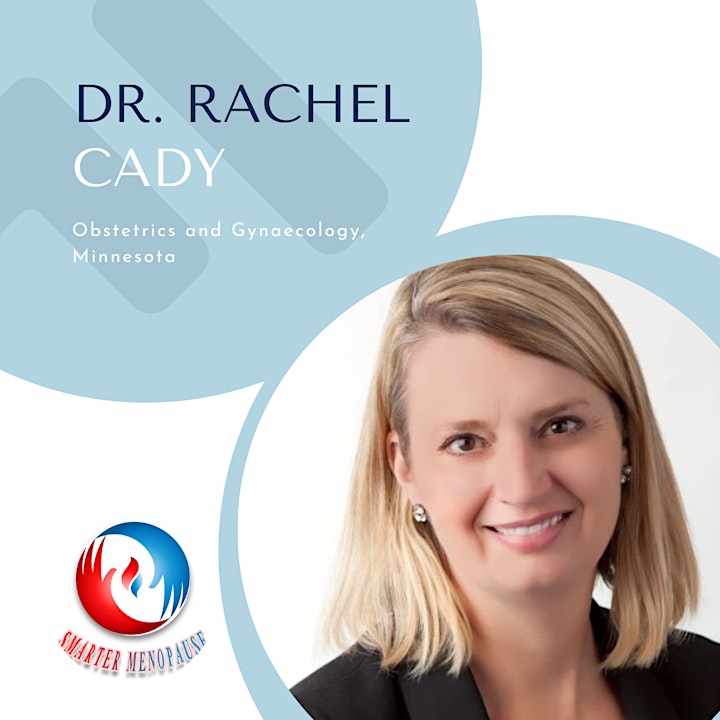 Dr. Rachel Cady is the director of the Menopause and Healthy Aging Program at Cuyuna Regional Medical Center in Crosby, MInnesota. Her areas of expertise include menopause care, sexual medicine, vulvar disorders, pelvic pain, pelvic floor rehab/incontinence and minimally invasive surgery.
A Certified Menopause Practitioner, she provides specialized care to women to help them address the many issues and symptoms of perimenopause and menopause. She is a Fellow of the American College of Obstetrics and Gynecology and an active member of the North American Menopause Society, International Menopause Society, International Society for the Study of Women's Sexual Health, International Society for the Study of Vulvovaginal Diseases, American Association of Gynecologic Laparoscopists and others .
Dr. Cady has published and presented on many topics related to menopause for both medical professionals and the community at large. She is passionate about providing collaborative care for patients.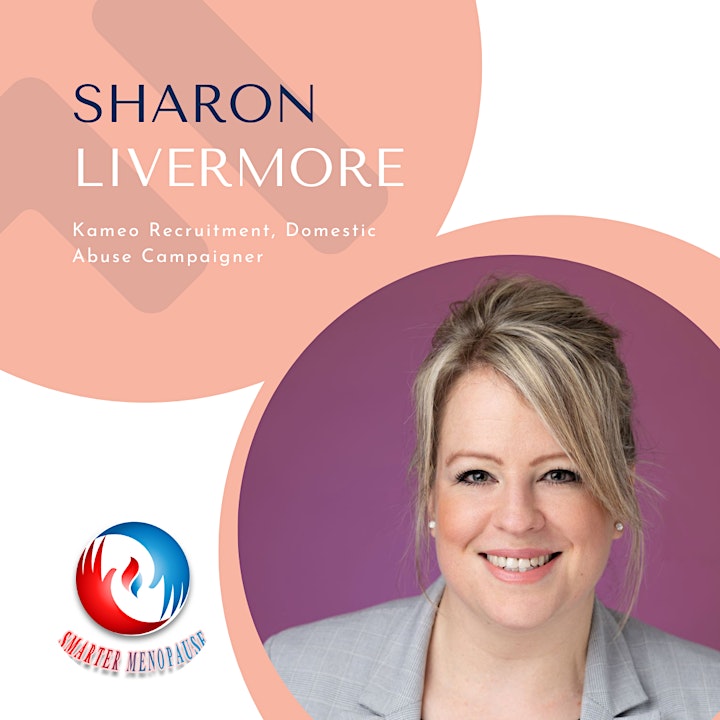 Sharon Livermore is a domestic abuse survivor, activist, campaigner, and Director of Kameo Recruitment in Cambridge, England. She set up Kameo in 2018 to not only recruit but to use as a platform to raise awareness of domestic abuse. Along with her team she actively encourages businesses across the UK to clue up on the subject.
Sharon educates businesses on the many forms abuse can take, the myths and how to identify a victim in the workplace. She is an Ambassador for the Employers Initiative on Domestic Abuse and a Campaigner for Domestic Abuse Alliance, where she is working to create a positive impact and end the perception and associated stigma that comes from the belief that 'what happens in someone's home isn't our business.' Domestic abuse is everyone's business.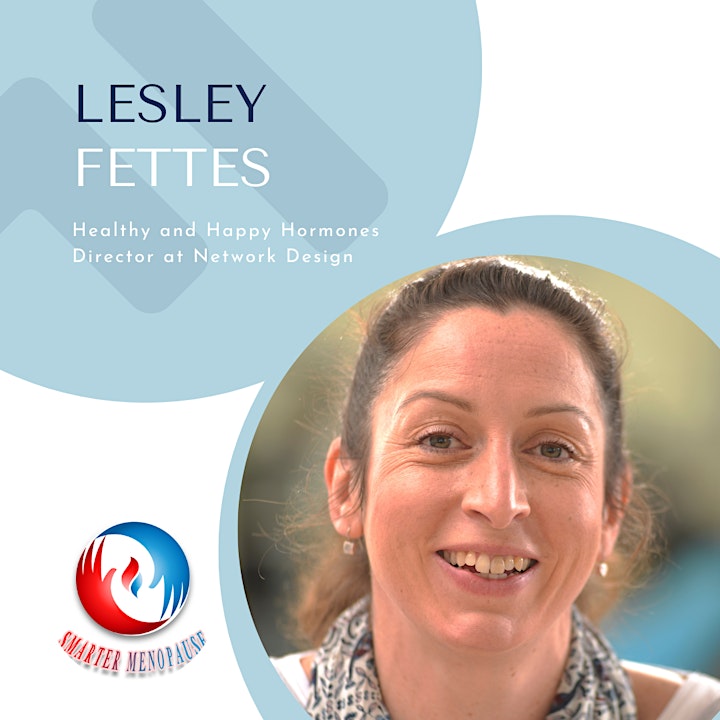 Lesley Fettes is a Director at Network Design, a full service creative marketing agency based in Cambridge, UK.
Having suffered an early menopause herself at the age of 36 she has first-hand experience of what worked to help manage her symptoms, she wants to use this knowledge to raise awareness of the impact of menopause and help support other women.
Menopause should be talked about and she wants to get the conversation started.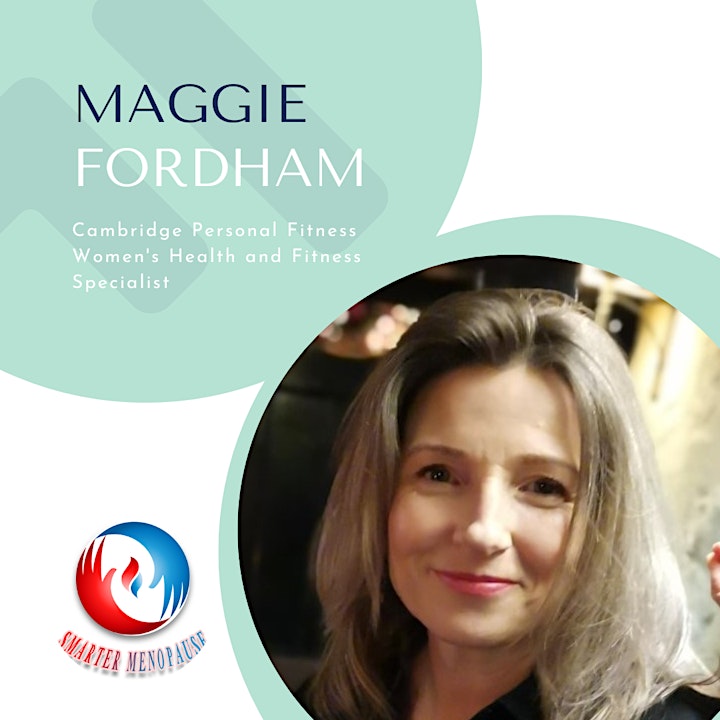 Maggie Fordham has over 25 years experience helping women learn how to honor and nourish themselves and runs Cambridge Personal Fitness, serving women from post natal to post menopause! Maggie has a BSc Hons psychology degree, is an NLP practitioner, certified holistic coach and a qualified personal trainer.
She has helped hundreds of women regain their fitness and their confidence. Maggie equips women with the tools to effectively invest in their physical and mental well-being, using nutrition, physical training and lifestyle strategies.
As a mother of three Maggie understands the challenges of balancing work and home life, whilst still caring for oneself.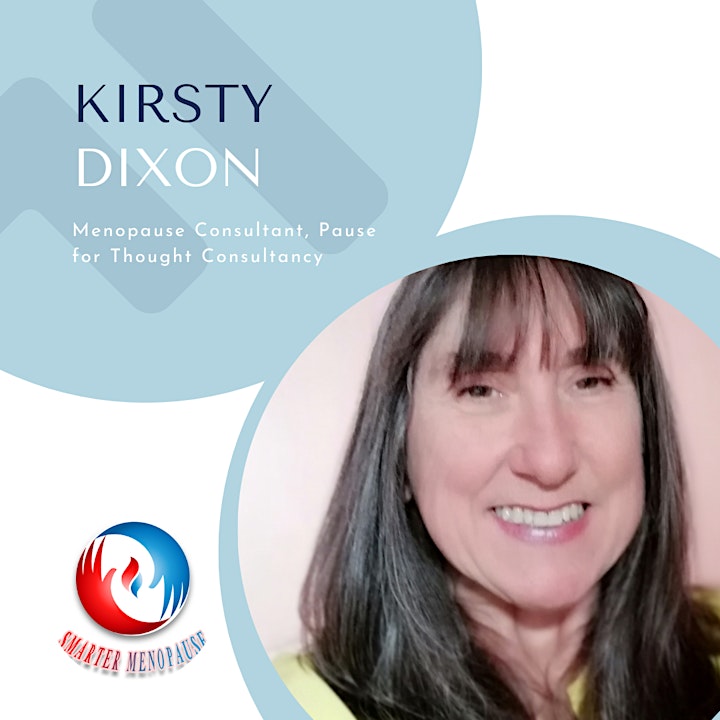 Kirsty Dixon is a perimenopausal woman who has been hit hard by menopause and its symptoms, especially at work. Like many others, she was totally unaware that it could have this impact. It made her determined to raise awareness of the effect of menopause and it's symptoms which she had been doing at the University where she worked. This mainly started about 18 months ago through an apprenticeship and had quite an impact.
It is amazing how small steps in the workplace can make such a big difference and make staff feel supported. Having the University's backing to do this was key. Such is Kirsty's passion for all things menopause she has now set up her own training and consultancy business 'Pause for Thought Consultancy'.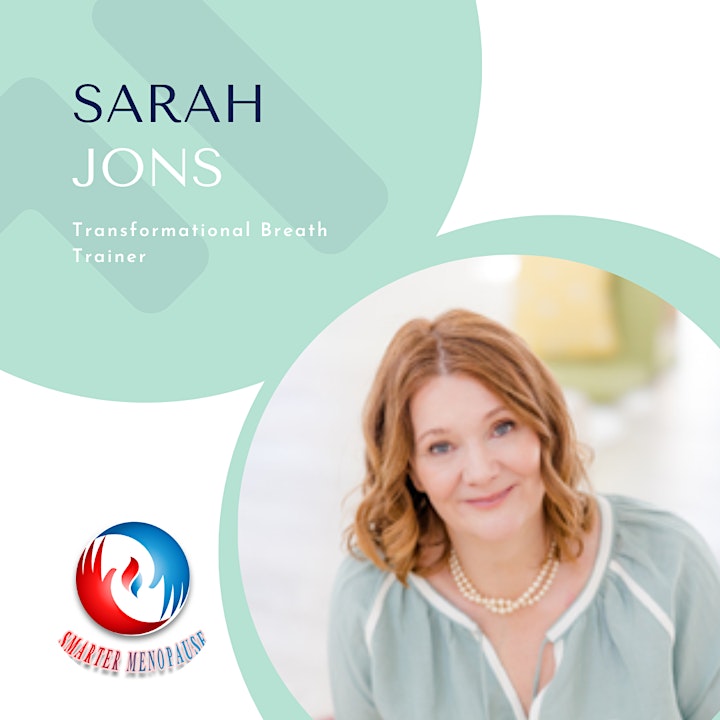 For more than a decade Sarah Jons has been working as a fertility therapist and specialises in helping women struggling to become mothers.
As co-founder of The Big Breath Company — a unique wellness provider that's received rave testimonials — Sarah has also facilitated thousands of breath clients at workshops, seminars, and retreats.
Sarah belongs to the International Breathwork Foundation, a non-profit global network established in 1994 that focuses on Conscious Breathing and Breathwork for health, well-being, and spiritual practice. She is a senior member of the British Register of Complementary Practitioners, and Vice Chair of Transformational Breath UK and mentors' students who wish to certify as breath facilitators.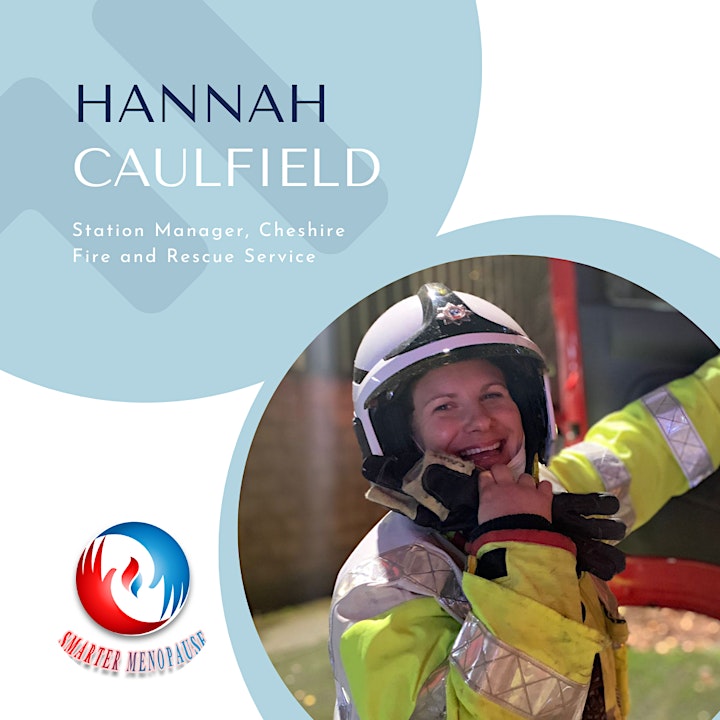 Hannah Caulfield is a Station Manager in Cheshire Fire and Rescue Service with 19 years in the job working her way up the career ladder. She currently manages five of the On-Call stations in Cheshire. She is also the Chair of the Women's Network 'Limitless' and is passionate about promoting women in the Fire Service and providing support at the same time addressing any issues and barriers to help make Cheshire an inclusive service.
Amélie Prot is the founder of Amelie Wellness, a Holistic Menopause Expert, a certified Health & Nutrition Coach and a Wholefood Culinary Chef.
Amelie helps professional women to feel themselves again, and even better than before! Take their menopause wellbeing journey into their own hands by understanding their hormone imbalances and menopausal symptoms. Build their confidence by creating health and wellbeing changes that will enable them to thrive in their careers and live a joyful life, while transitioning through menopause. In addition to working directly with professional women, Amelie also supports organisations to create menopause friendly workplaces by equipping their workforce with the knowledge and confidence to support colleagues going through menopause.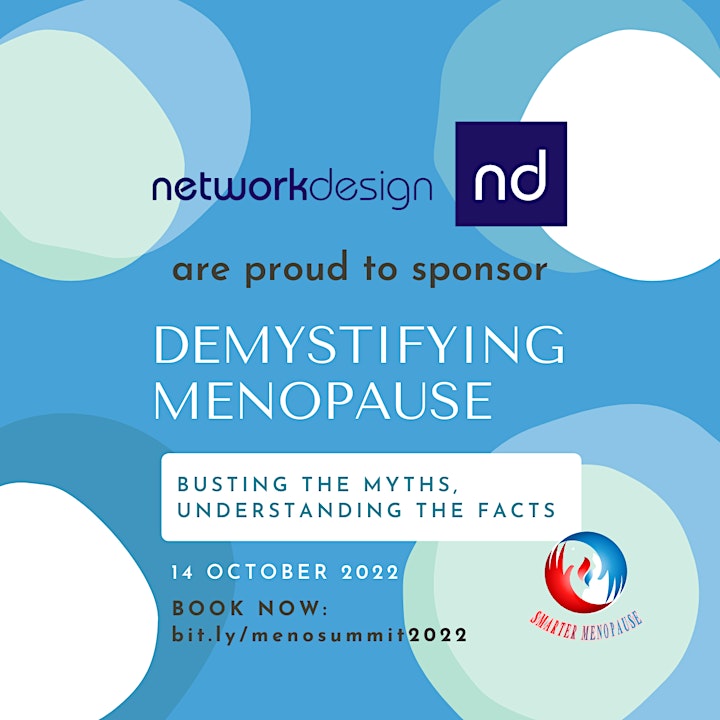 Network Design
Network Design are proud to sponsor the Demystifying Menopause summit. It is so important that women know the facts about how their hormones change and how this can impact their working lives.
Network Design is a creative marketing communications agency. We combine first-rate strategic thinking with compelling and effective creativity to get your message heard.
Whatever your product or service and whatever the medium, we grasp your requirements, apply fresh thinking, and deliver powerful results.
Connect with us at www.designbynetwork.co.uk/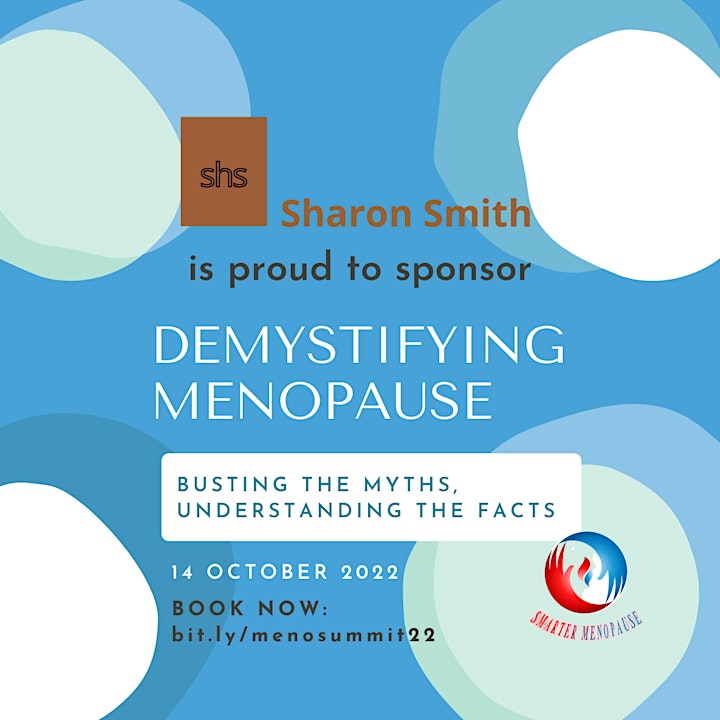 Sharon Smith
Sharon Smith is the creator and host of Focus Reset 2.0 Coffee and Coach podcast featuring coffee break size episodes to inspire you if you are at a crossroads or in transition from one season to the next or simply exploring something new.
A certified coach, Sharon loves helping professionals get clarity about their passions and purpose and have more focus and fulfilment.
Connect with Sharon about coaching, speaking or events at sharon-smith.thinkific.com.
CONNECT WITH ALL THE SPEAKERS
Pat Duckworth - Women's Wellbeing and Workplace Menopause Specialist
https://www.patduckworth.com/menopausemindthegap
Lesley Fettes - Healthy and Happy Hormones. Director at Network Design
https://www.facebook.com/groups/healthyhappyhormonesmenopause
https://healthyhappyhormones.thinkific.com/pages/free-resource
Amelie Prot - Founder Amelie Wellness, Menopause Specialist, Health and Nutrition Coach
https://ameliewellness.com/menopause-wellbeing-start-here-masterclass
Kirsty Dixon, Menopause Consultant, Pause for Thought Consultancy
www.pauseforthoughtconsultancy.co.uk
Dr Rachel Cady - Obstetrics and Gynaecology, Minnesota
https://www.cuyunamed.org/find-a-provider/rachel-scady-md-facog
Sharon Livermore - Kameo Recruitment, Domestic Abuse Campaigner
https://kameorecruitment.com/domestic-abuse
Sarah Jons - Transformational Breath Trainer
https://sarahjons.com
https://thebigbreathcompany.com

Maggie Fordham - Cambridge Personal Fitness
https://healthyhappyhormones.thinkific.com/pages/free-resource
https://healthyhappyhormones.thinkific.com/courses/Powering-through-the-menopause
Sharon Smith