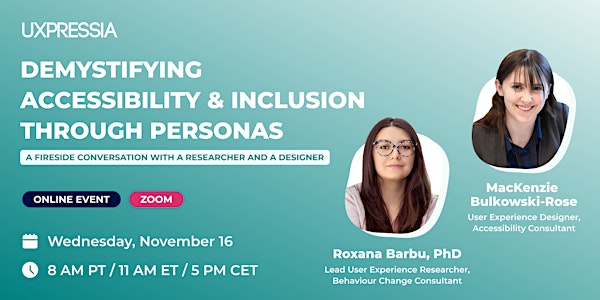 Demystifying Accessibility & Inclusion through Personas
A fireside conversation with a researcher and a designer
About this event
Many UX practitioners have a love-hate relationship with personas, and for good reason. Personas can bring to light the people we are researching and designing for. They can also collect dust in a drawer or left forgotten in a folder. At worst, they can perpetuate stereotypes and bias.
Robust personas can provide a path to inclusive solutions (products, services, experiences), something most of us agree we should be doing more of. But where do you get started?

In a live conversation, a researcher and designer will share with you their approach to personas. Whether you already have well-established inclusive practices, or you're just starting out, this talk is for you.
📄 Through examples, Roxana and MacKenzie will cover:
the breadth of accessibility (an ever-evolving landscape);
how to leverage personas to better guide your research recruitment;
how to craft personas with nuanced inclusivity in mind;
what business value do accessible personas provide;
how to make a business case for accessibility and inclusion.
The session will be followed up with the Q&A, so make sure to join live 😉
💬 Event platform & accessibility
The event will take place on Zoom with the support of automated captions.
🎤 About the speakers
Roxana Barbu, PhD (Lead User Experience Researcher @ Canada Post) brings a rich expertise in behavior change and cognitive (neuro)science to the field of user experience. She works with clients along the entire project journey - from early ideation to post-deployment to co-create innovative experiences and compelling digital solutions.
She is a rising speaker on subjects related to user experience and behavior change within the digital space and beyond. After hours, she teaches at Algonquin College's Human-Centered Design Program and is passionate about bridging academia, governments and industry. As a consultant, Roxana collaborates with organizations to:
improve solutions beyond usability, ensuring they are aligned with human behaviour and cognition;
start or refine a research practice that meets their business' and customers' reality.
Informally, she goes by The Insightful Butterfly (one of the random things she loves reading about) and takes pride in informing transformations good for people, and businesses too.
MacKenzie Bulkowski-Rose is an award-winning graphic designer turned user experience (UX) designer. She specializes in accessible design system planning, and has served clients across North America and Asia. She is also a part-time UX design professor in the Interactive Media Design program at Algonquin College.
With a strong background in science and communications, MacKenzie is a technical creative, eager to find design solutions that empower users. As a provisional registered graphic designer (RGD), she also has expertise in building strategic brands, creating engaging marketing collateral, and custom front-end web development.
When she's not designing, you can find her reading, hiking, and learning new languages.
About organizers
UXPressia is an all-in-one cloud solution for understanding customer, user, and buyer experience, engaging teams, and driving successful digital transformation. Visualize your customers' journeys, create personas and impact maps, analyze touchpoints in multi-channel interactions, and invite teammates to collaborate in real time. Export designer-quality maps and personas and present them right from your browser online.
🎥 The event is going to be recorded.