DEMOSCENE ART+TECH

Friday, March 28, 2014 from 6:00 PM to 11:00 PM (PDT)
Event Details
CELEBRATE DEMOSCENE ART+TECH with CODAME
Donations will help building the ART+TECH Playground in May.
The demoscene is a electronic art subculture that specializes in producing demos, which are audio-visual presentations that run in real-time on a computer. The main purpose of a demo is to show off the combined effort of programming, graphical artistic and musical skills.
We will be screening the NVScene 2014 Results in CODAME Style!
The demoscene first appeared during the 8-bit era on computers such as the Commodore64, ZX Spectrum, Atari 800 and Amstrad CPC, and came to prominence during the rise of the 16/32-bit home computers (mainly the Amiga and Atari ST). We are really excited to host our first DEMOSCENE ART+TECH at CODAME in San Francisco!
Check out the NVScene 2008 reel for examples of demos and demoscene art!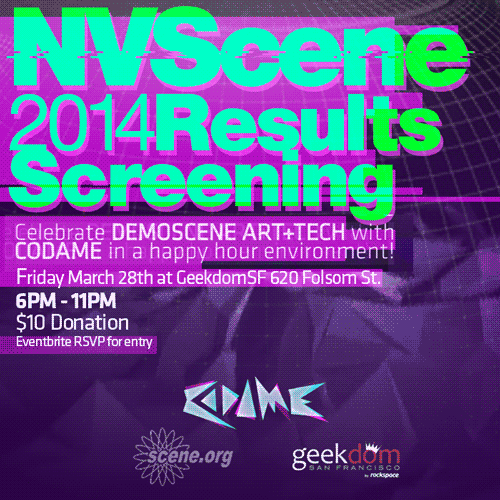 When & Where

Geekdom SF
620 Folsom St.
San Francisco, CA 94107


Friday, March 28, 2014 from 6:00 PM to 11:00 PM (PDT)
Add to my calendar
Organizer
ART+TECH projects and nonprofit events, to inspire through experience. 
50+ projects built in collaboration with tech+artists around the globe
60+ events since 2009
200+ tech+artists featured
20k+ top-industry community of engineers, designers and artists 
/// MISSION
Embracing innovation through creativity, play, and collaboration between artists and technologists. We build immersive, engaging, out of the ordinary experiences by:
Playing together with artists, coders, designers, game developers, creators, performers and musicians.
Celebrating creativity by curating magic-inspiring experiences that combine art with technology.
Inspiring entrepreneurs, innovators, startups and companies by injecting creativity into organizations. 
/// NON PROFIT
As members of Intersection for the Arts, a 501(c)(3) org. we are accepting tax deductible donations. 
// SUPPORT ART+TECH
With the support of like-minded partners we plan to triple our numbers and bring the San Francisco innovative, independent, and creative spirit of CODAME around the world. Support us or just Get in touch
/// CORE TEAM
Commodore (in-Chief) @BrunoFonzi
Amiga (Guru Meditation Handler) @staRpauSe
Atari (Artist Canvas) @Mexist
Spectrum (Ultimate Disco) @Irene86g 
Cray1 (TechArt Ninja) @KKoechley
Gravis Ultrasound (Media Munger) @AniMusicSF
JUNO-60 (Markup Master) @Gridwalk 
Beta-23 (Ops Guru) @Al_Dominguez
… and more than 100 amazing artists and volunteers…