If you wish to find the best tool available to offer your kids quality English immersion at home, this event is for you !
About this event
Come meet EMYS Robot and seize the unique opportunity to be offered exclusive discounts at the end of this entertaining event!
A few words about EMYS :
Have your children joyfully immersed in English : invite EMYS to your home. By offering this most advanced educational robot with outstanding interactive capabilities to your kids, you grant them the luxury of learning the language at their own pace and at the most conveinent times from the comfort of your home. Moreover, as EMYS is a rich source of family edutainment, you will be surprised at how much fun you can have with your kids during the games that EMYS will animate for you.
You can be certain that your kids will love their most advacned and secure digital native speaker designed to teach them english through a series of interactive tasks, games, crafts, activities, songs and stories. With EMYS your children are at the center of their learning and are prompted to practice the language actively. Once at your home, the robot will awaken your kids creativity and have them motivated as they build secure attachement simmilar in nature to the bonds that children create with their beloved stuffed animals or pets.
What to expect of the event? :
During the event your kids will get an opportunity to interract with the robot. We will play with it to demonstrate to you and your little ones how it works. We will speak to you about the methodology behind the robot and explain what you can expect of this innovation if you purchase it for your home use. Finally, we will explain to you how to seize exclusive discounts while purchasing your robot.
What are the benefits I will get at the end of the event?:
- you will be able to interact with EMYS first hand
- you will be offered up to chf 400 .- worth discount
- you will get an opportunity to get your questions answered by our expert
- if you decide to purchase EMYS, you will be among the first swiss families to own the robot
Questions? Write to us :
contact-ch@emys.co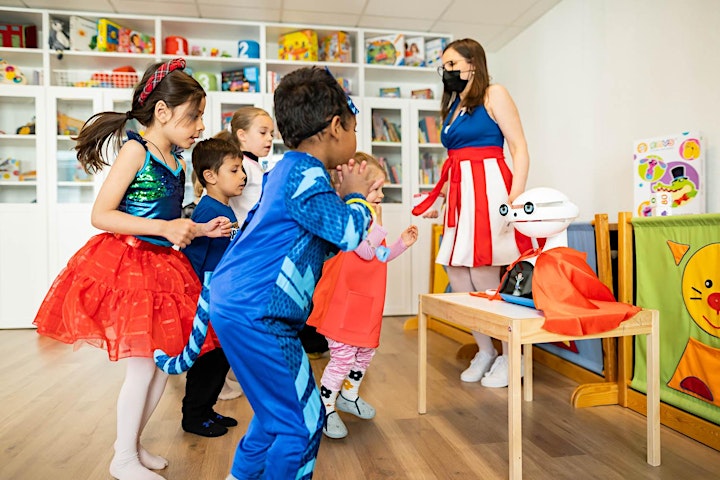 Organizer of Demonstration & games with EMYS Robot : a friendly native speaker for kids