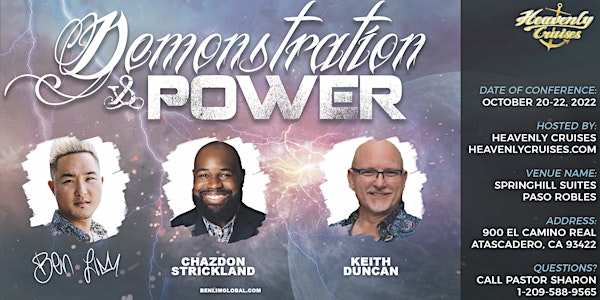 Demonstration and Power Conference
Featuring special guests Ben Lim, Chazdon Strickland, worship with Keith Duncan, and hosted by Heavenly Cruises.
When and where
Location
SpringHill Suites by Marriott Paso Robles Atascadero 900 El Camino Real Atascadero, CA 93422
About this event
You don't want to miss this life-changing event!
We are so excited to have the opportunity to do this conference in Atascadero CA. God is establishing glory hubs, areas that will serve as a catalyst to awaken a hunger for more of God's presence. These hubs will lay out a biblical foundation with Demonstration and Power for His people to live and move in greater levels of power and anointing.
The Word says, that we go from glory to glory. It's time to shift into the New Era where His glory will overcome regions with signs, wonders, and miracles. This will become a frequent occurrence in the days to come. Don't miss this opportunity to receive an impartation and witness a greater level of His glory. The conference Demonstration and Power is named so that you will come expecting to be launched into the deeper levels of the spirit. A fresh wave of His glory is here with demonstration and power and His body must experience it. This Scripture needs to become a reality for His Church in this hour - Paul says in 1 Corinthians 2:4 ~ And my speech and my preaching was not with enticing words of man's wisdom but in demonstration of the Spirit and of power.
Demonstration and Power Conference
3-Day Conference
Dates:
Thursday, October 20th - Saturday, October 22nd, 2022
Location:
SpringHill Suites Atascadero by Marriott
900 El Camino Real, Atascadero, California, USA, 93422
Tel: +1 805-462-3500
24 miles from SBP Airport
10 miles from Paso Robles
Questions about the Event:
Contact Pastor Sharon Heuton

Tel: +1 209-588-9565
Email: heavenlycruises@gmail.com
Getting Here:
Nearest Airport: San Luis Obispo County Regional Airport (SBP)
Airlines with flights to SBP: United Airlines, American Airlines, Alaska Airlines.
We suggest renting a car for your local transportation. Rental cars are available at the SBP Airport.
Hotel Information:
If you would like to stay at the same hotel where our conference is located, here's the link to the hotel and an overflow hotel for your preference:
Speaker Schedule:
Thur, Oct 20th @7pm
Fri, Oct 21st @10am
Fri, Oct 21st @2pm
Fri, Oct 21st @7pm
Sat, Oct 22nd @10am
No childcare will be provided for this event.
Ticket Details:
Early Bird Tickets:
- Access to all 3 days of event (Oct 20-22nd), at special rate.
-Sale extended to October 14th
General Admission Tickets:
- Access to all 3 days of event (Oct 20-22nd)
Pastor Ben Lim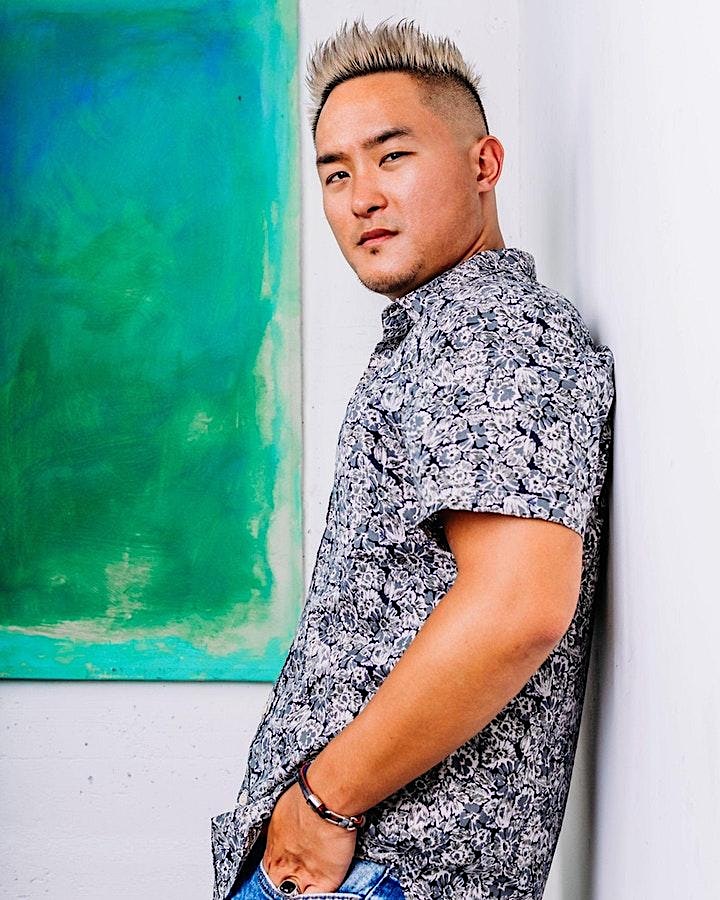 Dr. Ben Lim is the Senior pastor of Open Heavens World and CEO of Ben Lim Ministries. He is a dynamic Millennial preacher who has traveled to nearly fifty countries in the last ten years since his born-again experience. He spent his earlier years in the mission fields of Asia and Southeast Asia, preaching the Gospel to unreached people groups. He is the CEO of Ben Lim TV and Ben Lim Ministries. His ministry is accompanied with notable signs, wonders, and miracles. He has ministered in evangelistic crusades in Pakistan, Dubai, and Africa seeing hundreds of thousands come to Jesus! He is ordained by Pastor Benny Hinn and the WHF (World Healing Fellowship) and is a trusted voice and a regular feature on the Elijah List and many other prophetic channels.
Apostle Chazdon Strickland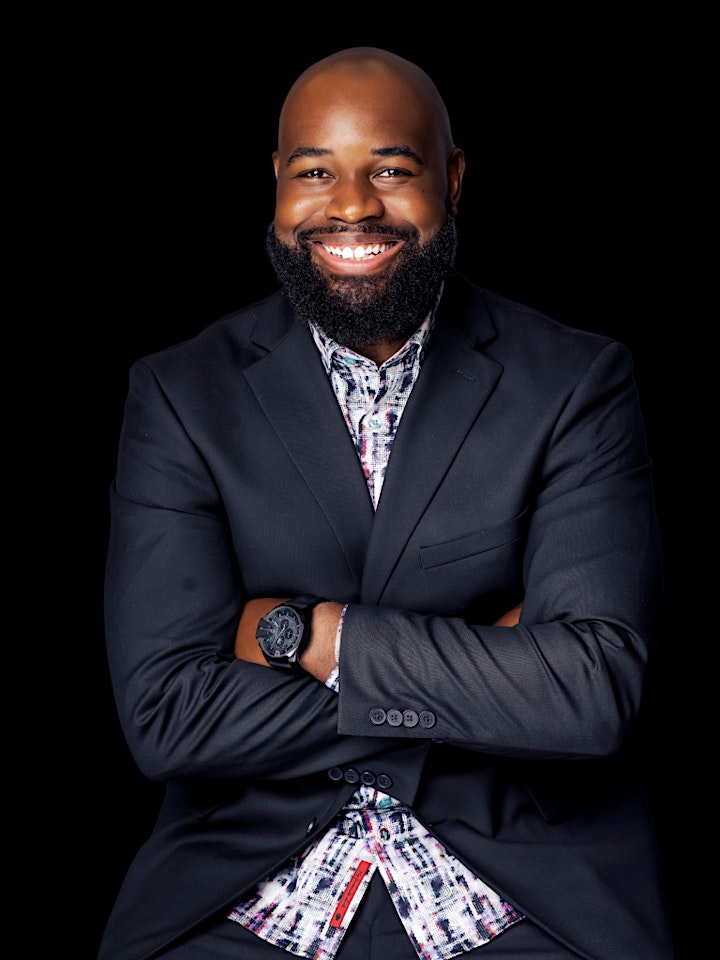 Releasing the Fire of God to the Generations
Chazdon Strickland has been happily married to his wife Emily for over a decade. They have 4 beautiful children together. After an encounter with God, they were called to carry a global fire to the nations. Their Ministry is marked with remarkable demonstrations of God's power, revelation of The Kingdom, apostolic signs and wonders, and fresh impartation to advance believers in the things of God.
Chazdon and Emily are the leaders of Ignite the Nations, Jacksonville, Florida. "Their mission is to raise an apostolic generation of men and women that will walk in their full inheritance, through teaching and preaching the full counsel of God. Their commitment is to awaken, disciple, and send."
Keith Duncan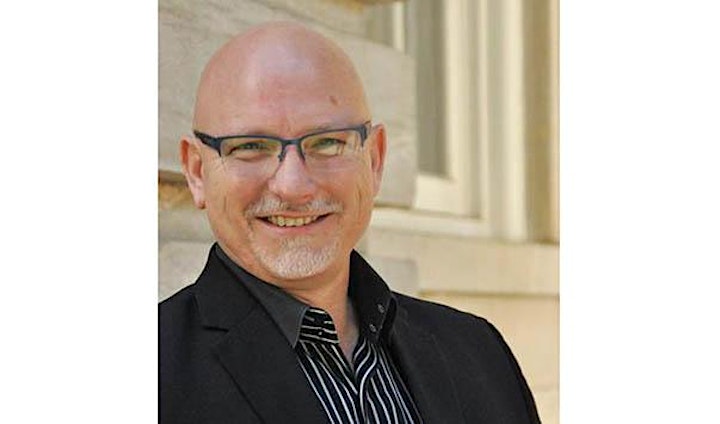 Keith Duncan is the Founder/CEO of His Call Ministries, whose mission is to cultivate a passion for the presence of God. His heart is to see the body of Christ experience a fresh encounter that will fuel them in their passionate pursuit of Christ. His Kingdom-Focused worship is paralleled with a powerful, impacting, and prophetic word. As an author, songwriter, conference speaker, and Kingdom Psalmist, Keith believes that passion is ignited and purpose is discovered as people enter into the atmosphere of God's presence. This experience is developed as he teaches, trains, and imparts into others a knowledge of the King, the environment in which He dwells, and how to create that environment both corporately and privately.
Hosted by: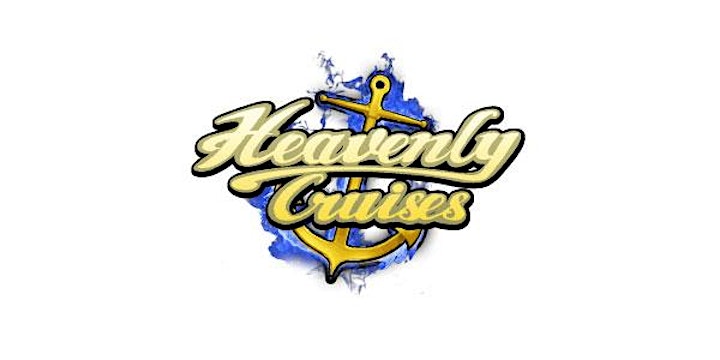 Heavenly Cruises
Pastor Sharon and Michael Heuton
Tel: +1 209-588-9565