Demolishing the Works of Darkness W/ Evangelist John Ramirez & Pastor Armen
Join us as Evangelist John Ramirez teaches us how to overcome the schemes of the devil.
About this event
This is a 2 day event. Your ticket purchase covers both days.
Saturday Start Time - 11:00 AM / Ends 4:00 PM
Sunday Start Time - 1:30 PM / Ends 4:00 PM
This is a spiritual warfare training at its best to learn how to build up your inner man, your relationship with the Holy Spirit and learning how to defeat the schemes and wiles of the enemy. It's time for us, the church, to be spiritual snipers and special ops, by training, equipping and standing on defense and offense for the spiritual warfare fight and to live God's best in our lives.
After online registration closes you can register at the door.
****PLEASE NOTE: SPACE IS LIMITED****
This is NOT a zoom event.
NO CHILDREN. NO BABIES. NO INFANTS.
IF YOU HAVE QUESTIONS, CALL (888) 413 - 4443. DO NOT CALL YWCA.
All Fees Are Nonrefundable.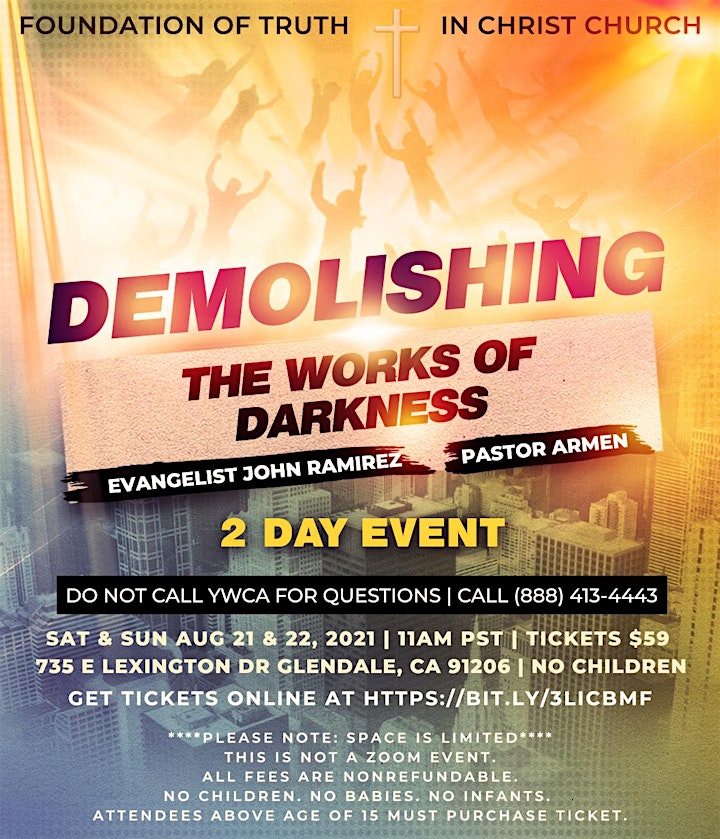 Organizer of Demolishing the Works of Darkness W/ Evangelist John Ramirez & Pastor Armen