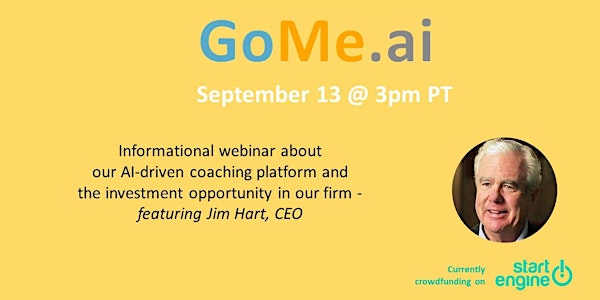 Democratizing Coaching with GoMe.ai
Join us for an informational webinar about GoMe.ai's product offering and investment opportunity through StartEngine!
About this event
GoMe.ai was formed by a group of leadership development professionals, experienced AI/Machine Learning developers and PhDs who have researched high performance leadership characteristics to empower organizations and provide their workforce with broad access to leadership coaching. Their offerings help users develop essential skills for successful leadership: continuous learning, clear communication, effective meetings, positive group dynamics, the ability to navigate difficult situations, and organizational alignment.
Join this informational webinar to learn about:
GoMe.ai's flagship product offering, CI Coach: an AI-driven mobile coaching platform that provides situational coaching and meeting insights to all employee levels
The StartEngine equity crowdfunding campaign gives entrepreneurs the ability to raise capital from the public and offers investors the opportunity to have partial ownership of the company.
This is an online event - login information will be sent after registration.