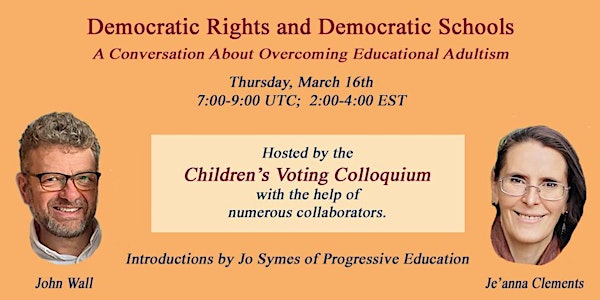 Democratic Rights and Democratic Schools
Democratizing democracy through overcoming educational adultism. A discussion on how to build a vibrant, just society from the ground up.
About this event
Democratic Rights and Democratic Schools:
A Conversation about Overcoming Educational Adultism
Contact: childrenvoting@gmail.com
This event is hosted by
The Children's Voting Colloquium
with the help of
Please see below for a list of other collaborating organizations.
Description of the Event
A major obstacle to transforming our society into a kinder, gentler, sustainable global community is the general misconception that children are too inexperienced and irresponsible to have full human rights. This treatment of children as second class citizens is not only a disservice to them. It lays a foundation for hate and discrimination throughout society. The respect of full human rights for all people and the dream of caring communities of people pulling together can only be achieved by establishing young people as full human beings.
This event explores the connection between children's democratic inclusion and the worldwide democratic (or sociocratic) school movement. An open discussion will be led by John Wall and Je'anna Clements based on two videos that can be viewed at the start of the event or beforehand: a documentary on democratic schools in the Netherlands called School Circles, and a two-and-a-half minute video by Peter Gray titled Self-Directed Learning Fundamentals. All are welcome to attend. Jo Symes of Progressive Education will introduce the speakers.
The first hour of this event will be a free screening of a shortened version of the School Circles documentary by Wondering School founders Marianne Osório and Charles Shread. People who have already seen this documentary, or who wish to watch it beforehand, are welcome to attend only the discussion portion of the event during which John and Je'anna will briefly provide their own reflections, and then moderate a discussion on the larger questions the documentary raises about moving forward children's democratic rights.
School Circles challenges common assumptions. Children at the schools in the Netherlands are free to direct their own educations and decide school policies. These and similar movements worldwide raise important questions about the authoritarian nature of traditional schooling practices, the democratic capabilities of the young, how children learn and take responsibility, and what it means to respect children's human rights. The more that the general public sees how young people behave when they feel respected, the more we will progress towards an inclusive society.
All those who register for Democratic Rights and Democratic Schools will receive a link to the recording of the discussion. A zoom link to join the gathering on March 16th will be sent to registrants a day or two prior to the meeting.
About the Moderators
John Wall is a professor of philosophy, religion, and childhood studies at Rutgers University in New Jersey and founding director of the Childism Institute, a global effort challenging children's historical marginalization by transforming scholarly, social, and political structures and norms. In addition to other publications, he recently released his transformative book titled Give Children the Vote: On Democratizing Democracy.
Je'anna Clements is a co-founder of Riverstone Village in South Africa, a mixed-age Self-Directed Education community for age 4 and up, that runs as a participatory democracy with a flat hierarchical structure, where young people are in charge of their own time and activities with adults acting as assistants and companions. She is also a founder of Full Human Rights-Experience Education, a global organization raising awareness that the educational needs of young people are best met when the full range of their human rights are respected. In addition to other books, Je'anna recently published What If School Creates DYSlexia?
About the Collaborators
Become one of the collaborators. There is strength in numbers. Learn more and join here: https://docs.google.com/forms/d/e/1FAIpQLSdq4ww7XWUysnihNqoh0ur5al3q_whhP8XzM28_LVT439x5xA/viewform?usp=share_link.
The November 2021 UNESCO report titled, Reimagining our futures together: a new social contract for education, aims to catalyze a global debate on how education needs to be rethought in a world of increasing complexity, uncertainty, and fragility." The collaborators listed below have been pursuing that new social contract, some of them for many years. Their collaboration with the Democratic Rights and Democratic Schools meet-up reflects their desire to join with others in the task of creating the best possible future for everybody. Their involvement by no means suggests full agreement with other collaborators as to what that future will be and how to achieve it. They do all agree, however, that young people need to have considerably more say in matters that affect them than is now the case. Their participation in this event reflects their willingness to learn and work with others to come up with the best possible new social contract.
The collaborating organizations have agreed to have representatives attend the event for the purpose of determining how they might further collaborate. They have also agreed to actively encourage others to attend and to become collaborators.