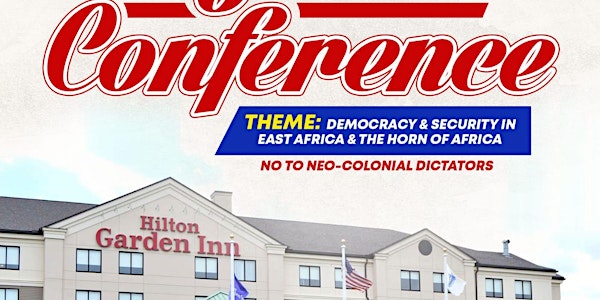 DEMOCRACY & SECURITY IN EAST-CENTRAL AFRICA & THE HORN OF AFRICA
Conference discussing US support for neo-colonial African dictators & how we can effectively mobilize against it. Food will be served.
When and where
Location
Hilton Garden Inn Silver Spring White Oak 2200 Broadbirch Drive Silver Spring, MD 20904
About this event
The conference is being held on Saturday, August 13, 2022 by People Power DMV chapter -- a subsidiary of NUPUSA, Inc. -- at the Hilton Garden Inn, White Oak, Silver Springs, Maryland, beginning at 9 am. A Coordinating Committee member of the Black Alliance For Peace is expected to give a keynote speech in the afternoon. Food & drinks will be served. Organizers request pre- registration on this site to facilitate preparation of food and drinks. Following the conference proceedings, there will be music and dance.
The conference will be preceded by a grand demonstration on Friday, August 12, stopping at the State Department, the UK Embassy, the World Bank and the International Monetary Fund (IMF).
Listen to one of the organizers talking about the conference and demonstration on WPFW radio, 89.3 FM show "Voices With Vision" -- which aired on Tuesday, August 9 -- from the 23-minute mark to the 35-minute mark: https://archive.wpfwfm.org/mp3/wpfw_220809_090000voiceswdiocoop.mp3
Demonstration, Friday August 12, Theme: No to Neo-Colonial African dictators
10 AM, UK Embassy@ 3100 Massachusetts Avenue, NW, Washington, DC, 20008
11:30 AM, World Bank @ I Building, 1850 I St, NW, Washington, DC, 20006
1:15 PM, The International Monetary Fund, 700 19th Street NW, Washington, DC 20431
2:10 PM, US State Department @ 2201 C Street, NW, Washington, DC 20520
4PM, Lafayette Square @ Pennsylvania Ave NW & 16th St NW, Washington, DC 20001