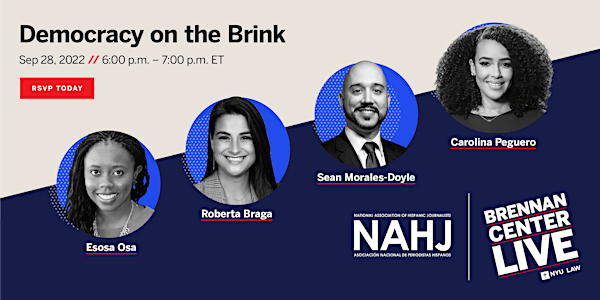 Democracy on the Brink / Nuestra democracia en la cuerda floja
Ahead of the midterms, efforts to interfere with the vote are in full swing. The implications are serious.
About this event
To register for our next upcoming event, "What's Prison For? In Conversation with Bill Keller," click here.
Spanish language interpretation will be available for this event.
Our democracy is under attack from people wrongly claiming that the 2020 election was somehow "stolen." State lawmakers are acting on those false claims with legislation that restricts the right to vote and also undermines the election process itself. Add to that the growing problem of disinformation, which sometimes targets specific racial or ethnic groups. Join the Brennan Center for Justice and Brennan en español at NYU School of Law for a conversation about what these efforts mean for the 2022 elections and beyond.
The discussion was held at a recent convention of the national associations of black and Latino journalists. This premiere YouTube stream will include a live text chat Q&A with Brennan Center election expert Sean Morales-Doyle.
This event was produced in partnership with the National Association of Hispanic Journalists.
Este evento contará con interpretación al español.
Nuestra democracia se ve atacada por personas que afirman incorrectamente que las elecciones de 2020 se "robaron" de alguna manera. Los legisladores estatales responden a esas afirmaciones falsas con legislación que restringe el derecho al voto y también socava el propio proceso electoral. Además, el problema de la desinformación, que a veces está dirigida a grupos raciales o étnicos específicos, es cada vez mayor. Únete al Brennan Center for Justice y Brennan en español en la Facultad de Derecho de NYU para el estreno en internet de una conversación sobre el significado de estos esfuerzos para las elecciones de 2022 y después.
La conversación tuvo lugar en una convención reciente de asociaciones nacionales de periodistas negros y latinos. Esta primera trasmisión por YouTube incluirá una ronda de preguntas por chat en vivo con Roberta Braga, directora de estrategias para combatir la desinformación del Equis Institute.
Este evento se produjo en colaboración con la Asociación Nacional de Periodistas Hispanos.
Panelists / Panelistas:
Roberta Braga, Director of Counter-Disinformation Strategies, Equis Institute / Directora de estrategias para combatir la desinformación del Equis Institute
Sean Morales-Doyle, Director, Brennan Center Voting Rights Program / Director del Programa de Derecho al Voto del Brennan Center
Esosa Osa, Deputy Executive Director, Fair Fight Action / Subdirectora ejecutiva de Fair Fight Action
Moderator / Moderadora: Carolina Peguero, Reporter/Anchor / Reportera/presentadora de Noticias Univision 24/7
The Brennan Center for Justice at NYU School of Law provides reasonable accommodations to people with disabilities. Requests for accommodations for events and services should be submitted at least two weeks if possible before the date of the accommodation need. Please email events@brennan.law.nyu.edu.
El Brennan Center for Justice en la Facultad de Derecho de NYU ofrece adaptaciones razonables a las personas con discapacidades. Se deben enviar las solicitudes de adaptaciones para eventos y servicios por lo menos dos semanas antes de la fecha en que se necesite la adaptación. Por favor, escriba a events@brennan.law.nyu.edu.