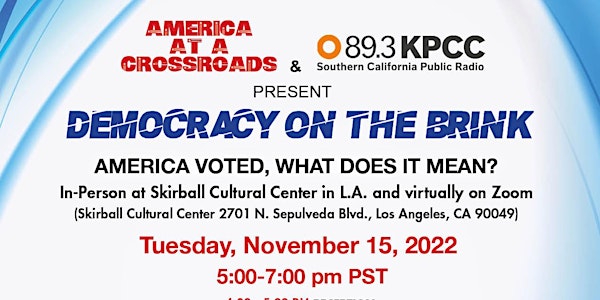 DEMOCRACY on the BRINK: American Voted, What Does it Mean?
With NPR's Los Angeles affiliate, KPCC, we present a 2 hour post-election program: 1st hour national analysis, second hour local.
About this event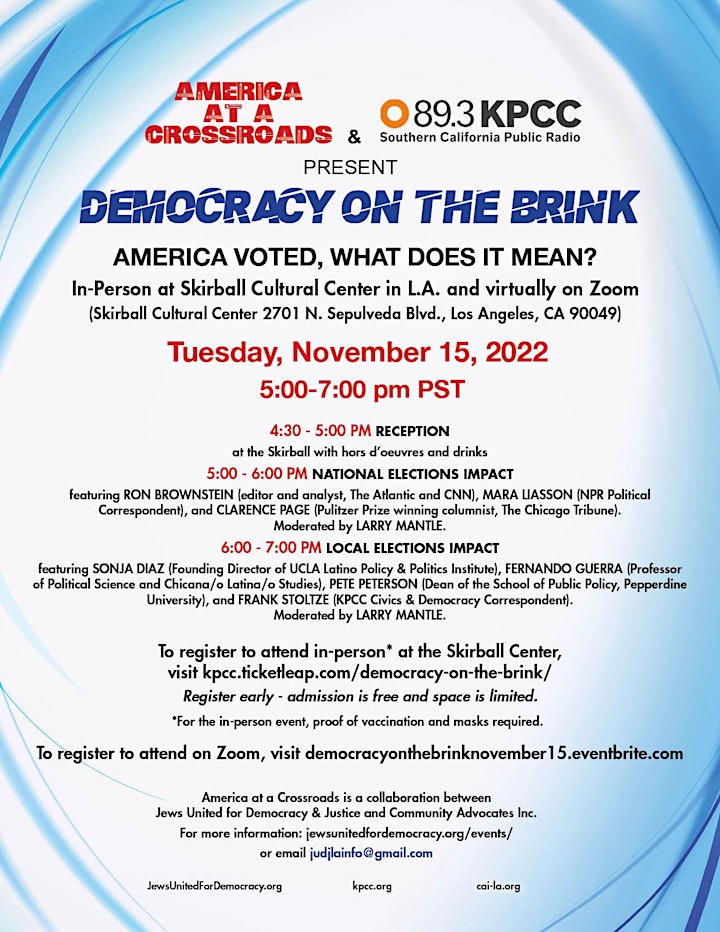 KPCC**, JUDJ & CAI present:
A Special Post-Election America at a Crossroads
Democracy on the Brink. America Voted, What Does it Mean?
In-Person at the Skirball Cultural Center in Los Angeles & Virtually on Zoom
**KPCC, Southern California's #1 NPR Station
Tuesday, November 15th, 2022
5:00-7:00PM PST
4:30-5:00PM For in-person registrants: Reception at the Skirball with hors d'oeuvres and drinks
5:00-6:00PM (via zoom) National Elections Impact featuring Ron Brownstein, editor and analyst, The Atlantic and CNN; Mara Liasson, NPR Political Correspondent; and Clarence Page , Pulitzer prize-winning columnist, The Chicago Tribune. Moderated by Larry Mantle, Host, KPCC's AirTalk.
6:00-7:00PM (via zoom and in-person) Los Angeles Local Elections Impact featuring Sonja Diaz, Founding Director of UCLA Latino Policy & Politics Institute; Fernando Guerra, Professor of Political Science and Chicana/o Studies, Loyola Marymount University; Pete Peterson, Dean of the School of Public Policy, Pepperdine University; and Frank Stoltze, KPCC Civics & Democracy Correspondent. Moderated by Larry Mantle.
To register to attend in-person* at the Skirball Center, visit kpcc.ticketleap.com/democracy-on-the-brink/.
Register early - admission is free and space is limited.
*Vaccination and masks are required for the in-person event.