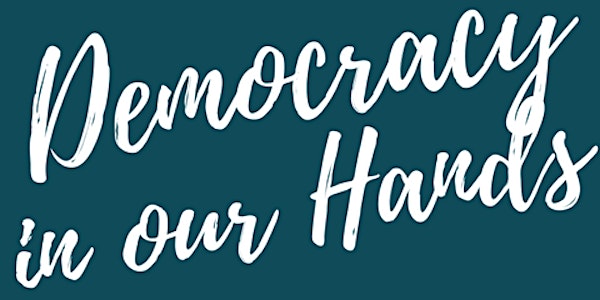 Democracy In Our Hands: A Redistricting Tour (Asheville Stop)
Location
Ambrose West
312 Haywood Road
Asheville, NC 28806
Description
The Democracy in Our Hands tour is an opportunity for community members interested in shaping our democracy through redistricting reform to learn and discuss the spectrum of ways that we can integrate our values of political independence, transparency, and racial equity in a NC-specific redistricting reform proposal. We are lucky to be joined by NC and national experts in redistricting and a delegation from the California Citizens Redistricting Commission who will discuss the path and challenges to achieving independence, transparency, and equity in reform.
We look forward to learning and sharing with you.
Childcare and interpretation available upon request.
Event is co-sponsored by Democracy NC, Common Cause NC, NC League of Women Voters, Friends of the Earth.
AGENDA
9:30-10am Breakfast & registration
10-10:30am Welcome & opening session
10:30-11am Redistricting 101
11am-12pm Political independence: How do we achieve independence from partisan politics in redistricting?
12-12:45pm Lunch (provided on site)
12:45-1:45pm Lifting the curtain: What does transparency in redistricting look like? How can we ensure the community is informed and involved in drawing district lines?
1:45-2:45pm Defining ourselves for equity: How do we ensure equitable outcomes in redistricting reform? What does it look like when we define our communities for ourselves?
2:45-3pm Closing & next steps