Event Information
Location
Microsoft
11 Times Square
New York, NY 10036
Description
Demos. Playtime. Panel. Pizza. All celebrating women in the game industry.

Join Playcrafting as we celebrate Women's History Month with a special free edition of our DEMO & PLAY event featuring an all-women lineup of developers presenting their games, plus a panel of female pros talking about inclusivity for women in the games industry. After the panel, attendees will have a chance to play each game with the developers behind them.

Meet our community of game developers, designers, creatives, investors and more building across multiple platforms and genres. Enjoy complimentary pizza as you meet the developers and network with game professionals from throughout our local community.

The evening may be a celebration of women in games, but all genders are encouraged to join. Children are welcome to attend as well, but must be accompanied by a parent or guardian at all times. Hope you can make it!
---

For Attendees:
You must register on Eventbrite. Please include the first name, last name and email of each person you are registering (including yourself) when you RSVP so we can add you to our guest list for the evening. All names must be on the list to get past building security.


---

FEATURED GAMES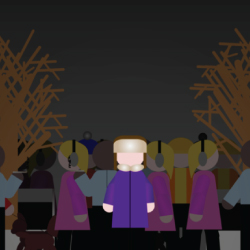 ASD by Sarah Granoff

Navigating the world can be difficult for anyone, but for someone with Autism Spectrum Disorder, it can feel nearly impossible. Thanks to an early morning snafu, Lucy Garvey, a young woman on the spectrum, is struggling to get to school. She must endure a seemingly endless assault of sounds, smells, and the people that scare her, but how well can she cope when the threats come from within as well as from without?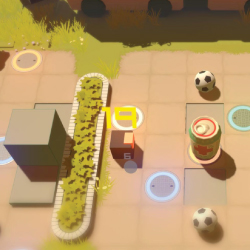 BOX FIGHTER 2000 by Li Ling

Box Fighter 2000 is a multiplayer arena shooter with a strategic, dynamic environment based on grid. It's a game that tries to explore the fun of limitation and playing with the environment. The bullets go slow. So Anticipating your opponent's movements and trying to attack them by surprise is the key in this game. You can amplify your attack through strategically using the dynamic mechanism in the environment such as color-matching teleporting, detonating bombs, etc. Treating your bullets seriously, in certain degrees, it even equals to your life.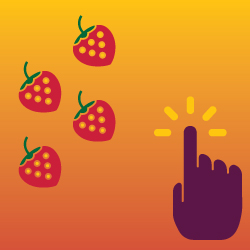 FRUIT WARRIOR MR by Adina Shanholtz

Annihiliate falling fruit with the flick of your finger in this mixed-reality Hololens game.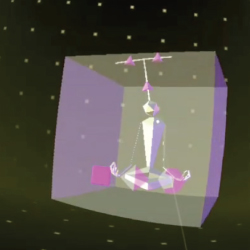 MIND ROOMIE VR by Maria Mishurenko

MindRoomie VR is a game for Google Daydream that teaches children and young adults the foundations of mindfulness practice.There is no competitive mechanic in the game and the player cannot lose, so the game does not thrive on frustration. The "score" that the player receives is only visual. All changes in Mind Roomie stem from the body, which will empower users to find within themselves the ability to strive towards emotional regulation, attentional control and self-awareness.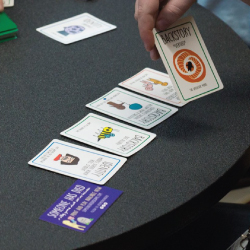 SOMEONE HAS DIED by Adi Slepack, Eleanor Black & Liz Roche

A silly game about serious business, Someone Has Died is an improvisational storytelling game set at a will arbitration in which players craft characters and stories in order to convince an estate keeper that they are most worthy of a grand fortune.


---

FEATURED PANELISTS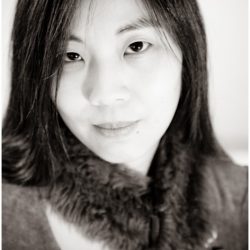 SANDE CHEN
Award-winning Writer & Game Developer
4 Week Game Writing Primer Course Instructor

Profiled as one of the Game Industry's Top 100 Most Influential Women, Sande Chen is a writer and game designer with over 15 years of experience in the game industry. Her writing credits include 1999 Independent Games Festival winner Terminus, MMO Hall of Fame inductee Wizard101, and the 2007 PC RPG of the Year, The Witcher, for which she was nominated for a Writers Guild of America Award in Videogame Writing. She is the co-author of the book, Serious Games: Games That Educate, Train, and Inform, and was a contributor to Secrets of the Game Business, Writing For Video Game Genres, and Professional Techniques for Videogame Writing.

Sande graduated from the Massachusetts Institute of Technology with dual degrees in Economics and in Comparative Media Studies/Writing. She later earned a M.Sc. in Economics from the London School of Economic and a M.F.A. in Cinematic Arts from USC. While still a student in film school, she was nominated for a Grammy in music video direction. She has spoken at conferences around the globe, including the Game Developers Conference, PAX East, SXSW Interactive, New York ComicCon, and Screenwriters World Conference West. She writes about game design and other topics on her blog, Game Design Aspect of the Month and can be found on Twitter @sandechen.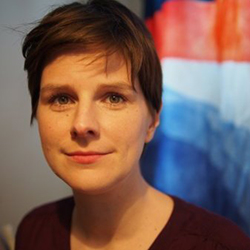 MARGARET ROBERTSON
Game Director, Dots

Margaret is a New York based game maker. Her previous studio, Hide&Seek, made big games (like the city-wide 12,000 player New Year Games), small games (like the Tiny Games project), silly games (like Drunk Dungeon) and serious games (like Dreams Of Your Life). In her role as an independent consultant she has worked on a huge range of projects, from AAA console titles, through download and mobile/ handheld games, to indie and art-house projects. She's worked with brands, broadcasters, and film studios to develop their game strategies, and was part of the team that built Channel 4's BAFTA- and Emmy-award winning educational game slate. Previously editor-in-chief of Edge magazine, and part of the team behind the GameCity festival, she is an internationally top rated speaker on game design theory.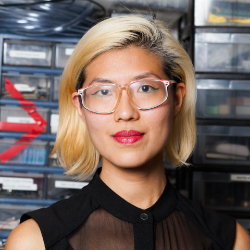 ADELLE LIN
Director, Code Liberation
Experience Designer

Adelle Lin creates experiences that integrate the digital and physical in playful ways. Working with a variety of creative technologies, she has worked on projects shown at Paris Fashion Week, Oregon Symphony Orchestra Performances, Times Square, Augmented Reality World Expo, Burning Man, A Maze, Maker Faires, Come Out & Play, and Different Games Conference. Currently a designer and developer within the Product Innovation Engineering group at Intel, she creates applications to demonstrate new wearable technologies. As a director of the Code Liberation Foundation in New York and member of NYC resistor, she uses games, maker tech and unicorns to build communities for women in S.T.E.A.M.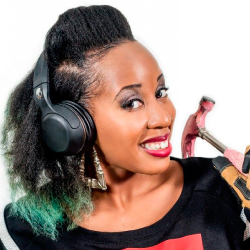 A.V. PERKINS
Co-Creator, University of Dope
Creator, A.V. Does What?


A.V. is a lifestyle content creator living in Bed Stuy "Do or DIY" Brooklyn, NY that may have been a 90's rapper in a previous life. Unfortunately, those musical talents did not transition into this life. Luckily, she developed other skills at Central Connecticut State University that resulted in a successful career within the film industry as a set decorator.

After experiencing the sudden loss of her father, she channeled all of the handy lessons he taught her and created AvDoesWhat.com. No better way to keep his memory alive than developing an entire site dedicated to what they did best, build stuff. What began as a traditional Do-It-Yourself blog quickly grew to into a multi-media lifestyle platform including crafts, recipes, childhood anecdotes and travel. A.V. is determined to change the face of "DIY," by encouraging urban millennials to realize that life is better when you Do-It-Yourself! A.V.'s creative contributions can be found in media outlets like E bony, Buzzfe ed, Lifehacker and Blavity. Her social media presence has increased to reach over 10,000 people worldwide.

A.V. is also the co -creator of University of Dope, an exciting-thought provoking card game that celebrates Hip Hop culture.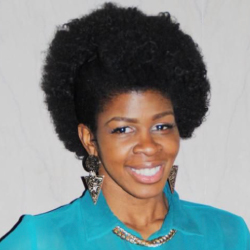 MARIAN ANDOH
Co-Creator, University of Dope

Marian exposed herself to event planning at a very young age. She planned her very first party when she was just 8 years old. It was her own birthday celebration, of course. She attended Georgia State University, majoring in public relations. In her early college years she became the event coordinator for various clubs and organizations on campus. Atlanta became the city where she honed her skills. During this time it allowed the lifelong music lover to explore another interest of hers, DJing. Assuming the stage name D J Skinni Bee, Marian played the latest and greatest Hip Hop tunes in the hottest venues within the Hartford area from 2010-2014.

In 2014, she launched her own event planning company J&M Event Design, based in Hartford, CT and also became the City of Hartford's Event Director. From festivals and parades to weddings and parties, her love for creating unforgettable moments is apparent. She truly enjoys every minute and loves seeing something that was a mere vision come to fruition.

Marian is also the co-creator of University of Dope, an exciting-thought provoking card game that celebrates Hip Hop culture.


---

MODERATOR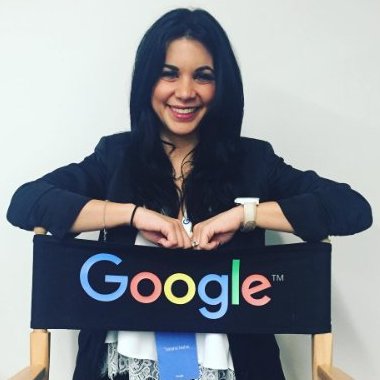 TATIANA TACCA
Senior Account Manager, Global Partnerships, at WME | IMG

Tatiana Tacca has worked in the games industry for 7+ years as a marketer and strategist of games and brands. She is currently the Senior Account Manager at WME|IMG, managing experiential, strategy, and sponsorships for partners activating within the eSports and Games industry. Before that she worked at game publishers and developers, including Gameloft and Topps Digital, on over 22 games – launching 8 games and 20+ updates, and driving over 170 million game downloads and purchases. Across her time in gaming, she has spearheaded numerous successful marketing campaigns for sponsorships in eSports and gaming product launchs, with a specific expertise in strategy and activation, partnership management, user acquisition, user engagement, branding, and content planning. She worked directly with Marvel Games, Disney Interactive, Blizzard Entertainment, Riot Games, the NBA, Pixar, 323 Industries, and more. Her most notable games include Spider-Man Unlimited, the Amazing Spider-Man 2, Star Wars Card Trader, NBA: King of the Court, Cars: Fast as Lightning, and NFL Huddle.



---
EVENT PARTNER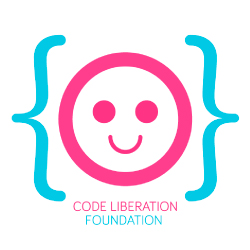 ---

In the interest of fostering an inclusive and safe environment at all of our events, our Code of Conduct will be enforced.


---

Visit us at playcrafting.com | Tweet us at @PlaycraftingNYC #DemoPlayNYC #WomensHistoryMonth
Date and Time
Location
Microsoft
11 Times Square
New York, NY 10036