Demo Day | YellowScan new product demonstration
About this event
Attend the demonstration of the new YellowScan product on January, 20th 2021!
------
LiDAR systems are renowned for fast data processing and 3D modeling under vegetation. The Mapper will be demonstrated on the DJI M300 Pro.
Everybody talks about LiDAR UAV - the planning engineer, the forester involved in tree calculations, the construction companies involved in large projects to model before, during and after its implementation, or the utility companies for their corridor mapping and infrastructure management. The objective of this day is to show off these high-tech tools that are our systems in a real working environment and to demonstrate how easy it is to generate topographic data with the LiDAR UAV.
On this day, you will discover the latest solutions and use cases from YellowScan and its partners through conferences, workshops and open discussions. You will have the opportunity to discover the simultaneous acquisition and post-processing of LiDAR and photo data for a colored point cloud.
N.B. Coffee, tea and croissants will be served at the reception and lunch at the restaurant le Douze is included in the cost
We look forward to seeing you soon in our offices in Saint-Clément!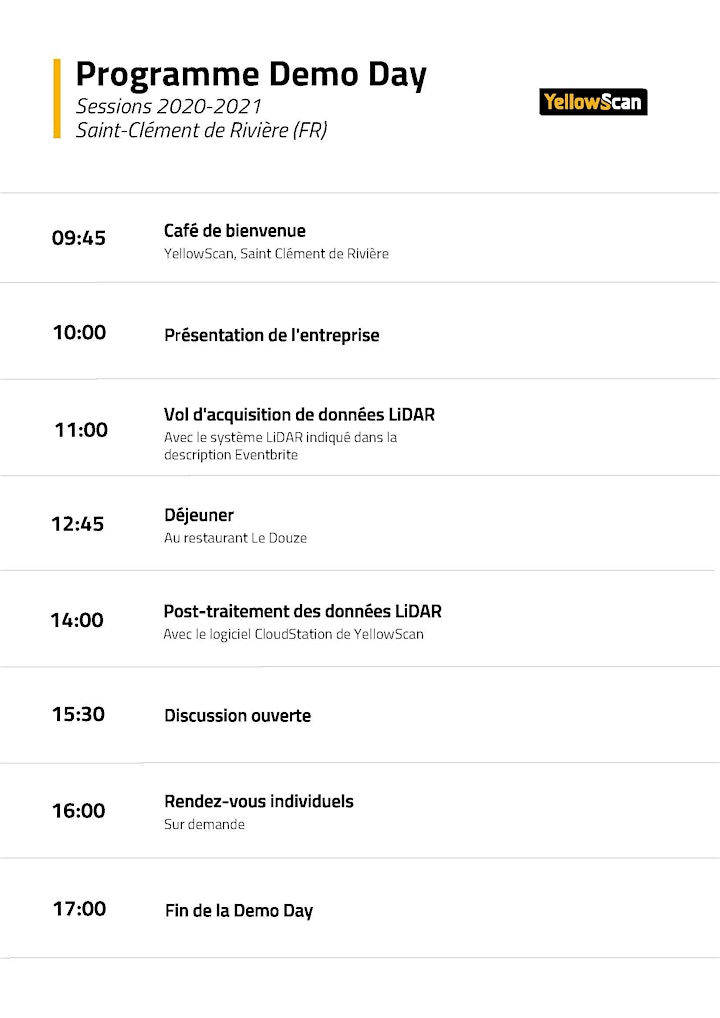 Organizer of Demo Day | January 20th, 2021 - Montpellier