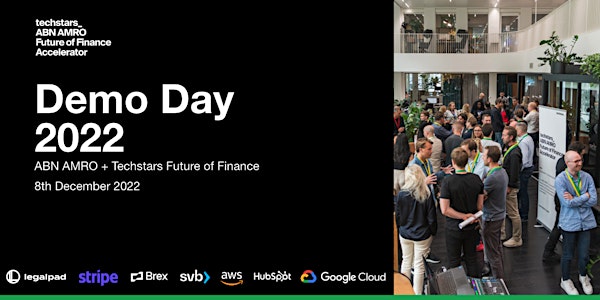 Demo Day | ABN AMRO + Techstars Future of Finance 2022
Hear the Fintechs of the Future of Finance Class of 2022 pitch and share their vision at Demo Day 2022!
When and where
Location
Wicked Grounds HQ 55 Generaal Vetterstraat 1059 BT Amsterdam Netherlands
About this event
We are excited to invite you to the ABN AMRO + Techstars Future of Finance Demo Day 2022.
Come and meet with the 10 companies from all over Europe that joined us in Amsterdam in September. Hear directly from the unstoppable founders about the progress they have made over the past three months.
Be among the first to hear their pitches and what they have been working on during the Accelerator with ABN AMRO and Techstars and how our mentor pool helped them to do more faster.
When:
Thursday, December 8th, 16.30 - 20:00 CET
Join here! https://youtu.be/yiQ3Xk3J7uc
Where:
In person in Amsterdam or virtual via livestream
We welcome you to join us in-person at:
"The Lounge" - Wicked Grounds HQ
Generaal Vetterstraat 55,
1059 BT Amsterdam
If you are joining us virtually, please register to this Eventbrite and we will share the live stream link with you on the day of the event.
Agenda:
16:30 - Doors open
17:00 - Demo Day (10 companies pitching their Businesses)
18:30 - Social drinks and Networking
20:30 - END
The 10 companies on our program:
31Third Protocol (Austria / The Netherlands)
Decentralized asset management infrastructure on a mission to reinvent the trading and portfolio management experience in DeFi
BeyondEquity (UK)
Helping companies IPO their revenues through the world's first revenue exchange
Corgee (Spain)
Admin automation platform for the gig economy
EthicsGrade (UK)
ESG company that specializes in the ESG risks of technology companies, and the tech risks of everyone else
Flowpay (Czech Republic / The Netherlands)
Fast & Sustainable Embedded Lending for SMEs integrated within POS and E-commerce platforms
Lendorse (Germany)
Enables talented students from developing countries to study abroad by sponsoring their studies in return for a share of their future salary
Porthos & Co (UK)
Personalized lending platform for the unconventional borrower
Steady Bricks (Ireland)
Cloud cost and cloud carbon reduction solution for fintechs and financial services
THX Network (The Netherlands)
Embed blockchain tokens in any app, increasing engagement and revenue
ValueCo (France)
Brings comparability and engagement between companies and investors on sustainability metrics
_____________
By clicking submit, you are agreeing to our Terms of Use and Privacy Policy. If you have questions please reach out to privacy@techstars.com.