Description
It's Holiday Hosting Season!
There are plenty of occasions where you are either hosting company or asked to bring a dish to the party. How do you make a hit? We're here to help! Chef Isabelle leads the Amuse Bouche Demo and steps up your prep skills. You'll have people standing in line for a bite. We're kicking if with a Puff Pastry Brie and Grapes appetizer. It's easy, yet melted cheese delicious. Next up, Holiday Flatbread, complete with Chicken, Honey, Arugula and Pomegranate. And yes, it tastes as good as it looks! For our Vegetarians and vegetable lovers, we're preparing Spiced Lentils and Roasted Beet Endives. The remaining portion of the Demo will be dedicated to Building a Cheese Board. Ah yes, old friend; cheese. You've seen them before and tasted many. How do you get that artistic/rustic/thrown together/perfect cheese board? We're here to go over that with you. Come along for an Amuse Bouche evening of fun!
*REMINDER: This is a free demonstration and you get the awesome chance to eat something delicious. If you sign up, please attend; if not, keep the spot open for someone that would like to enjoy. Thank you and happy eating!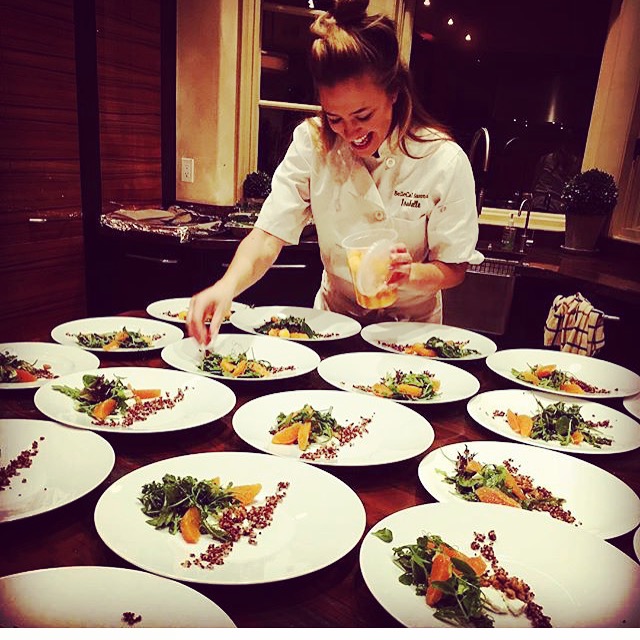 About Chef Isabelle:
Born in a small village in Quebec, Canada, Isabelle grew up with an early appreciation of where her food originated—she often foraged, hunted and fished in the area's rugged wild for the family meal. Even as a young girl, she appreciated that use of the freshest, highest quality ingredients should be the standard in the preparation of good food. The French Canadian learned the art of butchery from her dad, the local butcher, and she furthered her knowledge through specialty courses at the local college. Her family has owned and operated restaurants, as well as a catering business, for 25 years, and Isabelle grew up learning the ins and outs of the industry and culinary arts.