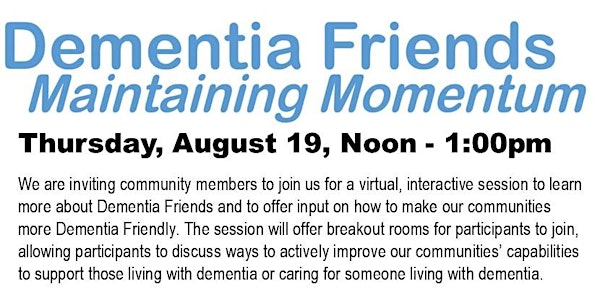 Dementia Friends: Maintaining Momentum
We are inviting community members to join us to learn more about Dementia Friends and help make our communities more Dementia Friendly
About this event
The Dementia Friendly America initiative is a multi-sector, nation-wide collaboration of organizations catalyzing a movement and set of best practices to foster "dementia friendly" communities across the nation by:
• Raising awareness of and develop respect and inclusion of individuals with dementia,
• Offering services and resources throughout all areas of the community to ensure meaningful access to services that will enhance quality of life,
• Supporting and educating dementia partners and families from diagnosis
through the disease progression, and,
• Promoting meaningful engagement in community life.
We are inviting community members to join us for a virtual, interactive session to learn more about Dementia Friends and to offer input on how to make our communities more Dementia Friendly.
We are offering the following breakout rooms for participants to join, allowing participants to discuss ways to actively improve our communities' capabilities to support those living with dementia or caring for someone living with dementia.
• Dementia Friendly Communities
• Dementia Friends Indiana
• Dementia Friendly Businesses
• Community Resources for Dementia