Description
You are invited to attend a reunion of Delta Chi brothers and sisters from 1975-1985 on Saturday, July 22, 2017 at the Ball State University Alumni Center.
The event schedule:
4:00 p.m. - Arrive at the Alumni Center, check in and greet friends
4:45 p.m. - Bus tour of campus and group photo in front of Beneficence
5:30 p.m. - Cash bar and light hors d'oeuvres reception at the Alumni Center
6:30 p.m. - Dinner, welcome remarks
7:30 p.m. - BSU Remarks
8:00 p.m. - Delta Chi Memories and More
9:30 p.m. - Party at Thr3e Wise Men, adjoining Courtyard by Marriott, 601 S. High Street
A committee has been working diligently to provide this fun event for you on campus. They are excited to catch up with you in person!
Dinner will be $30 each, and along with an entree, attendees will receive salads, rolls, desserts and Starbucks coffee. T-shirts will offered for those interested in purchasing, and proceeds will support The Ball State Fund. Front and back views are pictured. Shirt orders will close on July 5 -- order yours today!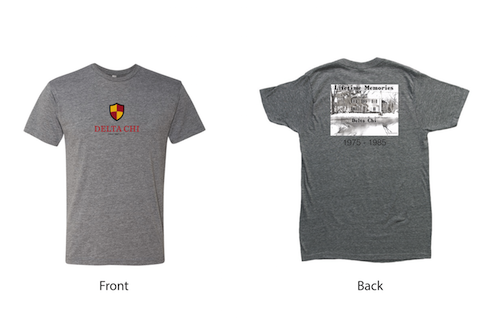 Don't Delay! The registration deadline is Friday, July 14, 2017.
Another very large event is in town on July 22, and hotel rooms are at a premium. We were able to block rooms at 3 hotels, with varying prices. Taxes are not in the prices below

Courtyard By Marriott for $144 per night. Call (765) 287-8550 ASAP, as they are nearly sold out. Has pool.

Holiday Inn Express for $125 per night. Call (765) 288-4678 before July 8. Has pool.

Baymont Inn, King room at $79.99 or double queen room at $89.99. Call (765) 284-4200 (no pool at this time).
You may stay at any of these and still participate in the Courtyard party following the Alumni Center program. Each has an outdoor area available to guests.
Question? Contact Sue Taylor, (765) 285-1408, suetaylor@bsu.edu or Ann Hentschel (874) 867-0124, ann.hentschel@branaghgroup.com.