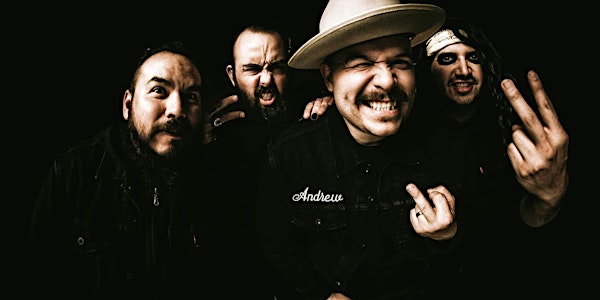 DELTA BOMBERS, HOOTEN HALLERS, RECKLESS ONES, SNAKEHANDLER CHURCH
Location
Lyric Room
231 N Broadway
Green Bay , WI 54303
About this event
TOM & TOM present
DELTA BOMBERS, THE HOOTEN HALLERS, RECKLESS ONES, PETE DIO and THE OLD & DIRTY at the LYRIC ROOM on SATURDAY AUGUST 13th!
Tickets: $17 ADV | $20 DOS - available to purchase at Keggers Bar, Rock n Roll Land, at the door and on Eventbrite
$45 VIP Table Package Available (this is an add-on item, each guest must purchase a GA ticket to enter, includes 1 private table, 2 stools, 4 free beer/seltzers)
Doors 8pm | Show 9pm
21+ event
ABOUT THE BANDS -
DELTA BOMBERS - The Delta Bombers have smashed stages all over the world for 10 years. Driven by a hybrid of 50's rock and roll fused with swampy blues, country, and rockabilly. The hard touring band's haunting but powerful voice Chris Moinichen keeps the sounds fresh and always from a new angle. Andrew Himmler on Guitar, Gregorio Garcia on Bass and P.J. Franco on Drums sway the dynamic up and down all night long with one mission: make it interesting. The goal of the band has always been to build something people who wear gabardine, denim, or mohawks could enjoy together. Based on their tour and festival history they are doing just that. The Bombers have set foot in over 26 countries and toured every corner of the USA with bands like Reverend Horton Heat, The Blasters and the Legendary Shack Shakers.
Supported by four studio albums and non-stop touring of the USA and Europe, what started as a teenage dream has now come to fruition as a worldwide rock and roll expedition. The Delta Bombers continue to strive for the fringed ends of roots music always looking toward the next song and the next show. A show that should be witnessed by anyone who considers themselves a fan of American roots music, the Bombers are playing at a venue near you!
Listen to DELTA BOMBERS on SPOTIFY here. https://spoti.fi/3xbjabG
THE HOOTEN HALLERS - Columbia, Missouri trio The Hooten Hallers are a high-energy blues-rock band known for hard-traveling and wild live shows, with a seemingly endless tour schedule. The myriad of influences in their music incorporates elements of rhythm & blues, rock'n'roll, honky tonk, jazz, soul, and punk with a thematic penchant for the strange and the unexplained. Their live shows take the listener on a seamless ride from unapologetically raucous blues on the lap steel and bass sax, to a sweet three part harmony country ballad, to a romping dance number.
Listen on SPOTIFY here. https://spoti.fi/3akL9xS
RECKLESS ONES - Kevin O'Leary Guitar,Vocals
Zander Griffith Upright Bass,Vocals
Dylan Patterson Stand-Up Drums
After more than ten years of operating between the Midwest and West Coast, the modern rockabilly band Reckless Ones has finally found a home in Los Angeles.
Kevin O'Leary (guitarist of Wild Records artists The Rhythm Shakers) fronts the band, armed with an aggressive Gretsch guitar and crooning vocals. Co-founder Dylan Patterson bashes out their infectious rhythms on his stripped-down stand-up drum kit. And Zander Griffith (Deke Dickerson and the Whippersnappers) rounds out the trio with stellar backing vocals and rollicking upright bass.
Reckless Ones has released four records; toured Europe, The United States, and Russia; shared the stage with many of rock 'n' roll's top acts and accumulated over 5 million views on YouTube. The band also received a gift in the form of a song from Brian Setzer, "Mean Pickin' Mama" in 2012.
The band's latest release, Forgive & Regret, marks a new era for the band. While their sound is as fresh and engaging as ever, the band has allowed the music to mature with them, resulting in an album that defies any one genre and stands on its own.
Reckless Ones started 2020 strong. Recently joining with Atomic Music Group, they teamed up with The Delta Bombers for an incredibly successful non-stop, 12-day barrage of the West Coast.
With a whole new crowd of fans in addition to their die-hard audience, Reckless Ones' momentum continues to build, with their eyes set toward a new release for Fall 2020. Reckless Ones have clearly hit their stride, and are poised for greatness.
Listen to RECKLESS ONES on SPOTIFY here. https://spoti.fi/3aKHUQB
SNAKEHANDLER CHURCH - Southern punk from Fort Wayne, Indiana.