Delta Authors On Tour, Delta Sigma Theta Sorority, Inc. - Glen Ellyn Area A...
Description
The women of the Glen Ellyn Area Alumnae Chapter of
Delta Sigma Theta Sorority, Inc,
cordially invite you to join us as we host the
Midwest Regional Spring 2017 stop of
DELTA AUTHORS ON TOUR!
The Delta Authors on Tour event provides an opportunity for exposure to the works of nationally published Delta Authors.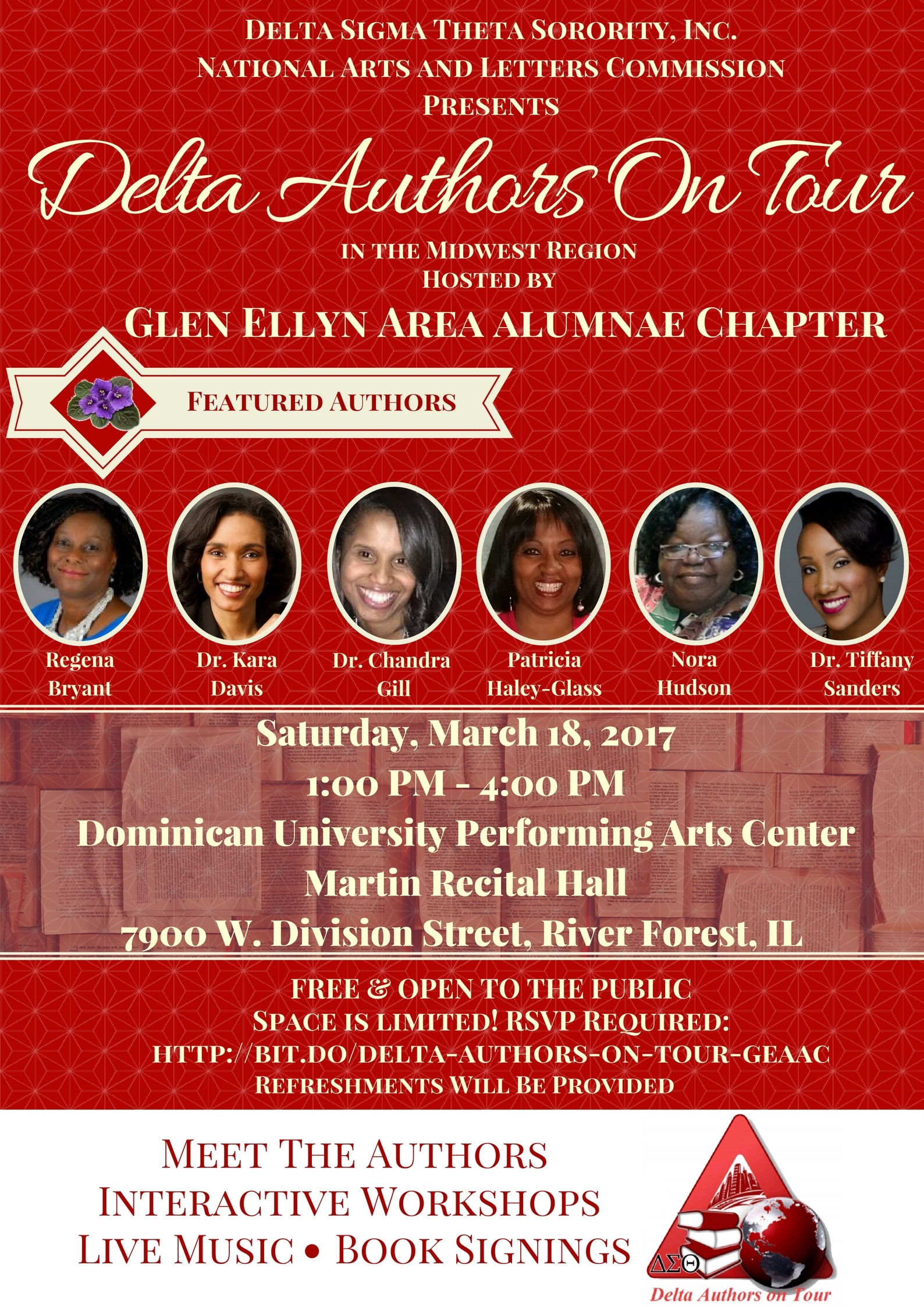 You will have an opportunity to meet the authors, participate in interactive workshops, Q&A sessions, as well as enjoy a book fair and book signings. Live musical entertainment will be provided by The McNary Experience. This event is FREE and OPEN TO THE PUBLIC!
Space is limited and a reservation is required to secure your seat!
PLEASE JOIN US!
Saturday, March 18, 2017
1:00 pm until 4:00 pm

Martin Recital Hall
Performing Arts Center
Dominican University
7900 W. Division Street
River Forest, IL 60305
DELTA AUTHORS ON TOUR:
The National Arts & Letters Commission of Delta Sigma Theta Sorority, Inc and the Delta Authors on Tour initiative proudly shine a spotlight on the arts and the works of African-Americam artists and authors.
ABOUT THE AUTHORS:
Regena Bryant is a member of the Glen Ellyn Area Alumnae Chapter. She is the author of three contemporary women's fiction novels: Except on Sunday, Believe In Me, and Love's Remnant. In 2004 Regena Bryant made a pact with her nephew, "...if you give me a college degree, I'll write a book." She lives in suburban Chicago with her husband and two sons. Her nephew's college diploma graces the mantle. Regena's novels explore the complex simplicity of falling in love - in these complicated times. Regenia enjoys reading, poetry, and gospel and jazz music. Regena was nominated for an Emma Award in 2011 for Debut Author of the Year. In 2012 Regena was the recipient of the SORMAG Award for Debut Author of the Year. Visit her at www.RegenaBryant.com
Dr. Kara Davis is a member of the Joliet Area / South Suburban Alumnae Chapter. Dr. Davis received her undergraduate education at the University of Illinois in Urbana, Illinois. She attended medical school and completed her residency training in internal medicine at the University of Illinois in Chicago. Dr. Davis has a special interest in the connection between mental, emotional and spiritual well-being and physical disease. She is a firm believer in the importance of health preservation through lifestyle modification, particularly the roles of diet and exercise in disease prevention. She has done research in the area of obesity in African-American women, and in lowering the risk for type 2 diabetes in minority populations.
Dr. Chandra Gill is a member of the Chicago Alumnae Chapter. Dr. Gill is an astute educator & award-winning motivational speaker. She has spoken to national and international audiences alike. Viewed by many as a premier scholar, thinker and the new civil rights leadership, she is regarded as one of America's most prolific orators. As part of the inaugural class for Gates Millennium Scholar's Program, she was one of Chicago's first African-American public school recipients at the graduate level. Dr. Gill was inducted into Phi Delta Kappa with high honors, after receiving her Ph.D. in Educational Policy Studies. She also created the Break The Chains Campaign, which has successfully reached over 250,000 students, teachers and parents nationwide with life-changing tools.
Patricia Haley-Glass is a member of the Schaumburg/Hoffman Estates Alumnae Chapter. She is an award winning national bestselling author. She earned the title of 'trailblazer' after achieving remarkable success with her first faith-based novel in 1998. The self-published novel, Nobody's Perfect, sold nearly 20,000 copies in an industry where selling 5,000 copies at the time was highly regarded. The novel was the first of its kind to repeatedly make numerous national best sellers list, including #1 on the Essence list. Her next book, No Regrets, tackled the marital, personal, and financial impact breast cancer has on a family. It is popular among readers and follows Nobody's Perfect onto the best seller's list.
Nora M. Hudson, Esq. is a member of the Detroit Alumnae Chapter. Ms. Hudson is a Minister and a member of the Midwest Regional Chaplains Council. She secured a master's degree in Counseling Psychology in 1977 and graduated from Valparaiso University School of Law in 1981. She has been a member of the State Bar of Michigan since 1982. She currently operates the Law Clinic of Michigan, PC. She serves the state Bar on the unauthorized practice of law committee; and is a Master Lawyer. She has been recognized by her legal peers and selected to receive the "Champion of Justice" award in 2015. She was instrumental in organizing the Detroit Alumnae Expungement Fair and is currently Beta testing an interactive program on "Surviving a Police Stop." She is currently working on several genres of books for publication, specifically focusing on children's books and a book on homelessness.
Dr. Tiffany Sanders is a member of the Glen Ellyn Area Alumnae Chapter. Dr. Sanders is a Licensed Psychologist and Certified School Psychologist with 13 years of experience evaluating and counseling children, adolescents, and adults with attention deficit/hyperactivity disorder (ADHD), depression, mood and anxiety disorders, oppositional defiant disorder, and learning and nonverbal learning disabilities. She is sensitive to women's issues and enjoys helping women find an inner sense of peace, reduce stress levels, manage conflict, and achieve work/life balance. Dr. Sanders is a highly regarded expert with guest appearances on nationally televised programs such as Nancy Grace, Newsmax, One American News Network, Good Day Chicago, ABC 7 Morning News, and WGN TV News.
FAQs
Are there ID or minimum age requirements to enter the event?
No, all are welcome with a reserved ticket.
What are my transportation/parking options for getting to and from the event?
The university is located 8 blocks west of Harlem Avenue on Division Street. Parking is available in an adjacent lot and in the neighborhood surrounding the venue.
Is my registration or ticket transferrable?
Yes, Please be aware that you are strongly advised to reserve your seat. This event is expected to sell out.
How can I contact the organizer with any questions?
Please email your questions to geaac.artsandletters@yahoo.com.