The Delmarvalous Dolls perform in tribute to The Andrews Sisters! Accompanied by LIVE piano, drums, trumpet, and sax!
About this event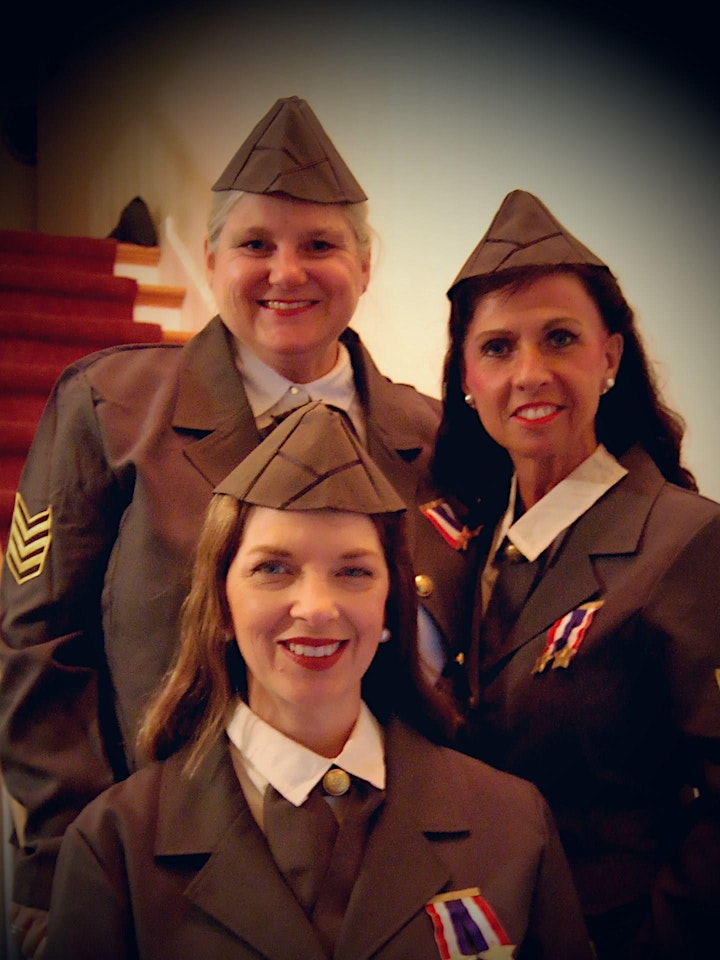 About The Delmarvalous Dolls
The Delmarvalous Dolls perform in tribute to The Andrews Sisters in this narrated show featuring music from the 1940s favorite musical sisters. Three of the areas finest singers will combine their remarkable talents for this show: Pam Miller, Rhonda Apple and Susan Rogers.
Accompanied by LIVE piano, drums, trumpet, and sax!
Pam Miller is native to the area, and has a degree in Vocal Performance from Salisbury University. Pam draws from many genres. An eclectic mix, including: Portuguese Sambas, Jazz, Blues, Broadway, & Dance. She likes to experiment with mood, rhythm and melody to make each performance fresh and unique. Her 1920s Show is a fixture at The Rehoboth Beach Jazz Festival. Website: www:pamsings.com
Rhonda Apple is a small town girl from Indiana who grew up listening to her mother and grandmother singing around the piano, to the pop radio and albums her sisters played and to her mother's album collection. Rhonda grew up singing in church and in school. Never intending to have a career in music, she started waitressing and was invited into singing for money at the age of 20. That began a pattern for the next ten years. She has now been singing professionally for thirty years and hopes to continue on a part-time basis for many years to come with the Apple & Britt duo, with the Blue Dog Café in their annual Christmas show, with her co-worship leader at Sonlife Community Church, and with the Delmarvalous Dolls. Rhonda's day job since 2014 is secretary for a property management company. Website: www:rhondaapple.com
Susan A. Rogers was performing at the age of ten. She began perfecting her craft at Meredith College in Raleigh NC and Salisbury University in Salisbury MD. She acted in and directed over 100 plays. Favorites include: Lucy-"Good Man Charlie Brown", Annie Oakley-"Annie Get Your Gun", Bellomy-"The Fantastiks", and Reno Sweeny-"Anything Goes". She has been instrumental in creating and developing the theatre programs in schools such as Salisbury Christian and Salisbury School in Salisbury. And, for ten years she owned a children's theatre group, Kaleidoscope Children and Youth Productions. She continues her work in theatre with local groups such as Community Players of Salisbury, Lower Shore Performing Arts Company and various other organizations. She owns Class Acts, II, an entertainment company, that specializes in cabaret shows and murder mysteries. She is a mother of four, and works as a technology teacher at Salisbury Christian School. Susan met Pam Miller on stage at SU, and has remained friends ever since. She is thrilled to be performing with the "Dolls" and hopes to do justice in trying fill the very big shoes of retired and adored member, Ev Cook.
They'll be accompanied by Wilmington native David Zipse on the piano. He is a Summa Cum Laude graduate of Shenandoah Conservatory of Music. David performed on the road for years, working with many bands, and was musical director for more than 70 shows. He starred in "Gershwin, By George" at the Riverfront Arts Center in Wilmington, where he won rave reviews for his rousing rendition of "Rhapsody in Blue".

revival
Official Website | Facebook | Instagram
Salisbury MD is set for an amazing cultural comeback of the arts with the launch of "revival" @ City Center right at the heart of downtown.
Organizer of Delmarvalous Dolls