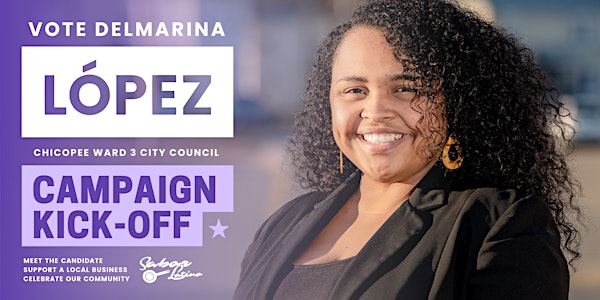 Delmarina López for Chicopee Ward 3 Campaign Kick-Off
Join the López Committee for our Chicopee Ward 3 Campaign Kick-Off event and meet the candidate who is taking Chicopee by storm!
When and where
Location
Sabor Latino Restaurant 872 Meadow Street Chicopee, MA 01013
About this event
Meet Delmarina López, Esq., Ward 3 Chicopee City Council Candidate
Adjunct Professor at Bay Path University and passionate #Lawtina with a J.D. from Western New England University School of Law and a B.S. in Criminal Justice with a concentration in Legal Studies from Bay Path University. Strong leadership skills with an empathetic approach and innovative ideas. Extensive experience serving the local community, in leadership roles, and working with youth.
As a product of the Chicopee Public School system and a long-term advocate for transparency, diversity, and breaking cycles, Delmarina López, Esq., has dedicated her life to building up her local community through Board engagement, neighborhood outreach, and intentionally serving as a sounding board for those whom she represents.
The Committee to Elect López would like to invite you to a Campaign Kick-Off Party. This launch event will take place at a local Latino restaurant and López favorite: Sabor Latino (Sabor Latino Restaurant, 872 Meadow Street, Chicopee, MA 01013) on Friday, August 6th from 5 PM to 8 PM. Join us for music and refreshments to celebrate the Latinx Community in Chicopee.
Don't miss out on the fun!

More information about Delmarina López and her campaign can be found on her website, https://www.electdelmarinalopez.com. This site includes biographical information about Delmarina and a calendar of upcoming events and her position on many of the important issues affecting Chicopee.
We look forward to hearing from you and appreciate your encouragement and support. I hope that you'll decide to become involved and help make a difference. Chicopee is a better place to live if we work together.
Donate electronically here! Contributions from you will allow us to raise the initial funds required to launch an impactful campaign.