Sales Have Ended
Registrations are closed
Did you include link(s) to song? Be sure to email lyrics .pdf to festguide@gmail.com. Application is not complete without lyrics emailed to the organizer. Thank you Delgado Songwriting Contest
Sales Have Ended
Registrations are closed
Did you include link(s) to song? Be sure to email lyrics .pdf to festguide@gmail.com. Application is not complete without lyrics emailed to the organizer. Thank you Delgado Songwriting Contest
Description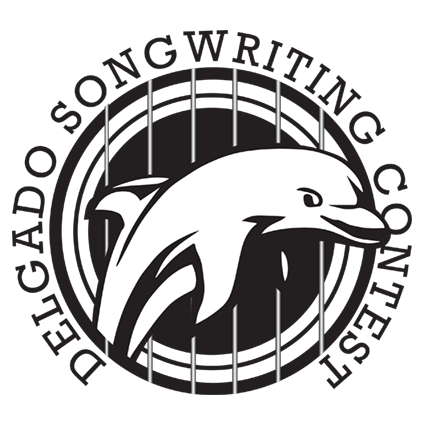 DELGADO SONGWRITING CONTEST

ABOUT
The Delgado Songwriting Contest is a project of Delgado Community College's Music Department in collaboration with Cutting Edge CE Conferences and Events. The Delgado Music Department and its collaborators seek to offer opportunity, exposure and direction for today's emerging artists. The Delgado Songwriting Contest is an endeavor to directly impact the careers of talented songwriters.
The Delgado Songwriting Contest's goal is to inspire and encourage the creative activity of songwriting. All genres are welcome and will be judged by industry experts.

APPLY
Each applicant will be judged on: content, style, originality, and durability (i.e. Does the song has what it take to stand the test of time?). Each applicant will not be judged on: production, performance or instrumentation.
Each applicant must provide an audio link to the song in the application in one of the approved formats and provide a lyric sheet in .pdf format with confirmation number from registration ticket. Incomplete submissions will be disqualified and discarded. A prize package comprising, cash, equipment and recording time awaits the winner(s).

JUDGING
All judges are entertainment professionals with diverse expertise and backgrounds. All are committed to finding new talented songwriters and helping them find their voice, get recognized and discovered.
All songs will be judged anonymously, judges will not know any applicant's association with the song being judged.

ROUNDS
The Delgado Songwriting Contest is a multi-round contest, comprising Qualifying, Semi-Final, and Final rounds.
In addition, a live performance opportunity will be offered to selected songwriters for the Audience Favorite category.
---
SUBMISSION RULES AND GUIDELINES
(Subject to Change)
Upon submission of their application for entry, applicants to the Delgado Songwriting Contest agree to abide by the rules of the contest. The Delgado Songwriting Contest is open to all songwriters. Entries must be submitted through our approved online submission process.
All Ages: All age groups qualify for entry to the contest. Applicants under the age of 18 must have the permission of their parent or legal guardian to enter. (In addition, if any collaborator listed on the submission is under 18, permission of their parent or legal guardian must be included in order for any listed participant to qualify.)

Performance Links and Lyrics Only: No marketing or publicity materials will be accepted including album art, testimonials, celebrity endorsements, online links or any other material attempting to back your entry with anything other than the quality of the songwriting.

Original Songs Only: All songs, music and lyrics must be original compositions and be credited solely as the work of the creator listed in the entry form. Songs in violation of any copyright laws, trademarks, and intellectual property rights will be disqualified. In all cases, The Delgado Songwriting Contest or its collaborators shall in no way be held liable for any such legal action that results from the submission of unlawful or stolen submissions.

No Changes after Submission: Once materials are submitted, no revisions or alterations to the entry will be allowed or accepted.

All Creators Must be Named on Application: Any song submitted must be listed in the entry process. Up to four (4) creators may be listed with only a single entry. The primary contact will be treated as the spokesperson for the group and should be the only person who completes the entry form information. All other decisions of division of cash and rewards are left to the discretion of the individual contestants and their agreements among themselves.

Submission Process: Applicants may submit up to three times per submission cycle. Links to songs must be provided in one of the following formats: YouTube, Vimeo, Soundcloud, and Dropbox. No emailed audio files (e.g. .mp3, .wav, .aif, etc.) will be accepted.

All lyric sheets must be emailed to festguide@gmail.com in .pdf. format and include all names of co-writers and Performing Rights Organization (PRO) information where applicable. Incomplete submissions will be disqualified.


Your Songs remain your materials: The Delgado Songwriting Contest DOES NOT own the rights to any submitted material. In all cases, all rights to submitted songs and lyrics are retained by their original creator(s). The Delgado Songwriting Contest will not reproduce any submission for sale or profit.

You will NOT get paid because your song sounds like someone else's: It is acknowledged that similar beats, notes, sounds, lyrics or other song elements may be demonstrated in more than one submission and/or in current developments by the contest Judges. Any overlap of these or similar elements do not entitle any entrant to any compensation or credit.

Employees of Delgado Music Festival: including directors, producers, contractors, agents and their immediate families are ineligible to participate in this contest. Any such submission will be immediately invalidated. In addition, this contest is VOID WHERE PROHIBITED or restricted by any Federal, State or Local law.

Dates/Time Adjustment: The Delgado Songwriting Contest holds the right to extend entry cut-off dates.

Winners Announcements: Winners will be announced on the Delgado Music Festival website and via email blasts to industry professionals. DMF will make no effort to inform non-winners of contest results through any direct means. Winners will be informed directly through email or phone. DMF is not responsible for any Federal, State or Local Taxes or international customs costs.

Hold Harmless: By entering your work to the Delgado Songwriters Contest, your agree to indemnify and hold us, our employees, officers, agents, shareholders, affiliates, and partners harmless from any and all claims, liability, loss or damage arising out of submitting your content into consideration and or competition to the Delgado Songwriting Contest.
Prizes: Cash - Studio Time - Performance at the Delgado Music Festival