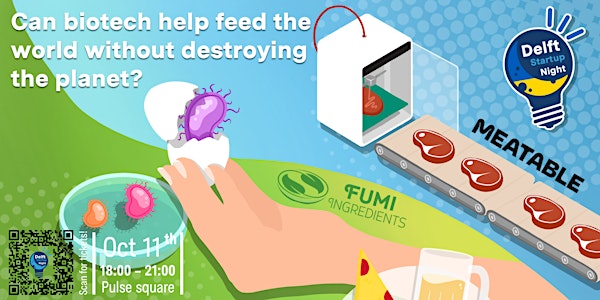 Delft Startup Night 11th of October
How to feed the world without destroying the planet
When and where
Location
TU Delft Pulse 19 Landbergstraat 2628 CE Delft Netherlands
About this event
DSN 5TH Edition Theme: how to feed the world without destroying the planet?!
The transition from animal to plant-based protein is well known in the Netherlands and picking up speed. However, we also see high levels of civic resistance to changing diets, which leaves us to wonder: is it enough? A new wave of biobased startups based around Delft is looking at utilising the properties of animal cells and microorganisms such as bacteria, fungi and helpful viruses. They are innovating by combining new technologies and understanding biological systems to build nutritious foods that use fewer resources, generate less pollution, and even lead to a net reduction in atmospheric carbon dioxide.
1800 - Welcome and intros to the founders
1830 - 1930 Founder panel moderated by one of the professors from the Delft Centre for Entrepreneurship, questions from the audience.
1930 - Break for pizza
2000 - 2045 Interactive mini workshop or audience challenge set by the founders
2045 - 2130 Networking drinks