| | |
| --- | --- |
| DELFT (Netherlands) - RISK MANAGEMENT SUMMER COURSE (incl ISO exams) | |
Event Details
 Yes, there are places available!
Register via DSys (P.H.A.J.M.vanGelder@tudelft.nl) 
Being in business means taking risk
Practical course 
including ISO certification exams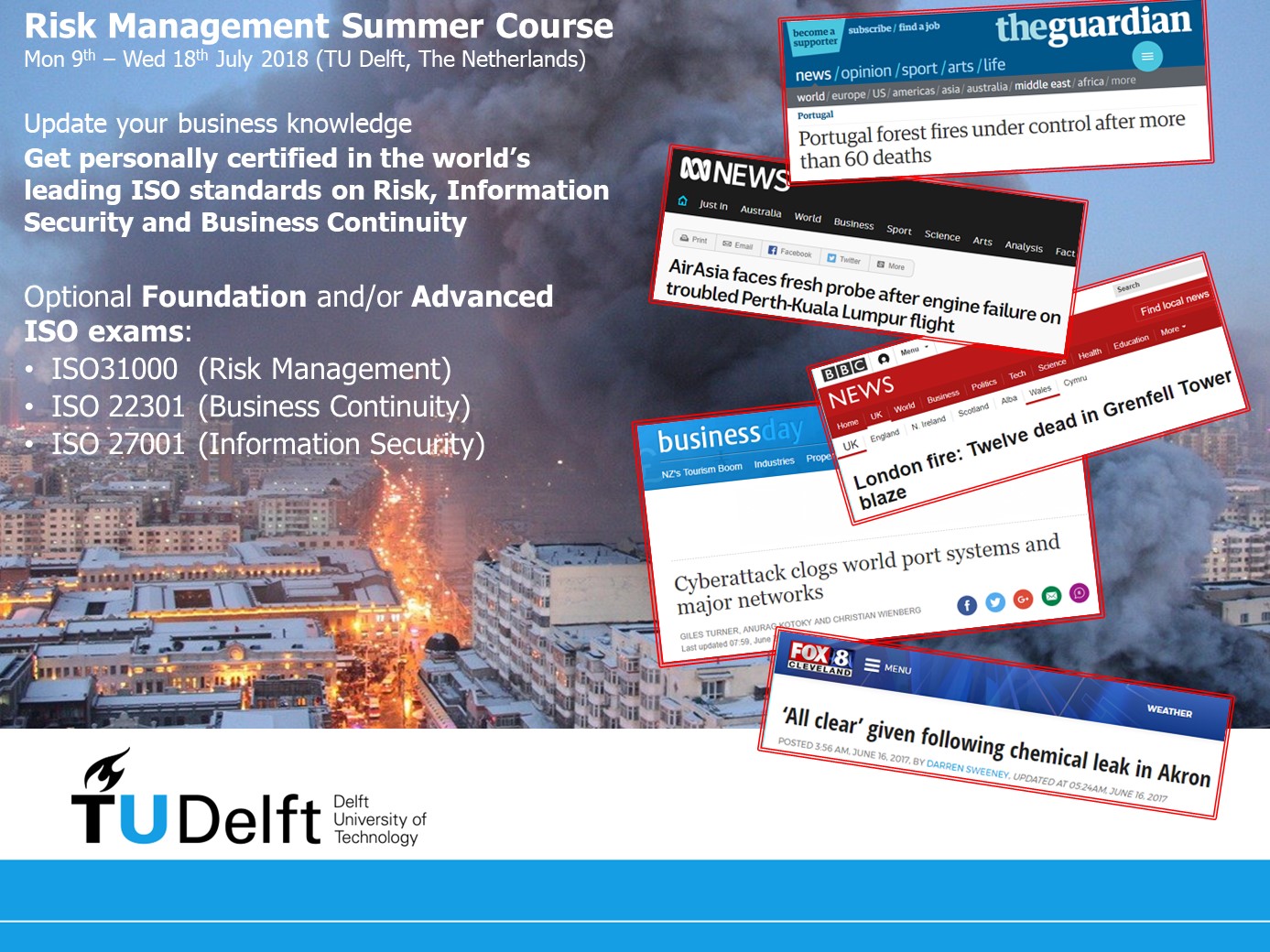 Click here for a full brochure including fees.
Note that all fees represent only 30% compared to commercial rates, thanks to TU Delft for hosting the facilities and contributing guest speakers.
Join our Linkedin Group to stay in the loop!
 Includes tuition (includign exam prep) on:
Risk Management (incl ISO31000 Foundation OR Lead Risk Manager exam)
Business Continuity Management (including ISO22301 Foundation OR Lead Implementer exam)
Information Security Management (including ISO27001 Foundation OR Lead Implementer exam)
Additionl optional exam (self study):
Supply Chain Security (including ISO28000 Foundation exam)

This program gives you not only world wide recognised accreditations, but also European Study Credits.
For many reasons, an organisation needs a proper Risk Management (RM) framework and practices, for example for regulatory requirements (e.g. direct/indirect Government compliance), to meet customer expectations, for Corporate Social Responsibility (CSR), to meet industry standards (e.g. ISO) and/or to achieve a better/cheaper insurance arrangement.
Whether or not you have experience in Risk Management, we offer courses for all levels and none of these have a formal prerequisite. 
Get trained by the best…
The ISO certified trainer from Australia (TU Delft Alumna) has trained 1000+ individuals across Australasia, Latin America, Europe and Africa. She has a

ssisted 100+ companies with their Risk Management, 

IT DR and Business Continuity 

challenges, and 

presented at conferences globally, totaling 10,000+ delegates.

A range of guest presenters will be covering technical and managerial issues such as aviation risks, chemical risks, flood risks and cyber risk.
Receive…
Expert guidance whilst working on key processes during the workshop

FREE soft copies of practical templates used during the course.
Get ready for the real challenges at work…
Learn from delegates across different disciplines and industries

Practice with ISO concepts during hands-on exercises.
The course assists anyone who has some involvement in Risk Management - whether from Business Continuity, Risk, Security, IT, HR, Compliance, Operations, Supply Chain management, logistics or other business areas - to increase their knowledge.
You will also get guidance in preparing for the ISO exams.  These are governed by the PECB and take place on various days in the program.
Benefits of a proper Risk Management framework 
Meeting regulatory requirements

Achieving insurance premium discounts

Gaining competitive advantage when responding to Requests for Tender

Reducing risks by improving the selection of appropriate controls

Providing shareholders, customers, employees, 3rd parties and general public with confidence in your business

Ensuring common terminology/language about Risk across your organisation

Enhancing motivation of your teams to perform well in regards to Risk Management documentation

Increase control over the Risk Management process and improve ability to measure progress.
What past participants say
I thoroughly enjoyed the course and gained a lot of useful information, which I have been able to put to good use. I would recommend the course to colleagues who need to have a good understanding on Business Continuity Management." - corporate participant.
"I thoroughly enjoyed the course and am looking forward to applying the framework and methodology. My expectations were met 100% - PhD student
"Thanks, I thought the course was brilliant and I also leant a lot from the discussions with the other participants… This is a very useful secondary benefit of the course." - TU Delft staff
"Thank you for making the course a really fantastic learning experience." - PhD student

"Thanks for the great course. Your format, delivery and content are excellent. You have obviously invested many hours into development, and your real world examples from your (very) extensive experience add heaps. I learnt a lot. Some of which I've already utilised. Thanks again!" - TU Delft Graduate 
For any in-house options and international dates of this program anywhere in the world, submit an enquiry… we're here to help!
Workshops in other cities in Australia, New Zealand, Africa, Europe and Asia are held at request.
About your international guest trainer: Ms Rinske Geerlings, Founder and Principal Consultant at Business As Usual
Ms Rinske Geerlings is an internationally known, award winning consultant, speaker and certified trainer in Business Continuity, IT Management, Security, Disaster Recovery and Risk Management with over 15 years global experience.
Her firm, Business As Usual, has successfully competed against the Big Four to work with prestigious clients including 8 Central Banks, BBC WorldWide, Toll, Shell, Lonely Planet, Boeing, Fuji Xerox, Fujitsu, St George Bank, NIB, Toga, ASIC, Departments of Defence/Immigration/Health/Industry/Education and 100s of other mid-size and large organisations worldwide.

Rinske has trained 1,000s of professionals (incl. in ISO22301, ISO27001 and ISO31000) and presented in front of over 10,000 conference delegates across industries and geographic locations. She built extensive hands-on experience during permanent roles in banking, and played an active role in the development of the current Australian Prudential Regulation Authority (APRA) regulatory standard for BCP (which affects banks and insurance companies).
Rinske's engaging presentations include topics such as"How to get buy-in for BCM at all levels of the organisation", "How to develop Business Continuity Plans that don't collect dust on the shelf" and "How to run eye-opening BCP tests and exercises that keep everyone engaged".
Further information via email info@businessasusual.net.au. 
See our recommendations and testimonials on Linkedin.
Where

Delft University of Technology (TU Delft)

Delft
Netherlands


Organizer
Business As Usual specialises in Business Continuity Management (BCM), Risk Management, Security, IT Risk and Disaster Recovery (DR) planning.
Are you struggling with getting internal support for these processes, maintaining the documentation and/or maintaining staff awareness of their role?  Business As Usual's courses and consulting services will assist you with these (common) challenges.
Visit the Business As Usual webite http://www.businessasusual.net.au for further information, or drop us a line via info@businessasusual.net.au