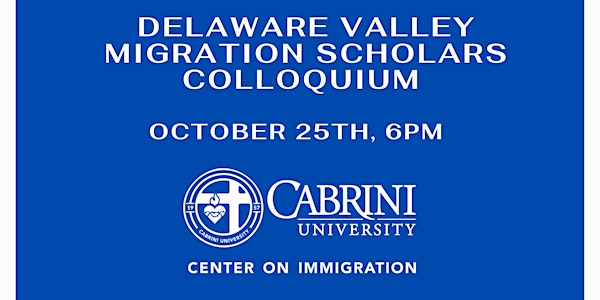 Delaware Valley Migration Scholars Colloquium (DVMSC)
The aim of the DVMSC is to provide a forum for (im)migration scholars in the area to share their research and to discuss current issues.
When and where
Location
Cabrini University, Grace Hall MLPT Room 610 King of Prussia Road Wayne, PA 19087
About this event
For the colloquium, we would like to introduce current (im)migration scholarship being worked on by our colleagues in the area. The topic to be covered can be in any area of (im)migration studies domestically and globally. To that end, we invite you to share the research projects you have in progress. We accept works from early career scholars, established scholars, and graduate students. We would like to give presenting scholars the opportunity to provide a 15 to 30-minute presentation of their project followed by about 30 minutes of feedback and discussion.
To attend the event, please RSVP by October 22nd.
The Colloquium will take place on our beautiful Cabrini University campus, on Tuesday, October 25th, at 6:00 PM.