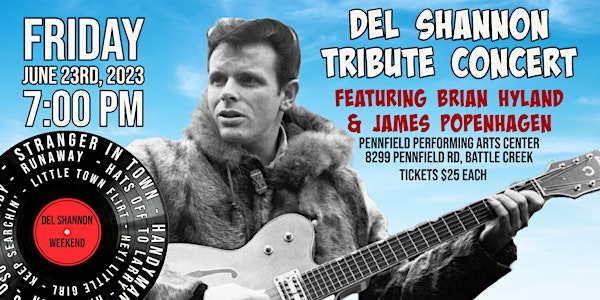 Del Shannon Tribute Concert
Del Shannon Tribute Concert featuring Brian Hyland & James Popenhagen at the Pennfield Performing Arts Center in Battle Creek, Michigan
By Battle Creek Regional History Museum
When and where
Date and time
Friday, June 23 · 7 - 9:30pm EDT
Location
Pennfield High School 8299 Pennfield Road Battle Creek, MI 49017
Refund Policy
Refunds up to 30 days before event
Eventbrite's fee is nonrefundable.
About this event
2 hours 30 minutes

Mobile eTicket
Del Shannon Weekend Inaugural Concert
This inaugural concert event is the start of Del Shannon Weekend in Battle Creek, Michigan. The concert will feature a tribute to the music legend Del Shannon by the James Popenhagen Band. Classic hits like 'Runaway', 'Hats off to Larry', 'Little Town Flirt', 'Stranger in Town', 'Keep Searchin (We'll Follow the Sun)' will be featured, as well as many others songs by the artist.
Brian Hyland will also be performing his classic hits 'Itsy Bitsy Teene Weenie Yellow Polkadot Bikini', 'Sealed with a Kiss', 'Gypsy Woman' and many other great hits.
The Del Shannon Show is a unique concert experience with James Popenhagen that could only be performed with accurate detail and energy by a close friend of the late artist.
Michigan native, James Popenhagen, is far from your average artist, he is a multi-talented well rounded individual sculpted by his love for music from the 1950's and 60's. James has been performing since the age of eight after meeting his grandfather's friend, Del Shannon, best known for his number one hit "Runaway."
From that moment on, James began pursuing a career in the music industry and didn't waste a moment getting started. He taught himself to play 8 different instruments and formed his first band at the age of 12, filling various shoes, from bassist and piano player, to finally guitarist and front man.
His grandfather Bob Popenhagen, was Shannon's lead guitar player at the HiLo Club in downtown Battle Creek, Michigan back in the 1950's and 60's. Shannon and the Popenhagen's would keep a close friendship until Shannon's untimely death in 1990.
James has performed and become associated with the likes of Johnny Rivers, Lloyd Price, Chubby Checker, Tommy Roe, Brian Hyland, Frankie Ford, Vince Gill, Bill Anderson and countless other performers from many genres and eras. He has released two solo albums and has collaborated with Nashville music legend Johnny Carver of "Tie a Yellow Ribbon" fame. James produced the album with Carver in his own state of the art recording studio, "Steel Dog Studios" where he produces artist when not on the road.
He wrote seven of the songs with Carver featured on the album. He has contributed to over two dozen albums as a musician and producer during the past 26 years and has over 150 over a original songs he's penned himself. When not traveling with the Del Shannon Show, James can be found in the studio producing his original songs, as well as other artist, playing all the instruments on the recordings.
Prior to & after the concert: Del Shannon Weekend Inaugual T-shirts will be available, as well as a limited quantity of tickets for the Del Shannon Historical Tribute Event at the Battle Creek Regional History Museum on Sunday, June 25th from 2-4 PM. The Del Shannon biographer will also be on hand in lobby at the show.
The Del Shannon Car Show is being held at the Leila Arboretum on Saturday, June 24th from 11 AM to 4 PM.
Seating in the concert is general admission auditorium seating. There will be no food or drink concessions.
All proceeds for this concert will benefit the Battle Creek Regional History Museum.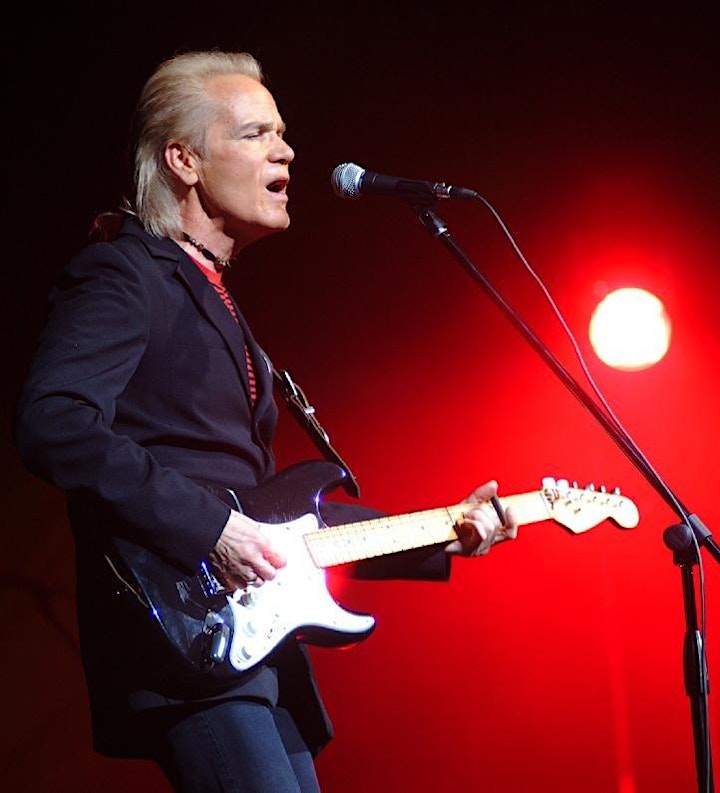 Brian Hyland
Brian Hyland was born in Woodhaven Queens on November 12th 1943. At the age of 16, he had the #1 record in the country, "Itsy Bitsy Teenie Weenie Yellow Polka Dot Bikini", for which he received a Gold Record. Brian moved from Kapp Records, which produced Itsy Bitsy, and went on to ABC Paramount, where he cut a string of chart records, with the writing/production team of Gary Geld and Peter Udel1; "Let me Belong to You","Ginny Come Lately", "Sealed with a Kiss" and "Warmed-over Kisses"
Brian's Country Rock chart singles, include,"I'm Afraid to go Home". About this time, Brian performed in Greenwich Village at the Café Wha?, with a up and coming comedian named Richard Pryor.
Brian moved to Phillips Records, where he recorded an album produced by Snuff Garrett, with the musical assistance of Leon Russell and JJ Cale. It included "The Joker went Wild" and "Run, Run, Look and See", which were in the top 20 on the charts.
Brian cut his 3rd Gold Record with Curtis Mayfield's, "Gypsy Woman", produced by Del Shannon. Gypsy Woman sold over 3 million copies internationally. This was followed by his tenth album, with 6 original songs and another single hit, a version of Jackie Wilson's,"Lonely Teardrops".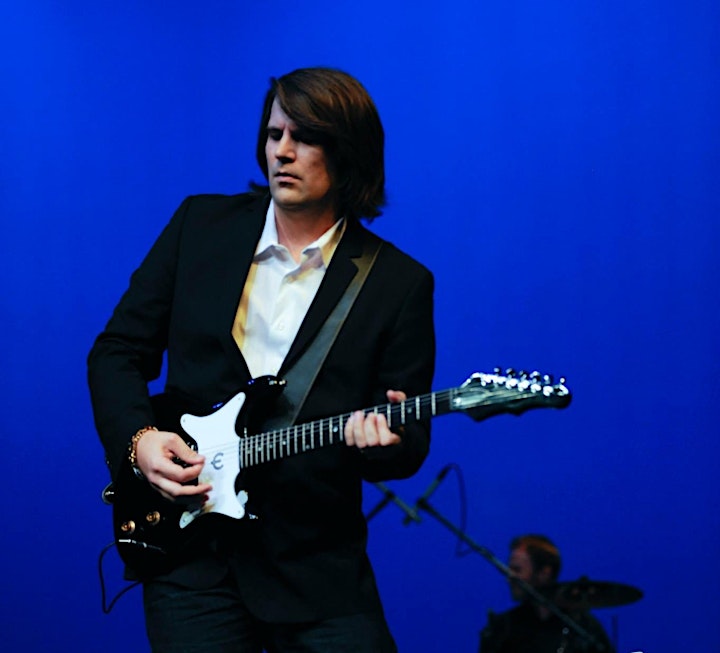 James Popenhagen
James Popenhagen has performed The Del Shannon Show from coast to coast in the US, also in England, Ireland , Scotland just to name a few… James's tribute is the only Del Shannon tribute endorsed by Del Shannon's family. James has invested thousands of dollars into having rare vintage equipment customized to capture the sound of Del's rare guitars. This took years of tracking down the techs that customized and set up Del's guitars. It was worth the effort and has proved to move the audience as Del would himself.
Del Shannon's family, friends and fans come from all over regularly to experience Popenhagen's tribute. After hearing James tribute, Shannon's wife Shirley Westover, and children, sent James Shannon's personal stage jewelry to complete the look and vibe of the late Del Shannon.
Shannon's wife said after the performance, "I couldn't believe what I was seeing… It was so emotional, it was like having Del back again if only for a short time." Dan Burgoise, founder of "Bug Music" Publishing, in Hollywood, and Shannon's manager for over 20 years, was so moved by James' tribute that he encouraged the artist to take the show on the road saying "It's so close to Del himself at times I forgot it wasn't! The look, the sound and energy… It's uncanny."
Besides music, James has appeared in music videos and also in "Touchback," a movie starring Kurt Russell and Barry Sanders released in 2013. He is also involved in local community outreaches and serves in his local homeless shelter.
When home he enjoys spending his free time on his ranch with his wife Katie, and his son David. James enjoys bringing Del Shannon's story back to life to audiences of all ages, everywhere. "As soon as the music starts at each show I'm instantly thrust back in time watching Del as his guest at the side of so many stages. I experienced so many of his concerts as his guest that it's like magic every time… I just step into his vibe."
Agenda
5:30 PM - 6:30 PM
Doors open for lobby
Hosted by: The Battle Creek Regional History Museum
6:30 PM - 7:00 PM
Doors open to Auditorium for seating
7:00 PM - 9:30 PM
Del Shannon Tribute Concert with James Popenhagen & Brian Hyland
9:30 PM - 10:30 PM
Exit to Lobby for final merchandise & departure to parking
Hosted by: The Battle Creek Regional History Museum
---
All proceeds for this concert benefit the Battle Creek Regional History Museum.
About the organizer
The Battle Creek Regional History Museum (BCRHM) is a curator and educational center for the rich and wonderful history of the region around Battle Creek and Calhoun County Michigan. Our mission is to create interesting, interactive and fun educational learning experiences involving local and regional history. We are located at 307 W Jackson St, Battle Creek, Michigan 49037.
BCRHM is a 501(c)(3) non-profit. Contributions can be tax deductible.