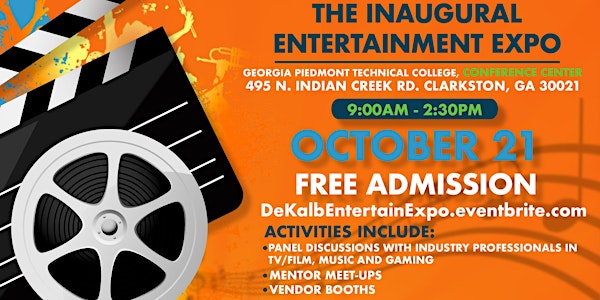 DeKalb Entertainment Expo
Location
Georgia Piedmont Technical College
495 North Indian Creek Drive
Clarkston, GA 30021
Description
The DeKalb Entertainment Commission's Expo will attract hundreds of attendees for:
Panel sessions filled with talented artists and experts from the three industries of film, music & digital entertainment
Vendor tables from local business owners looking to connect to support entertainment related productions
Join enthusiastic patrons and invited executives from municipal government for a day filled with great meeting potential!
If you'd like to be a sponsor that day here are the opportunities. Please contact Shelbia Jackson, Entertainment Office Director at 404-388-4621 for more details.
DEKALB ENTERTAINMENT EXPO PANEL SCHEDULE
9:30am -10:45am
Jumping Into The Film Industry - Room 114
Moderator:
Judiffier Pearson, Film & Entertainment Business Consultant UGA SBDC, Clayton State University
Panelists:
Jessica Fox-Thigpen, Owner/Casting Director, Fox Casting
Keyanna Simpson, Actress
Maida Morgan, Locations Manager, Flying Zebra Productions
Scott Thigpen, Owner/Producer, Crazy Legs Productions
Co-Chair, Atlanta Chapter, Producers Guild of America
__________
9:30am-10:45am
Opportunities in Games and Digital Entertainment - Room 113
Moderator:
Abby Joslin, Joslin Business Coaching
Panelists:
Allyssa Lewis, MyAnimationLife
Cameron Payne, CCP
Marisa Tontaveetong
__________
9:30am - 10:45am
Radio Promotion/Marketing Airplay in the Age of Streaming & Digital Technology - Room 117
Panelists:
Ric Ross, Capitol Records National Field Director
Cannon Kent, Atlantic Records Southeast Promotions Director
Jerrell Allen, Artist Manager
__________
11:00am - 12:15am
Women in Film & TV - Room 116
Moderator:
Wendy Jackson, Writer & Producer
Panelists:
Amy Oraefo, Esq., Counsel, Taylor English - Corporate, Entertainment & Intellectual Property Law
Rhonda Baraka, Film/TV Writer, Director, Producer
Wanda Shelley, TV Producer/Production Manager
__________
11:00am - 12:15pm
The Art of Production & Publishing - Room 115
Moderator:
Kawan (KP) Prather, 'I Am Other' President of Music
Panelists:
Bryan Michael Cox, Pop/R&B Producer
Byron Wright, Warner Chapel Publishing
Dave Claasen, BMI Creative Director (pop/rock)
Michael "Mixzo" Johnson, R&B/Hip Hop Writer/Producer
__________
11:00am-12:15pm
I Have a Great Idea for an App or Game! ...Now What? - Room 117
Moderator:
Rob Hassett, Business Law Partners
Panelists:
Steph Chergi, GamesThatWork
Brian Miller, ZapMil
Michael Stanley, Creative Director at Dragon Army
__________
1:00pm - 2:15pm
Understanding the Georgia Entertainment Industry Investment Act "TAX CREDIT" - Room 115
Moderator:
Andrew Greenberg, Executive Director, Georgia Game Developers Association
Chairman, DeKalb Entertainment Commission
Panelists:
Allison Fibben, Marketing/Tax Incentive Program, Georgia Department of Economic Development
Tammy Hurt, Managing, Endeavor Sound
Founding President, Georgia Music Partners
DiAndria Green, Bennett Thrasher