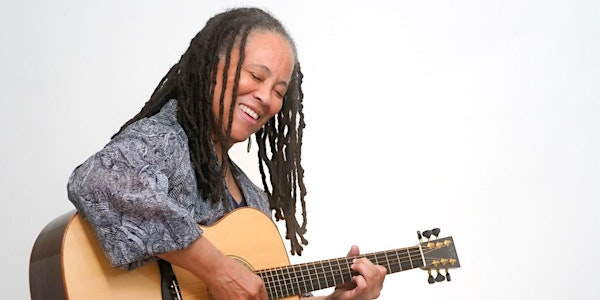 Deidre McCalla: ENDLESS GRACE Album Release Celebration
Singer-Songwriter Deidre McCalla takes the stage at The Back Room to celebrate the release of her new CD, ENDLESS GRACE.
When and where
Location
The Back Room 1984 Bonita Avenue Berkeley, CA 94704
About this event
Multi-instrumentalist and producer Julie Wolf will join Deidre for this show.
ENDLESS GRACE, Deidre McCalla's fifth independent album, is the bold statement of an artist confidently claiming her place in the world and relentlessly affirming the power and diversity of the human spirit. A Black woman, mother, lesbian, feminist, and performing songwriter for almost fifty years, Deidre has crafted a collection of songs on ENDLESS GRACE that exhibit an unyieldingly honest perspective grounded in her life and expressed with a lyric touch that is simple and direct. As Deidre's vocal draws the listener in with its rich warmth and feather-light depth, ENDLESS GRACE sings of our promise and imperfections and celebrates our capacity to persevere.
A dreadlocked troubadour for close to five decades, Deidre McCalla is a much beloved performer in both folk and women's music circles, especially in the Bay Area. A former resident, Deidre McCalla has received a San Francisco Cable Car Award and the Oakland Tribune named her album WITH A LITTLE LUCK one of the ten best albums of the year. Deidre has long been in the forefront of a growing cadre of Black American musicians imploding preconceptions of what acoustic Black music could or should sound like. In making ENDLESS GRACE, Deidre tasked her producers to lean into her signature sound of acoustic music with a backbeat because that is how Black folk do folk.
In 2021, Deidre McCalla received a SERFA Award from the Southeast Regional Folk Alliance for distinguished service and exceptional contributions to folk music in the Southeast region of Folk Alliance International. The Austin-American Statesmen cites Deidre as "...a highly distinctive voice in a crowded field of contemporary folk music," and Sing Out Magazine lauded her album, Playing for Keeps, as a work of "power, conviction and grace." Deidre McCalla's first Olivia Records album Don't Doubt It is listed as one of 25 Classic Women's Music Albums by Ms Magazine. 
Tickets are $20 in advance and $25 at the door. Children under 12 are free. Advance tickets are available at the link below, or you may purchase your tickets at the door the night of the show. Doors open one half hour before show time. We accept cash or Venmo only at the door (ATMs are nearby).
The Back Room is an all-ages, BYOB (for those 21+) space, dedicated to (mostly) acoustic music of all kinds. You are welcome to bring your own food and adult beverages with no additional corkage fee. The venue is ADA accessible. If you need more information or have any questions, please call us: #510-381-1997.
To join our mailing list, please click here. Thank you for your support!
A Message About Our Indoor Shows:
Our indoor shows require proof of vaccination, and you must wear a mask except when eating or drinking. The performers will be mask-less and same-day tested.