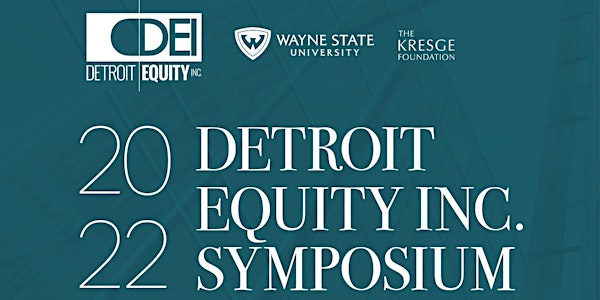 DEI Symposium
Detroit Equity Inc Symposium at Wayne State University Tuesday, September 27th
When and where
Location
Student Center 5221 Gullen Mall Detroit, MI 48202
About this event
Detroit Equity Inc. will host our inaugural symposium on September 27 to share a new report on equity and inclusion in the City of Detroit. DEI has partnered with Wayne State University's Damon J. Keith Center for Civil Rights to develop the report. Funded by the Kresge Foundation, the report examines areas of inequity in Detroit and shares proven best practices to provide a road map for our collective efforts moving forward.
Lt. Governor Garlin Gilchrist II will be a keynote speaker for the event. The Lt. Governor will share his perspectives on the report and outline how the state is moving forward on this important topic.
The DEI Symposium will bring together an estimated 250 equity and inclusion professionals as well as individuals and organizations that support progress in Detroit. The symposium will foster the innovation, and most importantly - the actions needed to continue to develop new opportunities and share new ideas in equity and inclusion in our own community.
The symposium will open with a networking breakfast and a morning keynote speaker. Participants will then move through a series of 30-minute breakout sessions on topics like workforce development, increasing economic opportunity in Detroit and expanding vendor and supplier diversity. The sessions will focus on Detroit-centric data and information.