DEI Council of TFA Greater Chicago- Northwest Indiana Information Sessions
Diversity, Equity, and Inclusiveness Council Info Sessions
About this event
In each info session, you will learn more about how to get involved in the Greater Chicago-Northwest Indiana Diversity, Equity, and Inclusiveness (DEI) Council. Current council members will be hosting info sessions and we'd love to get to know you!
Join one of the info sessions below:
Thursday, September 16th (2-2:30pm)
Wednesday, September 22nd (5:30-6pm)
Wednesday, October 6th (9-9:30am)
Zoom Link here: https://teachforamerica.zoom.us/j/9898493012?pwd=T0NWYmRpcmNuaUxoQkpPYnVWOElzQT09
As a council member you'll contribute to holding the region, staff, and leadership to account to being an actively anti-racist, multicultural institution for Black, Indigenous, and People of Color communities in the Greater Chicago-Northwest Indiana region for whom we serve and work alongside.
Be on the lookout for a zoom link an hour before event starts!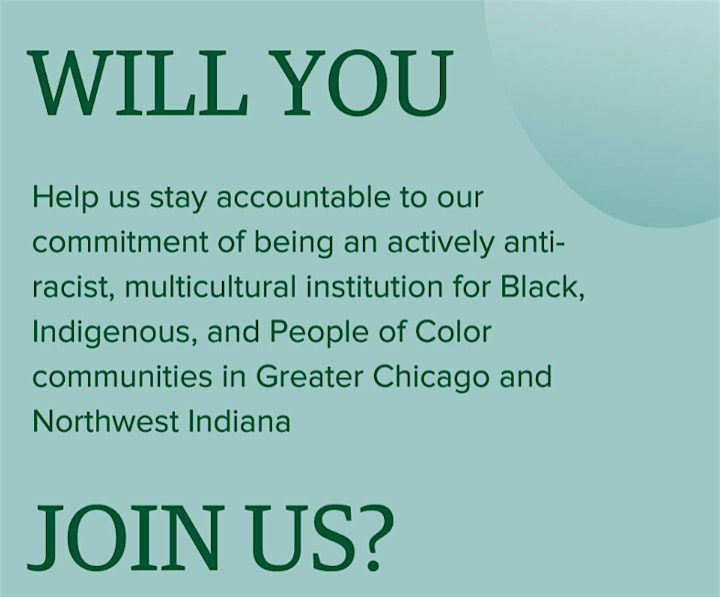 Organizer of DEI Council of TFA Greater Chicago- Northwest Indiana Information Sessions
Teach For America is a network of leaders transforming the education landscape in Chicago and Northwest Indiana in order to ensure that one day all students have access to an excellent education. We recruit and develop promising young leaders to teach in low-income schools for at least two years, then support their impact throughout their career, both within and outside of the education system. By 2020, our network of teachers, school leaders and advocates will impact one-third of the population of public schools in Chicago.
18% of CPS students are on track to graduate from college, twice as many as a decade ago. That said, 76% of incoming freshmen aspire to earn a degree—a huge gap. The leadership talent provided by Teach For America has been core to the recent gains in CPS, and will be critical to ensuring that all students, regardless of their background, achieve their aspirations for college or career.

Our region's 3,000 members work across sectors to improve student outcomes and drive systemic change. After their initial two-year teaching commitment, two-thirds stay in education, a community that makes up over 7% of Chicago's teachers and over 20% of Chicago's principals and assistant principals. Teachers in our network achieve an average 1.4 years of academic growth with their students, and our principals lead the highest-rated schools at nearly two times the rate of their peers. Our alumni are policy-makers, and also lead the highest impact education organizations in Chicago, such as OneGoal, The Chicago Public Education Fund, and the Noble Network of Charter Schools.