Description
The Grocery is proud to host two evenings of performance by Degenerate Art Ensemble and Mizu Desierto.
This is an intimate event where the audience is immersed in movement, live music and dance.
This project is made with support from 4Culture's Tech Specific grant program.

When: Sat Sept 23 and Sun Sept 24. (Show at 8:00pm, doors at 7:00pm)
Where: The Grocery, 3001 21st Ave S, Seattle 98144
Tickets: Sliding scale, $5 - $30.
All proceeds go to the artists and to support the performance costs.
Please note that we have limited space, and tickets are required to reserve a spot. There will be some chair seating, and some floor seating.
Program for both evenings:
Mizu Desiertopresents Matriarch, a dance and film meditation on death and dying, forgotten and future lineages, the andro-gene and bees. Sometimes only through the loss of the matriarch, can we realize that we must become our own queen.
Degenerate Art Ensemble presents Diphylleia Grayi (Skeleton Flower), a fantastical, semi-autobiographical exploration of a creative person's struggle with depression, identity and and the awakening of feminine power where healing and transformation are fuelled by the secret medicine of fairy tales. The work is an immersive stage performance weaving together live music and song, visceral solo dance and storytelling ritual. Haruko Crow Nishimura and Joshua Kohl will perform the live music, dance and song elements in this rare, raw and intimate performance setting.
ABOUT THE ARTISTS
Haruko Crow Nishimura is a choreographer, dancer and vocalist and is artistic-director of Seattle's Degenerate Art Ensemble (DAE). She strives to discover how art can create deeper connections and awakenings. The company creates performance work infused with the energy of live music and driven by her own style of visceral movement theater and dance drawing on her background in butoh and physical theater. Her vocal style ranges from emotive melodic crooning to searing punk. Her work with the ensemble has been featured in 10 countries presenting large scale experimental dance and theater projects, concerts, site-transforming spectacles and ongoing public experimentations. She was commissioned along with DAE by director Robert Wilson to interpret his work Einstein on the Beach and undertook a massive site specific collaboration for NEXT50 World's Fair Anniversary with Olson Kundig Architects in 2012. She danced as a soloist with the Kronos Quartet in 2013 and again as part of the 95 rituals - Anna Halprin's 95th birthday anniversary at the Yerba Buena Center for the Arts in 2015. She was the recipient of a 2012 Guggenheim Fellowship. In addition to her work with DAE, Nishimura is constantly collaborating with both local and international artists to push the boundaries of her medium dancing in the street, creating rituals for strangers in public spaces and hosting artist salons in her home cultivating a community space for artists to share their work.
Joshua Kohl is a composer and conductor and is the co-director of the Seattle based multi­art group Degenerate Art Ensemble (DAE). He has performed with the group throughout the United States, and ten countries of Western and Eastern Europe. He was commissioned in 2016 to compose an orchestral work by the legendary Czech rock band Uz Jsme Doma and conducted the work in Prague with the South Czech Philharmonic Orchestra. The work will tour the US in 2018. His score for filmmaker Wes Hurley's Potato Dreams is currently screening at film festivals internationally. His and DAE's work Red Shoes was awarded a Music Theatre Now Award from the International Theatre Institute awarded at the Swedish Biennale of Performing Arts in 2013. His original composition was performed by the Kronos Quartet in 2012 and 2015. In 2012 he conducted the music of fellow DAE composer Jherek Bischoff at the Lincoln Center with vocalist David Byrne.
http://www.degenerateartensemble.com/press/


Mizu Desierto is a dance-theatre artist, artistic director and farmer whose life=art explores themes of feminism, queerness, playful social deviance and regenerative land/culture. She is the co-founder of Portland's Water in the Desert, a hub of numerous projects, including: The Headwaters Theatre, Prior Day Farm & the annual festival that is Butoh College. Mizu's artistic works have been commissioned by The City of Portland and Portland Center Stage and her projects have received funding from the Arizona Commission on the Arts, Oregon's Regional Arts & Culture Council, Portland Development Commission, Oregon Arts Commission, The Multnomah County Cultural Coalition & The Oregon Cultural Trust. As an educator, she has worked as adjunct faculty in dance at Prescott College and Portland State University. Recently she was awarded her second fellowship residency at PLAYA for continued work with ÆVIUM, a multi-generational, multi-regional women's dance project with a 20 year history of collaboration.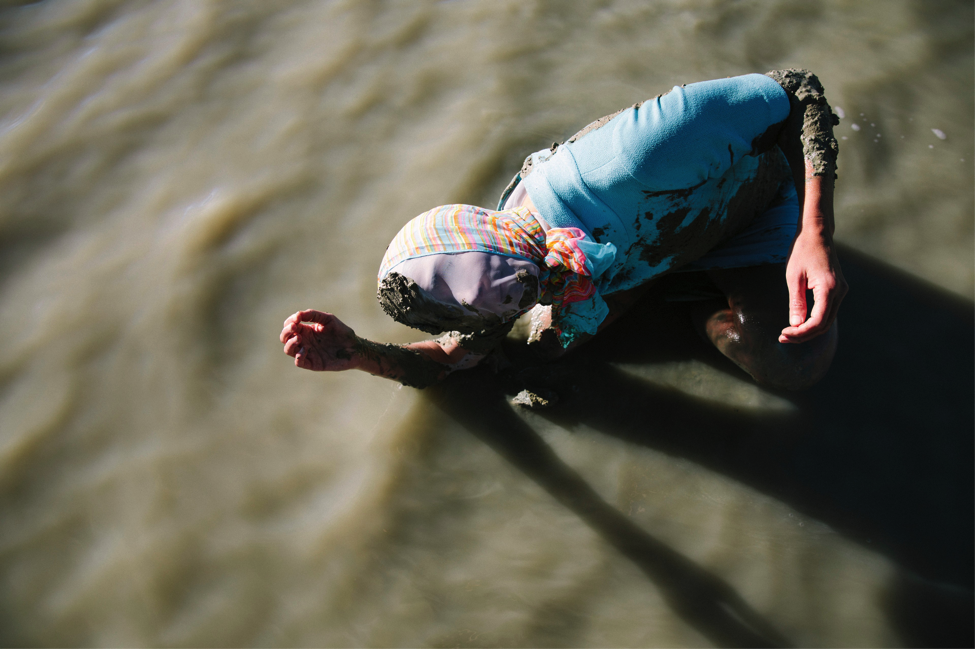 photo by ©Miana Jun