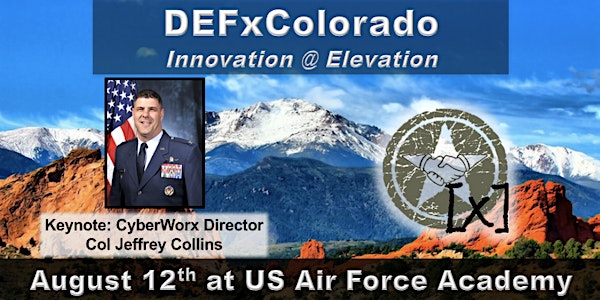 DEFxColorado: Innovation @ Elevation
When and where
Location
Eisenhower Golf Course U.S. Air Force Academy, CO 80840
Refund Policy
Refunds up to 7 days before event
Description
OVERVIEW
Colorado is home to numerous military bases and startup communities; DEFxColorado will leverage the strengths of both groups to create innovation @ elevation within the defense community. DEFxColorado will be held in Colorado Springs – our Nation's national security capital of the West – home of the Air Force Academy, Fort Carson, Peterson AFB, and Schriever AFB, with Buckley AFB just down the road. Denver, Boulder, Fort Collins and Colorado Springs all have active ROTC programs and boast growing startup scenes with innovative companies.
Building on the success of the monthly Colorado Springs Drink & Think meetups, we're hosting a day long DEFxColorado to tackle issues at a deeper level. We will begin the day with TED talk-style speakers and a panel of successful innovators. We'll then learn Lean Startup principles and Influence Strategies to develop real solutions and strategies to drive change by applying them to real-world challenges.
DEFxColorado is an event organized by the Defense Entrepreneurs Forum a registered 501(c)(3) non-profit organization disrupting the status quo by inspiring, connecting, and empowering leaders to create a culture of innovation in the defense community. As with all DEF events, uniforms and ties can be left at home.
AGENDA
Friday, August 11th - Happy Hour at Cockpit Craft Distillery (Evening)
Cockpit Craft Distillery is a local, veteran-owned business started recently by Calder Curtis, our very first Drink & Think speaker. Cockpit has some of the best drinks in town and is generously providing a complimentary first drink, discounted food and a tour of the distillery to DEFxColorado attendees.
Saturday, August 12th - USAFA's Eisenhower's Golf Course (All Day)
Our Keynote and Closing Speakers
Colonel Jeffrey Collins is the Director of Air Force CyberWorx, a new venture comprising a public-private research and design center located at USAFA. CyberWorx melds military, academic and industry expertise with the latest technology, policy- thinking and user-centered design to solve wicked operational problems.
Sean Maday is a cloud engineer at Google where he specializes in leveraging machine learning to solve business challenges. Sean is an Air Force reservist who has held a variety of technology and entrepreneurship positions and was the first full time director of Patriot Boot Camp, a non profit helping Veterans build tech companies.
Our Panel of DOD Intrapreneurs
Major Joe Byerly is the founder of the widely read blog, From the Green Notebook. The blog features leadership lessons from NCOs to 4-star generals. Joe is an Army Armor Officer currently assigned to 1st Stryker Brigade, 4th Infantry Division.
Major Matt Cavanaugh is an Army Strategist currently assigned to Army Space & Missile Defense Command (a component of Strategic Command). He co-founded and remains a Fellow with, the Modern War Institute at West Point. His writings have been featured in the New York Times, Washington Post, and Wall Street Journal, among other outlets.
Lieutenant Colonel Aaron Roof witnessed and led innovation in elite Counter Terrorism units for over a decade while serving in US Army Special Operations Command. Aaron is an Infantry Officer and currently the Professor of Military Science at the University of Colorado, Boulder.
Sara Kinney is the CEO of Rim Technologies where her solutioneers empower Innovation to solve our nation's toughest challenges. Their tech supports SMC Satellite Control Network, GPS, 24 AF, AFRL, AFSPC and the Pentagon. A former pilot, Sara has supported STRATCOM, Air Force One and Harris & Odyssey Systems.
Our Intrapreneur's Toolkit Speakers
Darren Halford is the former Executive Director of Hacking for Defense Incorporated (H4Di). Under Darren's leadership, H4Di expanded the course started at Stanford University to schools nationwide, driving change in the public sector by applying Lean Startup principles to real-world challenges. Darren is a retired Air Force Colonel who was instrumental in standing up the MC-12 Project Liberty intelligence collection aircraft program which was the fastest weapons system delivered from concept to combat since the P-51 Mustang in World War II. He will also be on the panel.
Lieutenant Colonel Aram Donigian co-founded the West Point Negotiation Project in 2009, has taught negotiation at West Point and the Air Force Academy and has provided negotiation training for dozens of units, including Special Operations. He has co-authored articles in the Harvard Business Review, Military Review, and elsewhere. Aram is an Infantry officer and currently, serves in the Department of Behavioral Sciences and Leadership at the Air Force Academy.

SPONSORS
All of our sponsors are small businesses owned and operated by veterans in Colorado.
Lead Sponsor - BluCore Shooting Center is a full-service shooting facility based in Denver, owned and operated by former special operations personnel.
Happy Hour Sponsor - Cockpit Craft Distillery a new Colorado Springs-based distillery started by Calder Curtis.
Video & Photography Sponsor - Jay Billups Creative Media a new creative media business started by Jay Billups in Colorado Springs.


PARTNERS
Our partners are other organizations with similar missions in Colorado Springs.
Peak Startup is growing a strong, vibrant startup ecosystem of companies, entrepreneurs, and talent in Colorado Springs.
Colorado Springs Rising Professionals is a non-profit, created by and for individuals between the ages of 21-39, focused on engaging young business professionals in our community.
Colorado Springs World Affairs Council's mission is to create and sustain study, discussion, and public participation in international relations—in essence, non-partisan, grassroots education on world affairs.
Colorado Springs Young Professionals has been around since 2004 and was founded to bring together young professionals in all industries and help them establish roots in Colorado Springs.
VISITING COLORADO SPRINGS
If you want to arrive early or stay late there are plenty of activities to fill your schedule. Book a tee time at USAFA's #1 ranked golf course in the DoD, visit Garden of the Gods, go fly fishing and hike the Manitou Incline with 2,000 feet of elevation change in less than a mile. You can also hike, drive or take a cog train up Pikes Peak "America's Mountain" and great Whitewater Rafting isn't far away either. Check out Visit Colorado Springs Website for more information on things to do in the area. Email us at DEFxCOS@defenseentrepreneurs.org if you have any questions or would like suggestions.
FAQs
What does the ticket price include?
The price includes everything you will need to attend and participate in the event including food and drinks. There are no admissions fees to access USAFA or the golf course for the event.
Friday Happy Hour - Complimentary first drink at Cockpit distillery and discounted food.
Breakfast - Fresh fruit, pastries, and yogurt with coffee.
Lunch - Smoked turkey, ham and roast beef sandwiches with chips, cookies, iced tea, and lemonade.
Dinner - Barbeque, beans, chips, and drinks out on the back patio of the clubhouse.
How much are the tickets?
Early Bird tickets (through June 30th) are $35, Normal tickets are $40 (through July 31st) and Last Call tickets are $45 (through August 8th).
I'm coming from out of town, where should I stay?
We've reserved a block of rooms from 10-13 August at the Hampton Inn Colorado Springs located just minutes from the Air Force Academy at 7245 Commerce Center Dr. Rooms are $124.00 per night plus tax and include complimentary parking, breakfast, and wifi. Rooms can be booked online or by calling 719-593-9700 to book your room and let them know you're with the DEFxColorado event. Make your reservations soon as the rate is only guaranteed until July 10th.
Which gate should I use?
The North Gate off of I-25, Exit 156.
What are my transportation/parking options for getting to and from the event?
Parking is available on-site at the Eisenhower Golf Course.
What is the attire for the event?
As with all DEF events, uniforms and ties can be left at home, business casual is fine.
I'm a civilian and don't have a Department of Defense ID card, what do I do?

If you purchase a ticket before July 31st, you are good to go - just make sure to bring a form of government ID. We will be providing the gate guards with a roster beforehand.
If you purchased your ticket on or after August 1st, please contact us at DEFxCOS@defenseentrepreneurs.org to make special arrangements. USAFA requires a roster several days in advance, but we'll make it work.
For more information visit USAFA's Visitor Information Page.
Are there minimum age requirements to enter the event?
No, although alcohol will be served you can attend the events without being 21 or older.
How can I contact the organizer with any questions?
Send any questions to DEFxCOS@defenseentrepreneurs.org