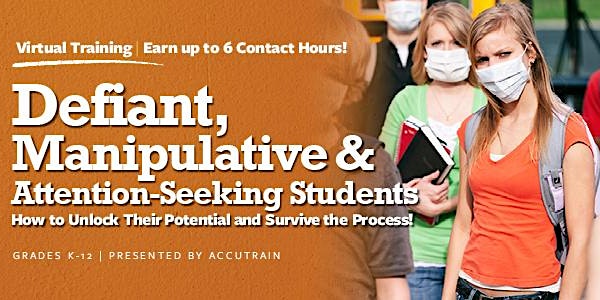 Defiant Students Virtual Seminar - Jan. 25, 2021
One-Day Virtual Seminar
About this event
 THIS IS AN ONLINE EVENT. Attendees will be able to login beginning at 9:00 am ET/8:00 am CT. The live session will begin at 9:30 am Eastern Time/8:30 am Central Time.
 REGISTERING WITH A PURCHASE ORDER?
To submit a registration form along with a purchase order. We also accept registration forms and school purchase orders by fax, mail or email (pd@accutrain.com).
Order processing fee does not apply to purchase orders.
All prices are quoted in US Dollars.
 Working with difficult, demanding, and disruptive students is not a new challenge for educators. However, there are current concerns being voiced regarding the changing nature and intensity of the behaviors of these students. Some educators are reporting increases in selfish, manipulative and hostile behaviors while others are noticing more students who are overly anxious and/or difficult to engage. Even well seasoned, award-winning master educators can sometimes have their "feathers ruffled" by certain students in certain situations.
This seminar is designed to assist all educators with identifying and addressing these and other issues that affect the academic and behavioral progress of the students with whom they work. This power-packed seminar will provide you with up-to-date insights and strategies for reaching and helping those young people who seem to evoke the strongest feelings of frustration, hurt, and sometimes discouragement in professional educators.
View clips from previous seminars and webinars.
ABOUT THE PRESENTERS
Author of Roadmap to Responsibility and Give 'em Five, Larry Thompson, M.Ed., is often called upon to deliver keynote presentations for state and national education conferences because of his knowledge, humor and passion for assisting today's students. He has helped thousands of educators and schools throughout North America break away from their traditional discipline models to a model that creates a responsible climate and responsible students. Larry has served in a wide variety of roles in education – from special education teacher to alternative and traditional high school principal. As creator of the Responsibility-Centered Discipline program, Larry understands that systems must be created that can be realistically implemented and sustained.
Eric Clark, M. Ed., is a Certified Master Trainer for Responsibility-Centered Discipline and helped shape the implementation materials for the program. He currently serves as Head of School at a progressive private school in the Midwest. Previously he served as Principal in a public school setting, while also serving as the District Technology Integration Specialist. Eric began his education career teaching English Language Arts, Journalism and Media Communications. Between his other responsibilities, Eric also launched a thriving publishing company. As an administrator, he has successfully implemented the supportive, non-exclusionary principles of Responsibility-Centered Discipline with elementary, middle and high school faculty and students.
Brian Dinkins, Ed.S., is an RCD Certified Master Trainer and president of the National Institute for Child Empowerment, an organization that provides parents and students in disenfranchised communities with training, mentoring and advocacy to increase access to college and careers.
AGENDA
View the Difficult Students Seminar Agenda here.
SEMINAR OBJECTIVES
In this one-day seminar, you will learn:
Identify the underlying causes of difficult behaviors in students
Implement do's and don'ts to address specific behaviors
Integrate key strategies for migrating from an obedience-centered approach to a responsibility-centered approach
Develop innovative ways to support positive behavior
Apply strategies for preventing the escalation of difficult behavior
WHO SHOULD  ATTEND
Classroom Teachers
Principals
Assistant Principals
Deans of Students
Behavioral Specialists
School Counselors
School Social Workers (All Levels)
School Psychologists
Special Education Personnel
After-School Program Coordinators