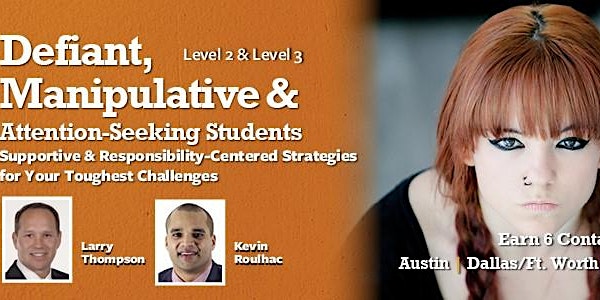 "Defiant Students Levels 2 & 3 Seminar: Dallas/Ft Worth, TX - 01 Dec. 2022
REGISTERING WITH A PURCHASE ORDER? To submit a registration form online, UPLOAD a Digital Purchase Order File by clicking the link below.
When and where
Location
Radisson Fort Worth North - Fossil Creek 2540 Meacham Blvd. Fort Worth, TX 76106
About this event
 REGISTERING WITH A PURCHASE ORDER?
To submit a registration form online, you'll need to UPLOAD a Digital Purchase Order File by CLICKING HERE. You can also email the complete registration information, along with PO, to pd@accutrain.com
We accept registration forms and school purchase orders by fax, mail or email (pd@accutrain.com).
Order processing fee does not apply to purchase orders.
All prices are quoted in US Dollars."Supportive discipline" is super easy when students welcome your encouragement and cooperate with your guidance. So far, so good. But improbable as it may seem, some students are unwilling to accept responsibility and to work through behavior issues. They argue, ignore and interrupt. Some may even refuse to participate in a discussion about their actions. Now what?
In this one-day seminar, Larry Thompson, nationally known author and creator of Responsibility-Centered Discipline, will take you on a deep dive into strategies for being successful when working with Level 2 and Level 3 students – those who are not cooperative and are not really interested in moving forward. Incorporating the principles of a responsibility-centered approach, attendees will explore the importance of autonomy, mastery and purpose when working with a student during a challenging moment. Larry Thompson will discuss how listening for the exits that are taking a student off the road to responsibility is important to understanding what is driving a student's behavior. Attendees will learn how the Response-Ability Process and In-School Solutions provide vital tools for helping Level 2 and Level 3 students stay in the classroom – where they can succeed academically.
Larry Thompson, a nationally known speaker, says preparing educators to maintain emotional control in tough situations is the key to successful interactions with students, while reducing teacher stress.
 SEMINAR LOCATIONS
See All Seminar Locations Here.
ABOUT THE PRESENTER:
Author of Roadmap to Responsibility and Give 'em Five, Larry Thompson, M.Ed., is often called upon to deliver keynote presentations for state and national education conferences because of his knowledge, humor and passion for assisting today's students. He has helped thousands of educators and schools throughout North America break away from their traditional discipline models to a model that creates a responsible climate and responsible students. Larry has served in a wide variety of roles in education – from special education teacher to alternative and traditional high school principal. As creator of the Responsibility-Centered Discipline program, Larry understands that systems must be created that can be realistically implemented and sustained.
In case of an emergency, another qualified presenter will substitute.
AGENDA
8:00 am Check-In Begins
8:45 am Review Responsibility-Centered Principles
• Autonomy, Mastery & Purpose
• Give 'em Five
• Pyramid of Responsibility
10:15 am Hearing the Exits with Level 2 & 3 Students
• Clear Expectations -- "I didn't know"
• Consistency -- "But she's doing it"
• Benefits -- "Why should I"
• Emotional Control -- "Stop screaming at me"
• Responsibility -- "I don't care"
Keys 4 Conversation
Mirroring
Attunement
11:45 pm Lunch (On Your Own)
1:00 pm Using Supports and Benefits Only
• Know Your Hot-Button Issues
• Practicing Coaching through Provocations
• Understanding When a Student Must Leave Class
In-School Solutions
Helping Students Strengthen their Self-Control Muscles
2:30 pm Using Individual Student Mastery Plans
Calibrating the System
3 Essentials to Successful Responsibility-Centered Discipline Implementation
3:30 pm Question & Answer Session (Optional Attendance)
SEMINAR OBJECTIVES
In this one-day seminar, you will learn:
Understand why to focus on support & benefits when trying to help a Level 2 or Level 3 student to process.
Master hearing the "exit" your student may be taking off the road to responsibility – and how to address that concern
Discover the importance of modeling the behavior you want to see rather than mirroring the anger and frustration that the student is demonstrating.
Learn to provide attunement to loan emotional control to the student in challenging moments.
Discover how to help students strengthen their self-control "muscles".
With today's increased focus on academic success, measurable outcomes, trauma-informed practices and equity, how educators handle all students can often be the difference between success or failure.
WHO SHOULD  ATTEND
Classroom Teachers
Principals
Assistant Principals
Deans of Students
Behavioral Specialists
School Counselors
School Social Workers (All Levels)
School Psychologists
Special Education Personnel
After-School Program Coordinators