Actions and Detail Panel
DEFENSIVE PISTOL with OnSight Firearms Training
Sat, February 25, 2017, 8:00 AM – 5:00 PM EST
Description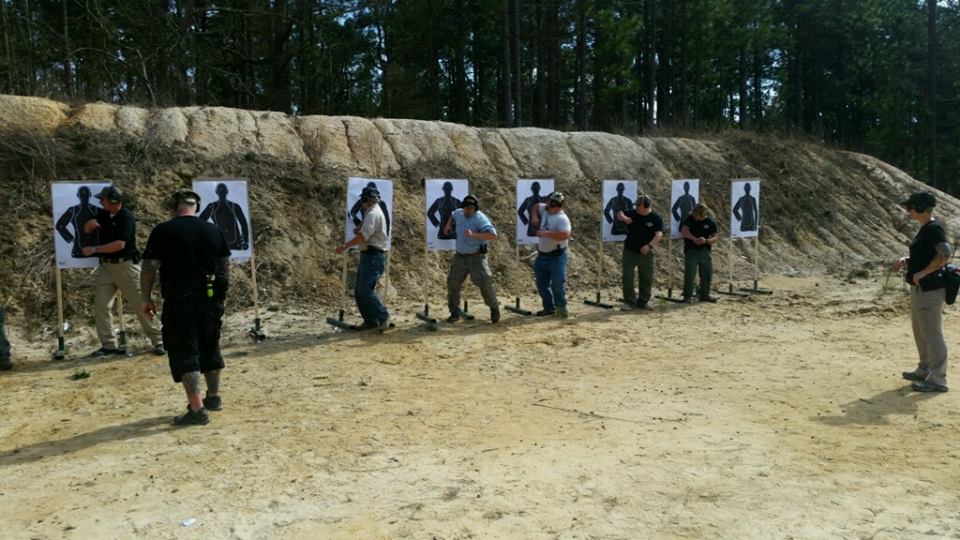 OnSight Firearms Training & Armed Citizen will be hosting an Defensive Pistol Shooting Class on Saturday February 25, 2016.

$100 per person.
PLEASE NOTE There is a $50 DEPOSIT upon registration.
Balance of $50 due on the day of the class - CASH ONLY!
This course is designed to introduce the beginner or intermediate shooter to the art of defensive and tactical pistol shooting.
Start time is 8:00am. Students are expected to meet up at:
Joyner Sales, 60 North Main Street, Patrick SC
no later than 7:30am for set up and range safety briefing.
COURSE BREAKDOWN:
- Range orientation
- Firearms safety
- Warm-up drills
- Ready positions
- Close quarters engagements
- Drawing and re-holstering techniques
- Reloading techniques and malfunction clearance drills
- Search & scan / situational awareness
- Single hand techniques (right and left and transitions)

- Moving and shooting / shooting and moving

- Failure drills
- Presentation & draw techniques
- Turning and shooting
- Cover versus concealment
- Seated position shooting
- Close range speed shooting
- Dueling
- Team tactics

EQUIPMENT LIST:
-Quality functional semi-automatic pistol
-3 magazines minimum
-Minimum of 500 rounds of brass cased ammunition (no steel cased ammunition)
- 5 rounds of dummy ammunition
-Belt mounted, dominant side holster or Brokos type battle belt with Leather or kydex holster —PLEASE NO flimsy nylon or cloth holsters.

-Magazine or loading device pouches / magazine carrier, etc.
-Ammunition dump pouch (optional) - we will have several on hand to loan.

-Sturdy belt at least 1.5" wide
-Footwear suitable for rapid movement and turning with good ankle support.
-Clothing suitable for training in any weather – long pants – long sleeve shirt, hoodie or jacket for cold weather.

-Wraparound eyewear, polycarbonate lenses or non-shattering prescription glasses
-Earmuffs and earplugs
For more information or questions please contact: info@onsightfirearmstraining.com
This course is limited to 18 students only. First 18 to buy tickets will attend.
Students are encouraged to bring their own lunch and beverages.
Private and group shooting lessons available - Rifle - Pistol - Shotgun
Women's classes available.
New York (resident) pistol permit classes, Utah, Connecticut, Maine, New Hampshire, Florida, Virginia, Arizona, Massachusetts non-resident carry permit classes available.

For more info:
info@onsightfirearmstraining.com
www.onsightfirearmstraining.com
https://www.facebook.com/ArmedCitizenHolsters/
UPDATED CLASS LIST FOR 2017 - w/ guest instructors Steve Fisher, Chris Fry, Alex Hartmann, David Bruce!!

SATURDAY JANUARY 7, 2016 - MULTI STATE NON-RESIDENT CARRY PERMIT - UT,
CT, AZ, FL, NH, ME, VA – Fishkill, NY – SOLD OUT!

SATURDAY JANUARY 8, 2017 – BASIC PISTOL SAFETY COURSE – Dobbs Ferry, NY - $150
https://www.eventbrite.com/e/basic-pistol-safety-course-ny-pistol-permit-tickets-29654114254

SATURDAY JANUARY 28,2017 - DEFENSIVE PISTOL - Cortlandt Manor, NY – $150
https://www.eventbrite.com/e/defensive-pistol-tickets-29641737234

SUNDAY JANUARY 29, 2017 – PRACTICAL PISTOL ACCURACY & ACCOUNTABILITY - Cortlandt Manor, NY – $150
https://www.eventbrite.com/e/practical-pistol-accuracy-accountability-tickets-30089941826

SATURDAY FEBRUARY 4, 2017 – CONCEALED CARRY WORKSHOP – Dobbs Ferry, NY - $50
https://www.eventbrite.com/e/concealed-carry-workshop-tickets-28561153178

SUNDAY FEBRUARY 5, 2017 - DEFENSIVE CARBINE - Cortlandt Manor, NY – $150
https://www.eventbrite.com/e/defensive-carbine-tickets-29641797414

SATURDAY FEBRUARY 18, 2017 - DEFENSIVE SHOTGUN - Cortlandt Manor, NY – $150
https://www.eventbrite.com/e/defensive-shotgun-tickets-29641942849

SATURDAY FEBRUARY 18, 2017 – GLOCK OWNERS WORKSHOP – Dobbs Ferry, NY - $50
https://www.eventbrite.com/e/glock-owners-workshop-tickets-29071807559

SATURDAY FEBRUARY 18, 2017 – HAND TO HAND COMBATIVES FOR SELF-DEFESNE – Dobbs Ferry, NY - $50
https://www.eventbrite.com/e/hand-to-hand-combatives-for-self-defense-tickets-29719731517

SUNDAY FEBRUARY 19, 2017 - DEFENSIVE PISTOL - Cortlandt Manor, NY – $150
https://www.eventbrite.com/e/defensive-pistol-tickets-29642069227

SATURDAY FEBRUARY 25, 2017 – DEFENSIVE PISTOL – Patrick, SC - $100
https://www.eventbrite.com/e/defensive-pistol-with-onsight-firearms-training-tickets-28231532273

SUNDAY FEBRUARY 26, 2016 – DEFENSIVE CARBINE with Alex Hartmann -
Patrick, SC - $100
https://www.eventbrite.com/e/defensive-carbine-with-alex-hartmann-tickets-28232187232

SUNDAY MARCH 5, 2017 - DEFENSIVE CARBINE - Cortlandt Manor, NY – $150
https://www.eventbrite.com/e/defensive-carbine-tickets-29648219623

SATURDAY MARCH 11, 2017 - DEFENSIVE PISTOL II - Cortlandt Manor, NY – $150
https://www.eventbrite.com/e/defensive-pistol-ii-tickets-29648437274

SUNDAY MARCH 12, 2017 - DEFENSIVE SHOTGUN II - Cortlandt Manor, NY – $150
https://www.eventbrite.com/e/defensive-shotgun-ii-tickets-29648568667

SATURDAY MARCH 25, 2017 – DEFENSIVE PISTOL – Yale, VA - $150
https://www.eventbrite.com/e/defensive-pistol-tickets-29806533143

SUNDAY MARCH 26, 2017 – DEFENSIVE SHOTGUN – Culpeper, VA - $200
https://www.fpftraining.com/products/defensive-shotgun

SATURDAY APRIL 1, 2017 - PRACTICAL PISTOL SKILLS W/ CHRIS FRY - Cortlandt Manor, NY – $175
https://www.eventbrite.com/e/practical-pistol-skills-with-chris-fry-tickets-29637763348

SUNDAY APRIL 2, 2017 - DEFENSIVE CARBINE - Cortlandt Manor, NY – $150
https://www.eventbrite.com/e/defensive-carbine-tickets-29677154167

SATURDAY APRIL 22, 2017 - DEFENSIVE PISTOL with David Bruce - Cortlandt Manor, NY – $150
https://www.eventbrite.com/e/defensive-pistol-skill-builder-with-david-bruce-tickets-29677208329

SUNDAY APRIL 23, 2017 – DEFENSIVE SHOTGUN - Cortlandt Manor, NY – $150
https://www.eventbrite.com/e/defensive-shotgun-tickets-29713159861

SATURDAY MAY 6, 2017 – DEFENSIVE PISTOL COVER & CONCEALMENT - Cortlandt Manor, NY – $150
https://www.eventbrite.com/e/defensive-pistol-cover-and-concealment-tickets-30043347461

SUNDAY MAY 7, 2017 – ESSENTIAL CLOSE QUARTER DEFENSIVE PISTOL – Cortlandt Manor, NY - $150
https://www.eventbrite.com/e/essential-close-quarter-defensive-pistol-tickets-30060799661

SATURDAY MAY 20, 2017 – DEFENSIVE PISTOL SKILLS FOR WOMEN - Cortlandt Manor, NY – $150
https://www.eventbrite.com/e/practical-pistol-skills-for-women-tickets-29724779616

SUNDAY MAY 21, 2017 – COMBATIVE SHOTGUN with Alex Hartmann - Cortlandt Manor, NY – $150
https://www.eventbrite.com/e/combative-shotgun-with-alex-hartmann-tickets-30515368288

SUNDAY JUNE 4, 2017 - PRACTICAL PISTOL – MOVEMENT & COVER SKILLS with Chris Fry - Cortlandt Manor, NY – $175
https://www.eventbrite.com/e/practical-pistol-movement-cover-skills-with-chris-fry-tickets-29679579421

SATURDAY JUNE 17, 2017 - DEFENSIVE CARBINE II - Cortlandt Manor, NY – $150
https://www.eventbrite.com/e/defensive-carbine-ii-tickets-30277240040

SATURDAY AUGUST 5 & SUNDAY AUGUST 6, 2017 - CRITICAL HANDGUN EMPLOYMENT with Steve Fisher of Sentinel Concepts - Cortlandt Manor, NY – $400
https://www.eventbrite.com/e/critical-handgun-employment-che-with-steve-fisher-tickets-30185170658