Actions and Detail Panel
DEFENSIVE CARBINE with Alex Hartmann
Sun, February 26, 2017, 8:00 AM – 5:00 PM EST
Description
DEFENSIVE CARBINE with Alex Hartmann
https://www.facebook.com/RidgelineOutfitters/
OnSight Firearms Training & Armed Citizen will be hosting an Defensive Carbine Class on Sunday February 26, 2016

PLEASE NOTE There is a $50 DEPOSIT upon registration.
Balance of $50 due on the day of the class - CASH ONLY!
This course is designed to introduce the beginner or intermediate shooter to the art of defensive and tactical carbine shooting.
Start time is 8:00am. Students are expected to meet up at:
Joyner Sales, 60 North Main Street, Patrick SC
no later than 7:30am for set up and range safety briefing.
All students must understand and be able to successfully maintain all shooting safety fundamentals. Students should be familiar with the working operations of their carbine/rifle.
COURSE BREAKDOWN:
- Range orientation
- Firearms safety
- Warm-up drills
- Ready positions
- Accuracy drills
- Engaging multiple targets
- Close quarters engagements
- Reloading techniques and malfunction clearance drills
- Search & scan / situational awareness
- Cover & concealment
- Various shooting positions
EQUIPMENT LIST:
-Quality functional long gun/carbine (AR-15 / M4 / AK-47 style) WITH ONE OR TWO POINT SLING.
- Minimum of 500 rounds of brass cased rifle ammunition (no steel cased ammunition)
- Minimum 3 magazines minimum for your carbine or rifle.

-Quality functional semi-automatic pistol (9mm, .40S&W, 45ACP, 38 Special, 357 Magnum, etc.)

-Minimum of 250 rounds of brass cased pistol ammunition (no steel cased ammunition)

-Belt mounted, dominant side holster or Brokos type battle belt or duty belt with Leather or kydex holster —PLEASE NO flimsy nylon or cloth holsters. RANGE STYLE HOLSTERS. No "Serpa" holsters!!!

-Magazine or loading device pouches / magazine carrier, etc.
-Ammunition dump pouch (optional) - we will have several on hand to loan.
-Sturdy belt at least 1.5" wide
-Footwear suitable for rapid movement and turning with good ankle support.
-Clothing suitable for training in any weather – long pants – long sleeve shirt, hoodie or jacket for cold weather.
-Wraparound eyewear, polycarbonate lenses or non-shattering prescription glasses
-Earmuffs and earplugs
-Knee pads and elbow pads (optional but recommended)
-notepad and pen for taking notes
-A humble, willing to learn attitude
For more information or questions please contact: info@onsightfirearmstraining.com
ABOUT ALEX HARTMANN: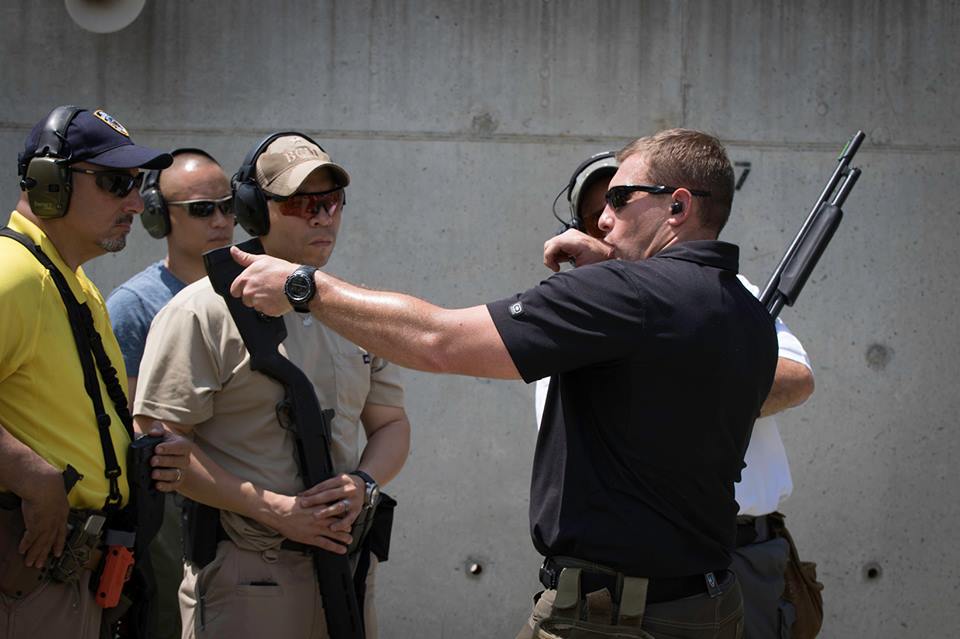 Alex is the Owner and lead instructor for Ridgeline Outfitters. Alex is a former Marine Scout/Sniper and current security contractor with a wide variety of skills and experience as both an operator and an instructor. He is a graduate of courses such as; USMC Scout/Sniper Basic Course, USMC Scout/Sniper Team Leader Course (High Shooter Award and Instructors Choice Award), USMC Special Operations Training Group Urban Scout/Sniper Course, U.S. Navy Survival Evasion Resistance and Escape Course (SERE Level C Full Spectrum), USMC Combat Hunter Course, Deployment Medicine Intl. Tactical Combat Casualty Care (TCCC) Live Tissue Course, Sig Sauer Academy LE Semi-Auto Pistol Instructor Course, and Sig Sauer Academy Active Shooter Response Instructor Course.
He also holds Instructor certifications from the NRA in Pistol, Rifle, Personal Protection, and is a NRA Range Safety Officer. Alex is certified by the Massachusetts State Police as a Basic Firearms and LTC Instructor and by the Massachusetts Municipal Police Training Council as a Police Firearms Instructor. Alex has real world experience in both Iraq and Afghanistan and strives to bring those lessons learned to the Law Enforcement Sniper community. He is a member of the NTOA and several other professional organizations.
ADDITIONAL INFO:
This course is limited to 18 students only. First 18 to buy tickets will attend.
Students are encouraged to bring their own lunch and beverages

Private and group shooting lessons available - Rifle - Pistol - Shotgun
Women's classes available.
New York (resident) pistol permit classes, Utah, Connecticut, Maine, New Hampshire, Florida, Virginia, Arizona, Massachusetts non-resident carry permit classes available.

For more info:
info@onsightfirearmstraining.com
www.onsightfirearmstraining.com
https://www.facebook.com/ArmedCitizenHolsters/
SUNDAY OCTOBER 16, 2016 - PRACTICAL PISTOL - ACCURACY & ACCOUNTABILITY – Cortlandt Manor, NY – SOLD OUT!
SATURDAY OCTOBER 22, 2016 - DEFENSIVE SHOTGUN - Cortlandt Manor, NY – SOLD OUT!
SUNDAY OCTOBER 23, 2016 – DEFENSIVE PISTOL - Cortlandt Manor, NY - $150
https://www.eventbrite.com/e/defensive-pistol-tickets-26576687588
FRIDAY NOVEMBER 11, 2016 – PRACTICAL SMALL KNIFE SKILLS with Chris Fry – Dobbs Ferry, NY - $25
http://www.mdtstraining.com/training/schedule/practical-small-knife-skills-seminar-4/
SATURDAY NOVEMBER 12, 2016 – PRACTICAL PISTOL with Chris Fry - Cortlandt Manor, NY – SOLD OUT!
SUNDAY NOVEMBER 13, 2016 – PRIMARY TO SECONDARY (Rifle To Pistol) - Cortlandt Manor, NY - $150
https://www.eventbrite.com/e/two-gun-transition-primary-to-secondary-tickets-26576506045
SUNDAY NOVEMBER 20, 2016 - DEFENSIVE SHOTGUN - Cortlandt Manor, NY - $150
https://www.eventbrite.com/e/defensive-shotgun-tickets-28373152864
SUNDAY DECEMBER 11, 2016 – DEFENSIVE CARBINE - Cortlandt Manor, NY – SOLD OUT!
SATURDAY JANUARY 7, 2016 - MULTI STATE NON-RESIDENT CARRY PERMIT - UT, CT, AZ, FL, NH, ME, VA – Fishkill, NY – SOLD OUT!
SATURDAY FEBRUARY 25, 2017 – DEFENSIVE PISTOL – Patrick, SC - $100
https://www.eventbrite.com/e/defensive-pistol-with-onsight-firearms-training-tickets-28231532273
SUNDAY FEBRUARY 26, 2016 – DEFENSIVE CARBINE with Alex Hartmann - Patrick, SC - $100
https://www.eventbrite.com/e/defensive-carbine-with-alex-hartmann-tickets-28232187232