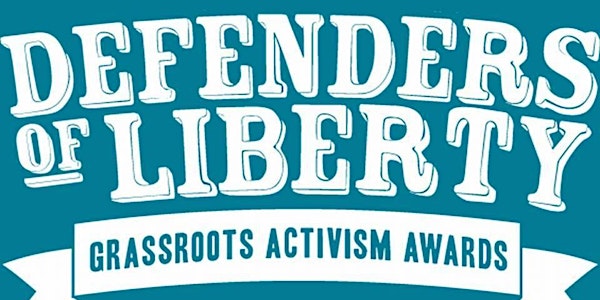 Defenders of Liberty: Grassroots Activism Awards 2015
When and where
Location
Crowne Plaza Tulsa - Southern Hills 7902 South Lewis Avenue Tulsa, OK 74136
Description
It's once again time to unite to recognize and honor grassroots activists for their hard work and dedication toward preserving liberty in our cities, state and nation. The Defenders of Liberty Grassroots Activism Awards is a way for grassroots leaders in Oklahoma to recognize volunteers who put in many hours of time and hard work to make our communities better and hold our elected officials accountable.

This is the third year for this event and we want to make it even larger than last year. Last year we had a wonderful evening where we gave away 12 awards to grassroots leaders across the state and recognized the accomplishments of activists from various organizations. This year the awards will be held Saturday, September 26th at 6:30 at the Crowne Plaza: 7902 S Lewis Ave, Tulsa, OK 74136.
With 37 nominations submitted, this year's Defenders of Liberty: Grassroots Activism Awards is bigger than ever! This year we will be giving away a record 14 awards! Be sure to buy your tickets today to honor our winners and to network with activists from around the state. https://defendersoflibertyok.eventbrite.com/
Here are your nominees:
• Dr. Everett Piper • Steve Byas • Charlie Meadows • Laurie Phillips • Kevin Crow • Maggie Abel • Carolyn McLarty • Porter Davis • Pat Campbell • Tracey Montgomery • Bob Donohoo • Gary Lanham • Diane Engel • Paul and Molly Wehrenberg • Darren and Valerie Mudge • Summer Izard • Janene Wooster • Joe Esposito • Ralph Crawford • Kyletta Ray • Charlotte Rutledge Harer • Mark Thomas • Oklahoma Second Amendment Association • Morgan Dunsmore • Kenny Bob Tapp • Karen Ann Price • Charles Key • Dave Brooks • Norma Sapp • Lloyd Noble II • Oklahoma Constitution Newspaper • Tom Culver • Terry Flattem • Claude Taucher • Bill Bickerstaff • Larry Williamson • Ron Cross
Thank you to all who submitted nominees!
Join us Saturday, September 26th for the 3rd Annual Defenders of Liberty Grassroots Activism Awards as we recognize ordinary individuals who have taken time out of their days to stand up for what they believe in. They are dedicated to find enough time and energy to make calls, walk neighborhoods, or speak out at the meetings in their community to make a difference. We believe these actions should not go unnoticed.