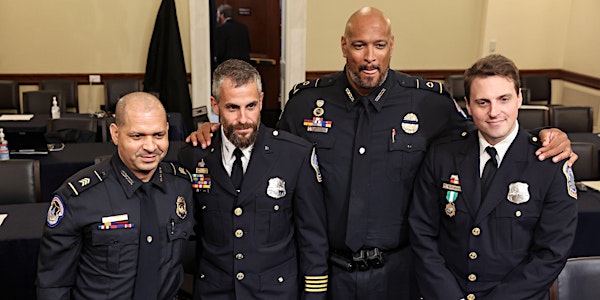 Defender of Democracy Awards and Panel Discussion
In Person - UVA Rotunda Dome Room Livestream - https://bit.ly/j6dodceremony
When and where
Location
UVA Rotunda Dome Room 1826 University Ave Charlottesville, VA 22904
About this event
Join the Center for Politics on Friday, September 23, 2022, at noon in the Rotunda at the University of Virginia for the inaugural presentation of the Center for Politics' Defender of Democracy Awards. The awards and ceremony will honor the service of Private First Class Harry A. Dunn, Sergeant Aquilino Gonell, Officer Daniel Hodges, former Officer Michael Fanone, former Officer Brian Sicknick (posthumously), former Officer Jeffrey Smith (posthumously) and former Officer Howard Liebengood (posthumously), all of whom defended the Capitol on January 6, 2021.
Following the awards ceremony Carah Ong Whaley will moderate a panel discussion and audience Q&A with Officers Dunn, Fanone and Hodges, as well as with Sandra Garza, the partner of fallen Officer Brian Sicknick, Serena Liebengood, the partner of fallen Officer Howard Liebengood, and Erin Smith, the partner of fallen Officer Jeffrey Smith.
On January 6, 2021, a joint session of the U.S. Congress met to certify the electoral votes from the 50 states and the District of Columbia for the 2020 presidential election as prescribed by the U.S. Constitution. As the U.S House of Representatives and U.S. Senate convened for the official process of certification, rioters stormed the Capitol, overwhelmed police, broke into offices, destroyed property, and threatened lives. The rioters were emboldened by repeated false claims of widespread voter fraud during the 2020 presidential election.
Tragically, more than 100 officers were injured in the January 6, 2021 attacks. A bipartisan Senate report found that at least seven people had lost their lives in connection with the insurrection, including at least four police officers who died by suicide in the months after they responded to the attack. As of September 2022, at least 910 people have been charged with federal crimes related to the attacks on the Capitol. Over 383 of them have pleaded guilty, mostly to misdemeanors.
The Center for Politics honors and recognizes all of the officers and individuals who responded to the call of duty to protect the U.S. Capitol, members of the U.S. Congress, Congressional staff, journalists and other public servants on January 6, 2021 as the legislative branch of America's democracy carried out the Constitutionally prescribed certification of the results of the 2020 presidential election.
Despite the challenges of being in the public sphere, Officers Dunn, Fanone, Gonell and Hodges have testified before the U.S. House select committee investigating January 6, 2021 and remain committed to seeking justice and accountability in order to prevent future violence and attacks on the electoral process.
About the Award
The Center for Politics Defenders of Democracy award was established in 2022 by the Center for Politics at the University of Virginia with special project award funding provided by the Larry J. Sabato Foundation. The award honors and recognizes individuals whose positive actions help improve or strengthen democracy.