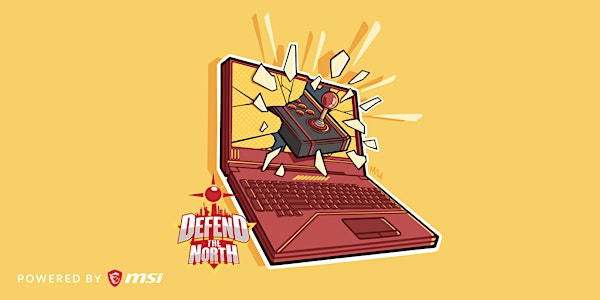 Defend The North 2022: Powered by MSI
Defend The North is an annual 3-day major fighting videogame tournament for competitors, spectators, and casual players
When and where
Location
Brooklyn Loft 26 153 26th Street Brooklyn, NY 11232
Refund Policy
Refunds up to 1 day before event
About this event
Defend The North is an annual 3-day major fighting game tournament featuring various events tailor-made for competitors, spectators, and casual gamers alike!This year, the #DTN2022 team are taking Fighting Games to the next level by providing a one of a kind experience. All Main Title games, originally played on PS4, will be on PC providing an experience like no other event in the world.
Fighting Games have advance and the hardware necessary to support has to as well.
Save the date this Fall on October 21st – 23rd, 2022, and experience the fighting game communities' first transition to computer gaming powered by MSI and configured by Space Time Strategy and NYCFurby!
WHY GO TO DEFEND THE NORTH?
Since its inception in 2014, Defend the North is NYC's premiere fighting game tournament. With over $30K in prizes, players from all over the world flock to DTN every year to compete and share their love of fighting games!
For anyone who's ever wondered what it's like to be part of the fighting game community, DTN is a great introduction! Purchase a spectator pass and get access to over 30 video games for casual play!
As if over $30,000 in Guaranteed Pot, Matcherino Supported weren't enough reasons to come to Defend the North in NYC.
Many Top Players from different states / countries already registered ;)
Fighting Games on PC Now (No More PS4 fighting games) The Future of Fighting Games has arrived!! :)
Your favorite FIGHTING GAMES now on PC FULLY OPTIMIZED SETUPS
Largest FGC PC Tournament in the World!
$5,000 Guaranteed Pot For Smash Ultimate!!
Guaranteed Pot for your favorite Fighting Games
30+ Different Games Available for Casual Play
Arcade Room with @Real Arcade cabinets!!
Community-Run Side Tournaments
Crowdfunded Payouts!
Cosplay Contest with Cash Prizes
Vendor and Exhibitor Booths
Family Friendly
Free to enter games / w Casual Pass
And much more!
Want to compete in the largest FGC PC tournament in the World. Hit the jump to be a competitor.
https://www.start.gg/tournament/defend-the-north-pc-powered-by-msi-2/details
WHERE IS DEFEND THE NORTH?
Brooklyn Loft 26
153 26th Street
Brooklyn NY, 11232
For directions, please visit the Travel and Lodging section below. or DefendtheNorth.com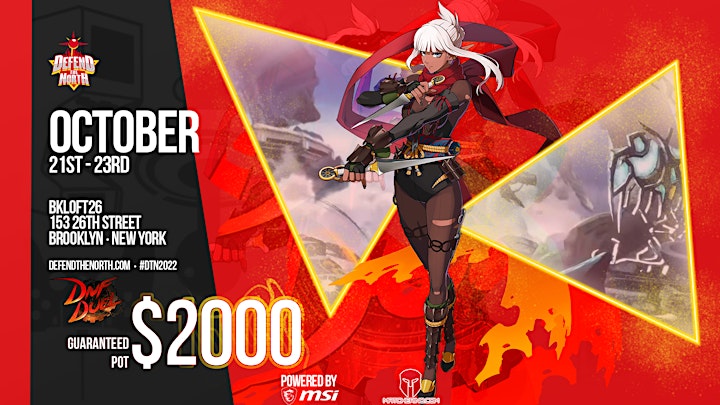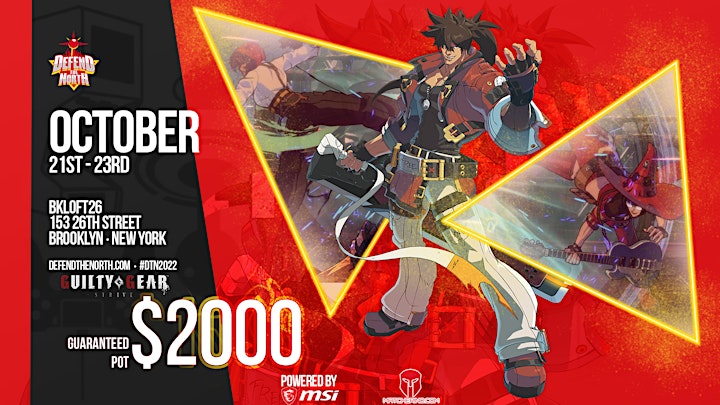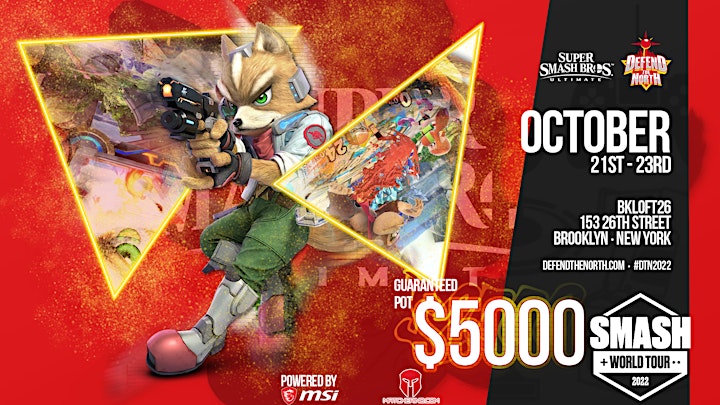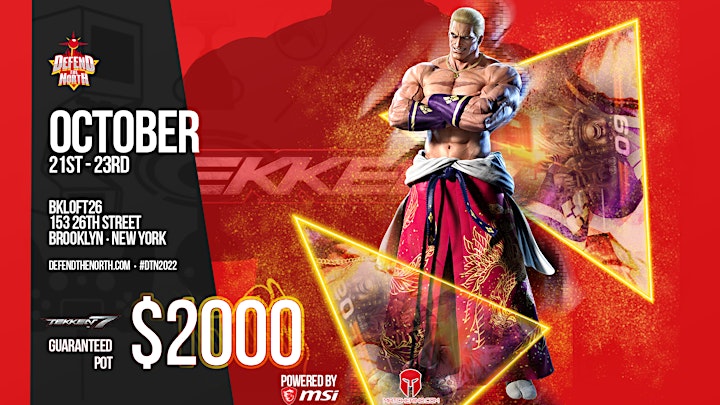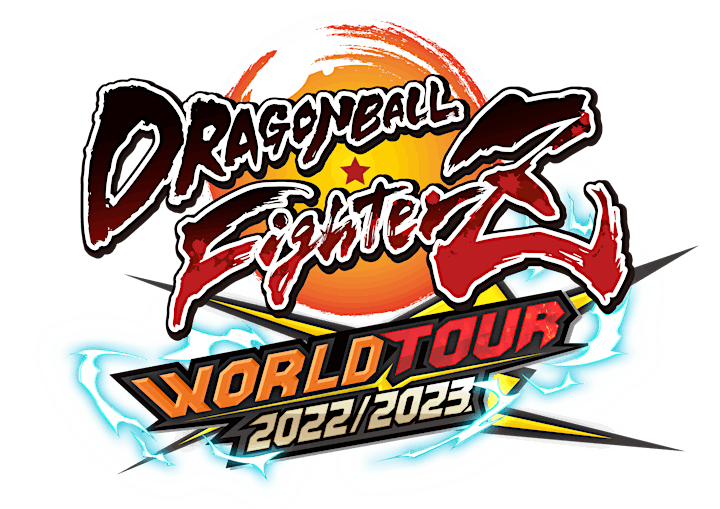 Want to compete in the largest FGC PC tournament in the World. Hit the jump to be a competitor.
https://www.start.gg/tournament/defend-the-north-pc-powered-by-msi-2/details
Main Games
(All main games will be played on PC)
Street Fighter V: Arcade Edition - $3000 Prize Pool Guaranteed
Guilty Gear Strive - $2000 Prize Pool Guaranteed
Tekken 7 - $2000 Prize Pool Guaranteed
The King Of Fighters XV - $3000 Prize Pool Guaranteed
Dragon Ball FighterZ - $2000 Prize Pool Guaranteed
DNF Duel - $2000 Prize Pool Guaranteed
Mortal Kombat 11 - $2000 Prize Pool Guaranteed
Soulcalibur VI - $1000 Prize Pool Bonus
Melty Blood: Type Lumina
Smash Bros. Games
Super Smash Bros. Ultimate (Nintendo Switch)
Super Smash Bros. Melee (PC)
Retro, Legacy, and Side Games
Ultra Street Fighter IV (PC)
Ultimate Marvel vs. Capcom 3 (PC)
Street Fighter III: 3rd Strike (Supergun)
Super Street Fighter II Turbo (Supergun/MISTer)
Marvel vs. Capcom 2 (Dreamcast)
Capcom vs. SNK 2 (Dreamcast)
Soul Calibur 6 (PC)
Granblue Fantasy Versus (PC)
And Many More Fighting Gamer Titles