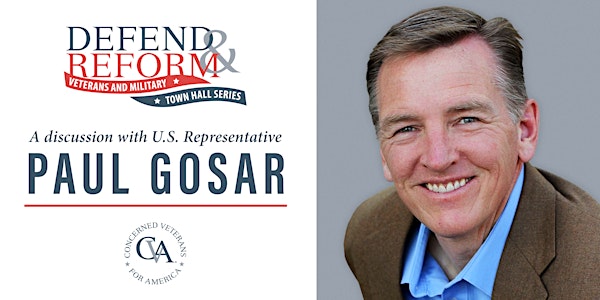 DEFEND & REFORM VETERANS AND MILITARY TOWN HALL SERIES: Rep. Paul Gosar
Defend and Reform Concerned Veterans of America and Rep. Gosar
When and where
Location
London Bridge Resort 1477 Queens Bay Lake Havasu, AZ 86403
About this event
Join Concerned Veterans for America for a lively discussion on issues important to veterans and the military with U.S. Representative Paul Gosar. CVA's senior adviser, Dan Caldwell, will moderate a discussion on the future of VA health care, American foreign policy, and other important public policy issues. Congressman Gosar has been a champion for Arizona and America's veterans in his time in Congress. You won't want to miss this insightful conversation.
Refreshments will be served. Admission is 100% free, but registration is required and will be checked at the door.
The event will start at 2:00 p.m. We hope to see you there!
The Speakers:
First elected in 2010, he came to Congress with no prior political experience. Paul believes that the Constitution is the cornerstone of our Republic, and always pursues policies that allow for more individual liberty and less government involvement. Before being elected to Congress in 2010, Dr. Gosar owned his own dental practice and was a small businessman in Flagstaff for twenty-five years. Whether Gosar is in Washington fighting for his constituents, or back home working to find solutions to the problems facing the people of Arizona's Fourth Congressional District, he remains committed to ushering in a new era of government that empowers individuals and reforms bureaucratic procedures that are stifling job creation.
Caldwell is the Senior Adviser to Concerned Veterans for America (CVA).
He served in the United States Marine Corps between 2005 and 2009, deploying to Iraq in support of Operation Iraqi Freedom. Prior to joining CVA in 2013, Dan worked on Capitol Hill as a constituent caseworker, focused on resolving constituents' issues with the Department of Veterans Affairs and Department of Defense.