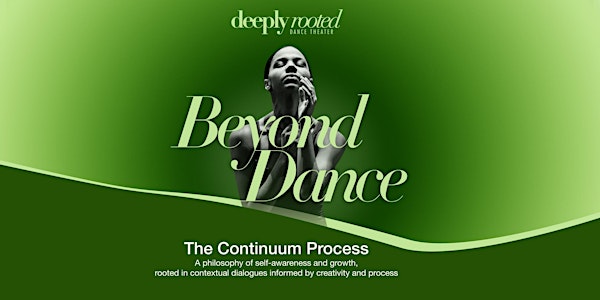 Deeply Rooted Dance Theater: Beyond Dance Continuum
A philosophy of self-awareness and growth, rooted in contextual dialogues informed by creativity and process.
About this event
We all have creative ability. One of Deeply Rooted's most distinguishing characteristics is its commitment to personal growth and self-actualization for the individual as a creative human being. This philosophy is quite unique within the predominant dance/culture, which often demands allegiance to an appointed vision, systems and/or techniques, asking the learner to suppress his/her individual voice in support. Deeply Rooted encourages its artists, teachers, and students/program participants to set personal goals, to extend into the world, explore, learn, reflect and come back to share, teach, and re-connect with the Deeply Rooted community, thus keeping its process, aesthetic, artists and personnel challenged, inspired and growing vibrantly.
Deeply Rooted believes so ardently in the power of self-actualization that it has developed a forum – the Continuum Process - to serve as a foundational and guiding element within all of its Programs.
A Zoom link will be sent after registering.
*Classes are free however donations are accepted
By taking part in this online training session you understand and assume all risks associated with the dance instruction offered, including but not limited to the risk of bodily injury or physical condition or limitations.
Deeply Rooted Dance Theater assumes no responsibility for injuries suffered while practicing the techniques in this online training session. You waive all claims against DRDT, its directors, staff and board that may arise out of the dance instruction offered in this online training session.