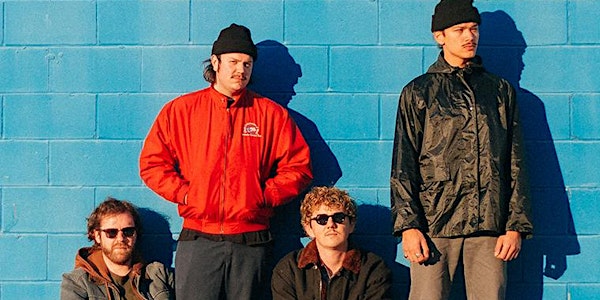 Deeper
Noise Pop + Throwin' Bo's Present
Location
Brick & Mortar Music Hall
1710 Mission Street
San Francisco, CA 94103
Deeper at Brick & Mortar with Wombo
About this event
About Deeper
'Auto-Pain' is the Sophomore album from Deeper, a record that finds the band embracing open space, using synths to create shadows where bricks of guitars once would've blocked out the sun. The group – singer and guitarist Nic Gohl, guitarist Drew McBride, drummer Shiraz Bhatti, and bassist Kevin Fairbairn – were all graduates of Chicago's rich DIY scene who came together around their love of Wire, Devo, Gang of Four, and Television.
While the new record is still within the Great Lakes post-punk tradition of their debut, the album isn't as insular as its predecessor; it's less interested in pile-driving and more willing to dwell in liminal spaces. Guitars enter the picture precisely, locked bass grooves propel things forward. Bhatti, who is half-Pakistani and half-Native American, embraced the drumming patterns he'd heard growing up at pow-wows, channeling the anxieties of his heritage into his playing and keeping the group grounded when they switch into all-out percussive attack. The result is an album both more nuanced and catchy.
'Auto-Pain' represents the constant wave of depression felt by many in everyday life. During the writing of the record, the band was forced to reckon with the loss of their former bandmate Mike Clawson. The album artwork features the now-demolished Prentice Women's Hospital, capturing the band's rounded-off brutalism, and the album title appears in Urdu, a nod to Bhatti's Pakistani heritage. The record was recorded and mixed by Chicago scene luminary Dave Vettraino (Makaya McCraven, Dehd) and mastered by Greg Obis (Ne-Hi, Melkbelly).
About Wombo
The weird world of Wombo is a kaleidoscopic journey of sharp turns and surprising visions, a melting pot of influences with a cheeky cheshire-cat grin that coalesce into a trippy but infinite universe, a portal into their unique vantage point without limitation. Already committed to living outside the traditionally-heralded country sound of the music scene in their hometown of Louisville Kentucky, Sydney Chadwick (vocals) and Cameron Lowe (guitar) had previously played in punk pop band the Debauchees, and with the addition of Joel Taylor (drums) in 2016 they found a winning combination of more straightforward indie rock combined with Chadwick's pitched up, oscillating vocals and unpredictable shifts in melody that see the band moving forward at an impressive pace. Their 2018 album Blossomlooksdownuponus is a snapshot of Wombo's wide-ranging aspirations that careen across avant pop, psych and wonky post punk interludes with a sky's-the-limit approach to translating the mundanity of regular life into their own high-frequency language.
In a generation where pop has come to be defined as anything but, Wombo have spearheaded their own definitive sound that avoids genre classification but is impossible not to tap your foot along to. "Usually if the babies like it, we like it", admits Chadwick, and it speaks to the band's bass-driven song structures that pivot through a whirlwind of instrumentation at rapid speeds that they are still able to land on a winning formula that strikes the sweet spot between effervescent overload and razor sharp intention. In 2019, the band toured with White Reaper, Dehd and The Nude Party, bands whose affinity and dedication to strange experimentation have won them fans across a wider audience, and Wombo are poised to follow suit. In a careful balance where no one instrument overwhelms, Chadwick's vocals are the cherry on top of a decadent dessert that explodes with personality and ingenuity.