About this Event
"DEEPER INTO INDIA: A Textile Journey from The Arabian Sea to the River Ganges "
February 7 - 23, 2020 includes international travel dates
https://sutraglobalimports.com/journeys
$3395 per person, based on twin share
$800 Single Supplement Fee (optional; a limited number are available)Small Group Size: 7 minimum, 12 maximum.A woman-only tour for 15 nights/14 days
India, with one of the world's most ancient civilizations, has celebrated art and spirituality since time immemorial; textiles are given a special place of honor. Join two women, one native Indian and one native USAer, both passionate about the craft and culture of India, on a most unforgettable small-group tour! Starting in Delhi, and traveling by train, flight, and private vehicle, you'll appreciate the intimate learning from a carefully curated team of workshop leaders, artisan families and local guides,
Highlights:
8 separate workshops in 5 cities: embroidery, block printing, silk weaving, fabric painting, dyeing, food and photography.
4 UNESCO World Heritage Sites
Select your own handloom saree (and learn to wear it!) and "digest" the secrets of an Indian kitchen!
Stay in a combination of boutique properties, beautiful hotels and community-driven homestays. All are 3- to 4-star properties hand-picked for their comfort, personal service, cultural relevance and beauty.
Contact: kim@sutraglobalimports.com for the tour highlights, inclusions + exclusions, level of difficulty and details on registration.. After reviewing these details, we will set up a phone conversation to ensure the tour is a good fit for you.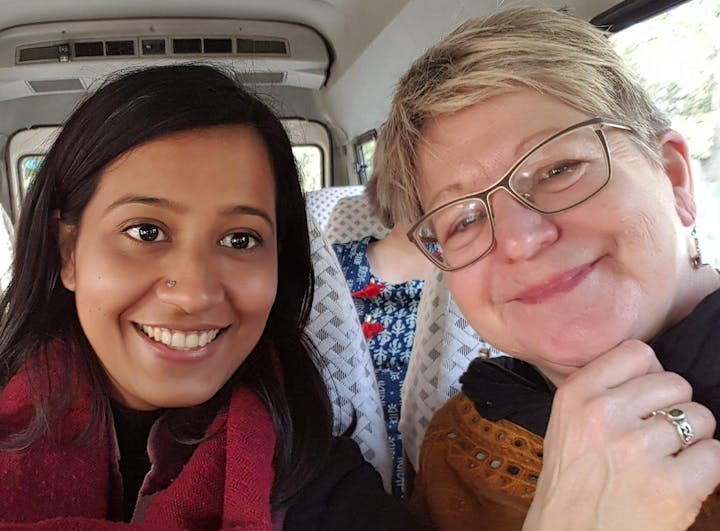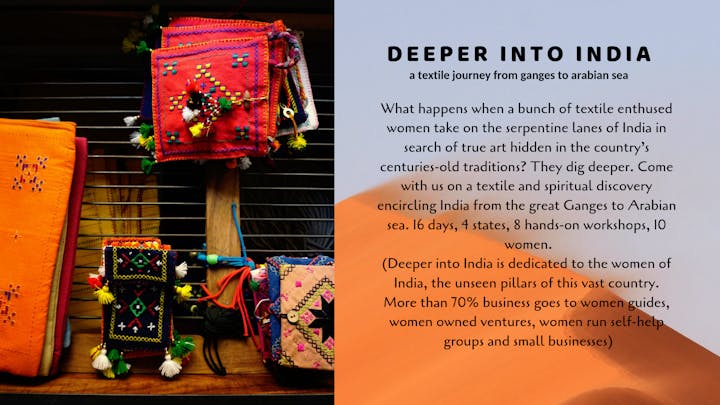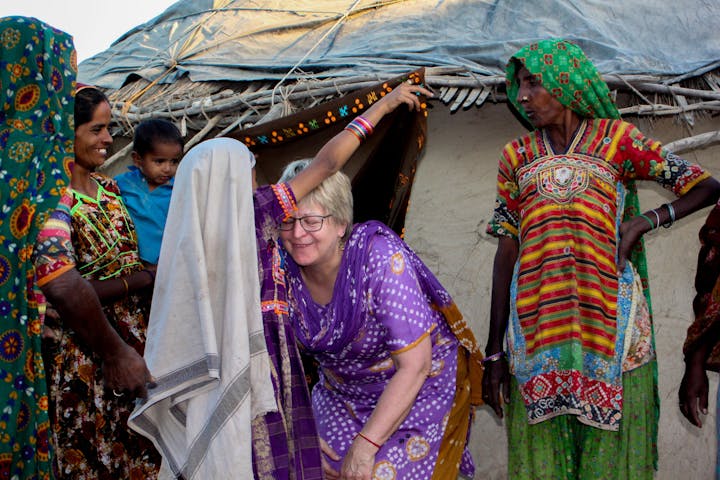 Kim Hammer of SUTRA global, has a lifelong love of travel and textiles, and pursued a degree in Textile Design. She has traveled to India annually for the past decade and considers it her "second home". She understands the unique needs of American women travelling in a country as extraordinary as India! Kim is excited to collaborate with Kriti Bisht of Miss Guide You to explore "hidden India", with (the rare) behind the scenes access to women artisans in their homes and studios. Kim and Kriti have been leading tours for more than 8 years; this is their first joint tour. Both will fully escort this tour.
Together they present "Deeper into India 2020", a mindfully-crafted social impact tour, which will conclude with a saree workshop and Celebration Dinner.