Please complete one registration per individual.
About this event
Please note: Registrations are processed on an individual basis. If you have a group to register, please complete one form for each individual.
REGISTRATION PROCESS:
Click Register:  Select "1" for quantity and click "Checkout."
Demographics Survey:  Complete the questions as listed.  All questions with an asterisk (*) are required.
Confirmation:  You will receive a registration confirmation via email.  (If you do not, then please contact Idaho Training Clearinghouse.) 
Cancellation:  If you need to cancel your registration, please contact Idaho Training Clearinghouse as soon as possible. 
EVENT ORGANIZER:
For more information, contact: Emily Sommer at 208-332-6912 or esommer@sde.idaho.gov.
SPECIAL NEEDS:
If you need special accommodations (e.g., wheelchair access, sign language interpreter), then please contact the event organizer listed above.
TARGET AUDIENCE:
All Levels
DESCRIPTION:
Presentation by Greg Abell, Principal and Founder of Sound Group Options, LLC, a Seattle-based company that helps educators, companies, and organizations successfully navigate through change and conflict. Lunch will be on your own.
CREDIT HOURS:
Clock Hours: No; University Credit: No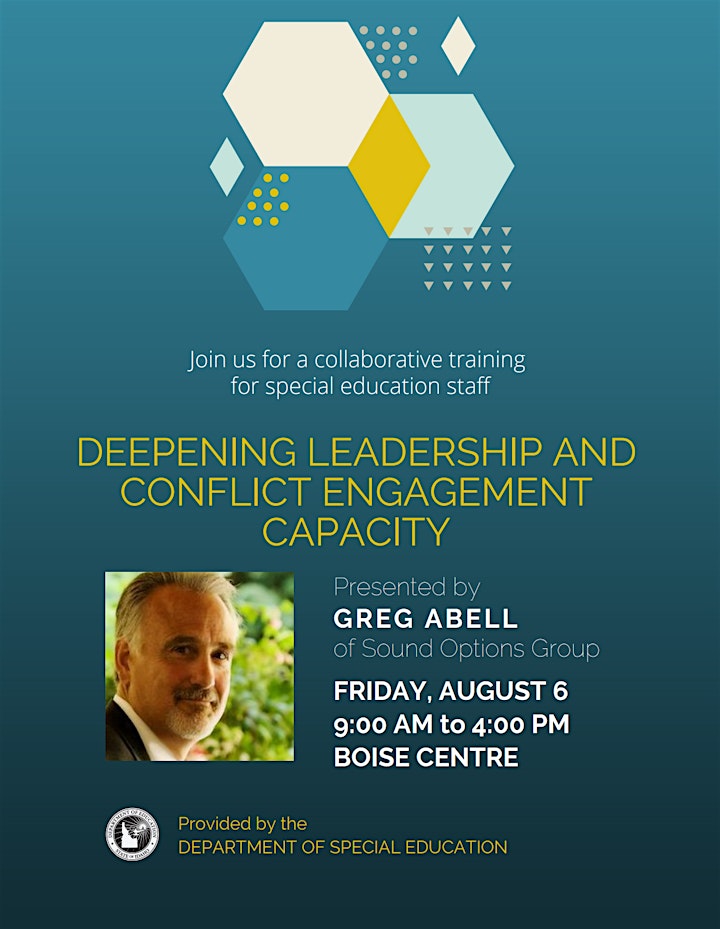 Organizer of Deepening Leadership and Conflict Engagement Capacity