| | |
| --- | --- |
| Deep Well Farm Mud Run - April 20, 2013 | |
Event Details
Missed out on the 2013 race? Register now for the 2014 Deep Well Farm Mud Run while the price is still dirt cheap! Get it? DIRT CHEAP!!!
www.habitatmudrun.eventbrite.com
---------------------------------------------------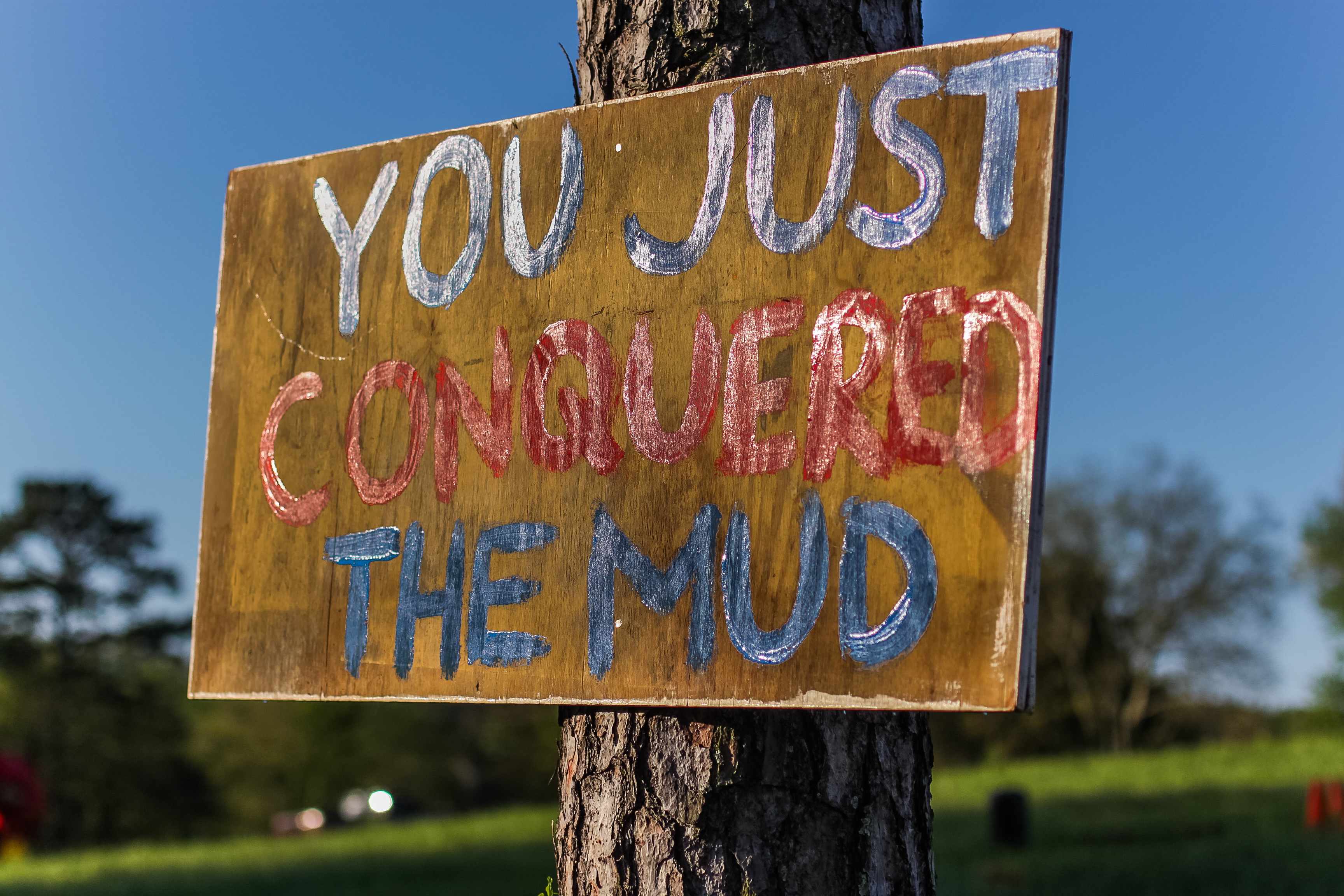 Results for the 2013 Competitive Race:

(the top three winners will be contacted about receiving their prize: a sledgehammer painted in the color of their name below!)
Super Stache Brothers (first!): 31:37
TF the B (second!): 33:01
The Dirty Dragons (third!): 33:23
The Club: 35:13
The Muddstaches: 35:16
Randall's Rampage:35:51
Mudweisers: 36:41
P3 (2): 37:39
Mud Turtles: 39:11

Mud Slingers: 40:27
Laubdoggs: 41:56
Bubba Mudda: 41:03
Mud Sliders: 41:26
Two Scoops: 41:40
Another Bad Idea: 42:30
P3 (1): 42:54
Boom Boom:42:58
Platinum Women: 43:37
Mud Guppies: 46:13
Got Da Runs: 47:43
F3: 48:51
A Girl, a guy, & MS Mamas: 49:20
Killler B's: 49:30
Hodgepodge: 49:37
Team Brown: 51:01
Team Awesome: 52:51
Mud Brazilians: 54:39
Muddy Ladies: 55:38
Dirty Kitty Kats: 57:55
The Unfits: 58:05
The Filthy Five: 1:01:51
TVRA Mud Monkeys: 1:02:34
Mean Muggin' Mudders: 1:07:03
---------------------------------------------------
3.1 grueling miles of mud, obstacles, and more mud.
Think you can handle it?


--------------------------------------------------------------------


About the Deep Well Farm Mud Run

The Deep Well Farm Mud Run is a yearly fundraising race to benefit Habitat for Humanity. It is an adventurous, muddy obstacle course for any man or woman who feels called to the challenge, wants to get outside, spend time with friends, have fun and know that they are supporting Habitat for Humanity while doing it. And for those who mudded with us last year, 2013 is going to be bigger, badder, and muddier. Way muddier.

Our goal is to raise money for the University of Tennessee, Knoxville Habitat for Humanity Campus Chapter, an affiliate of Knoxville Habitat for Humanity. The goal for the money raised is to help the Campus Chapter become a Covenant Partner with Knoxville Habitat for Humanity in sponsoring a home. See our organizer profile to learn more about Habitat, where your money is going, or how to get involved. We are passionate about the work Habitat does and this race is really important for that!
One of the best parts about our mud run is that you don't have to be insanely in shape to participate! Our race is an awesome obstacle course that allows you to build friendships, challenge yourself physically, get muddy while doing it, and support a great cause! You do not have to be in tip-top shape to run!

THE MUDDY DETAILS:
5k Course (3.1 miles, run, walk, jump, or crawl)
Mud
More mud
Even more mud (yea we're one of the muddiest around)
Challenging, themed obstacles (course map to be posted in the spring)
Music to pump you up throughout the race
Still more mud
Food and drink afterwards
Here is an idea of what to expect on our course this year, get excited!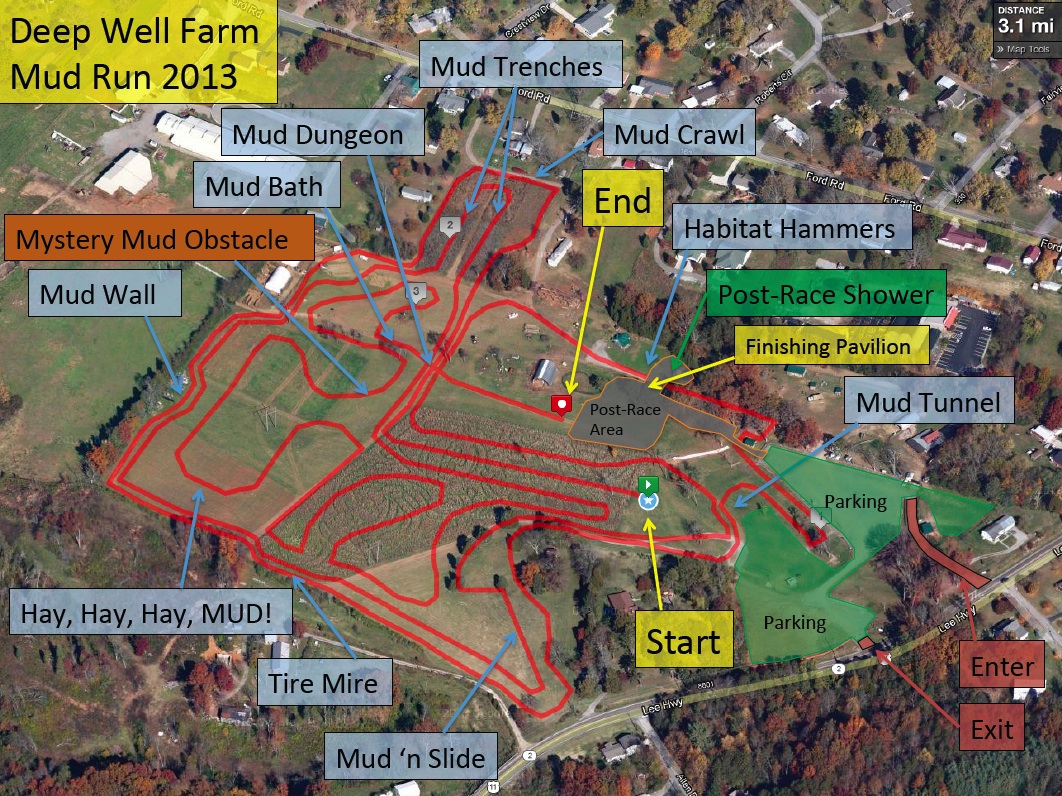 Registration/Sign Up Information:

Racers will compete in teams of five, just like last year. The first team member to buy a ticket will create the team name, be creative with these! Additional team members will select their team from the list. Your ticket will be emailed to you after registration, and packet pickup will be organized at a later date. You will also receive your parking pass and T-shirts with your packet.
WHAT TO WEAR

Wear whatever you feel comfortable exercising in, as long as you don't mind it getting dirty. Wacky costumes have been known to be used in previous years and those are certainly welcome. We are here to build comaraderie and community.

WHAT TO BRING

A valid ID and your ticket are required for check-in at the race.
Change of clothes. Bring a fresh set of comfortable clothes (including shoes) to change into after your race. Don't forget to include a plastic bag (to stash your muddy gear), and a towel to dry off with. There will be plenty of bathrooms on site, showers to rinse off (don't worry we're improving this from last year, we listened to those of you who took our survey!!!) and private changing areas so you can get clean and enjoy the day. Please apply sunscreen before racing if you are worried about getting sunburned!

Friends and family! We'll have lots of places for them to cheer you on, take photos and add to the day's excitement. They will need to pay for their parking, $10 per car. (we are tight on parking so we really need the carpooling efforts of everyone.)
WHAT TO LEAVE AT HOME

Jewelry. We'd hate for your priceless family diamond earrings or grandad's rolex to get ruined or lost in the mud!
Pets. Really, who wants to drive home with a wet, muddy dog, cat, or iguana? Leave them at the house please!
Alcohol. This is a family oriented race. If you bring alcohol, you will be asked to leave. No questions.

About Deep Well Farm
Our family has been farming for nearly 50 years. We own a family business, Linginfelter Landscaping Inc., which consist of mostly interstate highway projects: hydro-seeding, sodding, greenscaping, planting and erosion control. In the past, we have grown sod, tobacco, corn and hay; but now it is mostly hay, which is used in our landscaping business.
As a family, we have recently decided to get back to our farming roots. We have been joined by our two sons, our daughter-in-laws and our grandchildren.
We are excited for our grandchildren and the public to be exposed to an older way of life. Our entire family has enjoyed being a part of what we have already accomplished and we look forward to expanding our farm.
We hope that you enjoy your visit to Deep Well Farm.
V.W. and Ann Linginfelter

-

-

---------------------

---------------------------------------------
Visit our Facebook Page to stay connected to updates about the Deep Well Farm 2013 Mud-Run!!!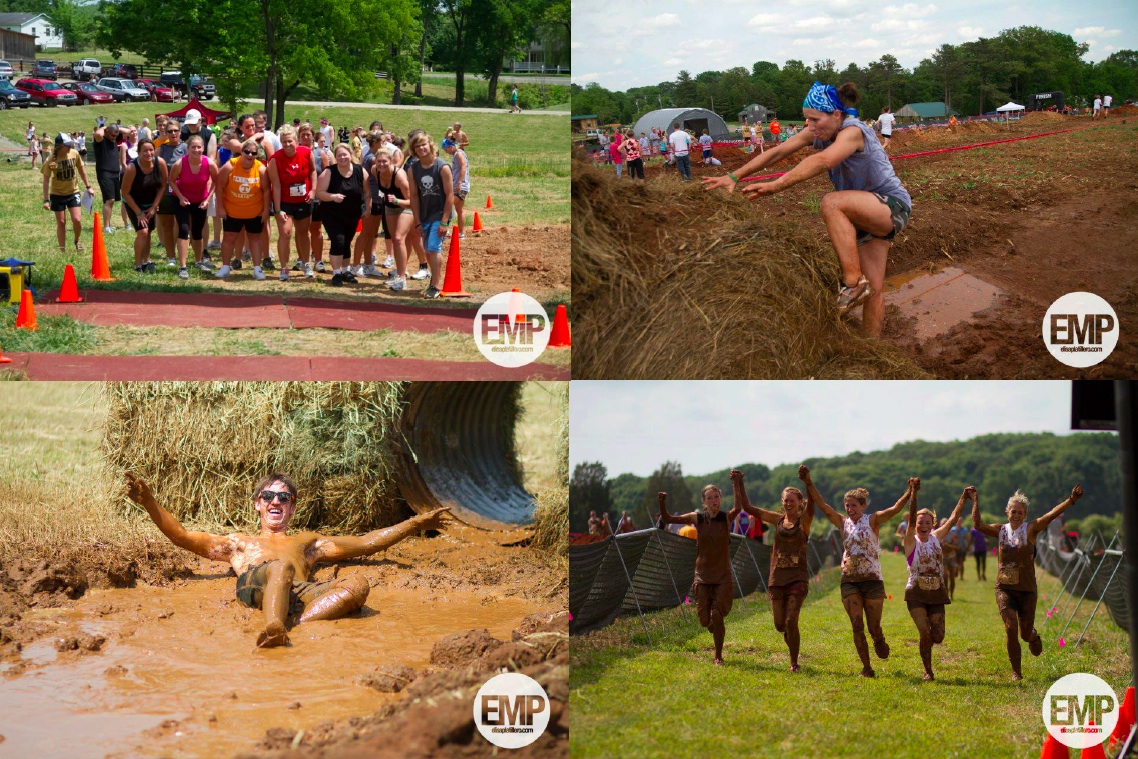 FAQs
What is the difference between competitive and non-competitive team sign ups?
If you are a competitive runner, find four friends and make to make a team of five. Sign up under competitive option above. This means you will be given timing chips and prizes will be distributed based on the fastest team time. For those who just want to have fun in the mud, non-competitive sign up is the way to go. The competitive race will begin in the morning, and the non-competitive race in the late afternoon. Details on race timing will be distributed at a later date.

Are the tickets for an individual or team?
The tickets listed above are for an individual. Thus, the $45 price will be paid by one person, and a team of 5 will pay a total of $225. Each teammate can register separately, or a single teammate can purchase all of the tickets for the entire team at once.

Why do I have to be on a team?
Our Mud-Run is a team based race because 1) some of the obstacle will require teamwork to get passed, and 2) running the race in a team is supportive of the type of community and camaraderie that is important to the mission of Habitat for Humanity.

What obstacles will be on the race course?

A course map complete with obstacle locations and names will be published closer to the race date. Suffice it to say that you will face epic challenges on this 3.1 mile journey.

How physically challenging is the race?
This is a 5K, but do not be dissuaded if you are not a runner. You may go through the course at your own pace. This is meant to be a fun, team and community building race. Yes, you will be challenged, but you'll have four friends there to help you!


Is there an age limit to enter the event?
Yes, you need to be at least 12 by the date of the race to run. 
 
What are my transport/parking options getting to the event?
We really need your help on this one. Please carpool! There will be 1 parking pass for each team. If you need more parking passes than that you will need to purchase one for $10.
Where does my money go?
The money made by this race will be used first to pay for the race and second as a donation to the Knoxville Habitat for Humanity Affiliate toward the construction of a new home. Click here to learn more about Knoxville Habitat, this is what some of their awesome work looks like: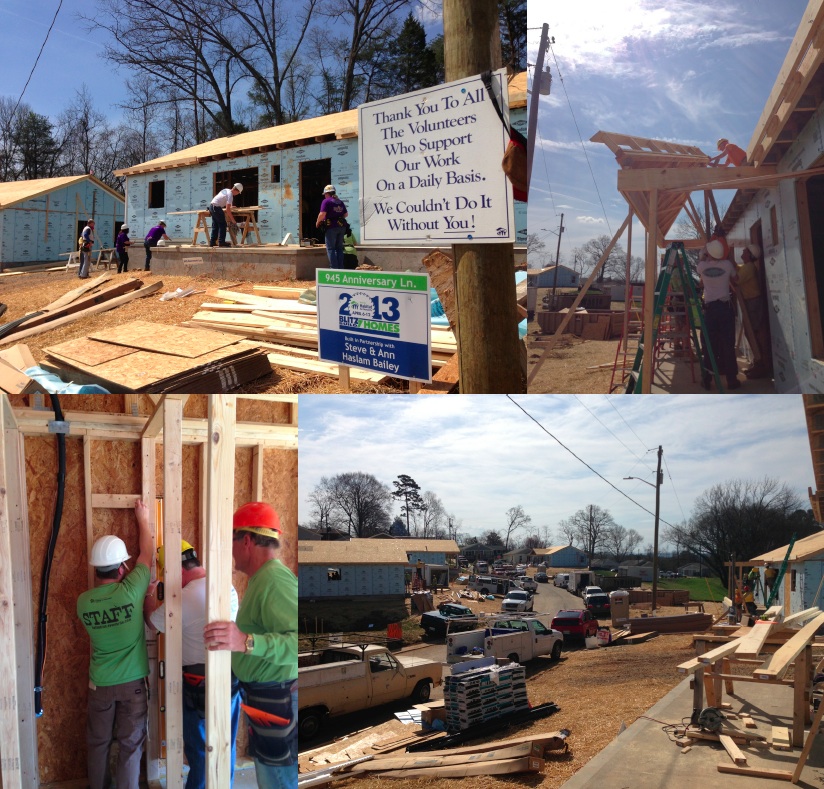 Where can I contact the organizer with any questions?
You can contact the organizer:
Sean Smith (615)-948-2710
David Grueser (731)-445-5174
habitat@utk.edu
 
Is my registration/ticket transferrable?
Yes, each team sign up will be given five tickets, which may be used by whomever brings it on race day with a signed waiver. Everyone who competes will need to have signed the waiver.
 
Do I have to bring my printed ticket to the event?
Yes, along with a valid ID. Everyone must also accept the terms of the liability waiver.
 
What is the refund policy?
There are no refunds.
 
What's up with the fee next to the ticket price?
The fee goes to the website service, Eventbrite, for the services of webhosting, online registration, and payment.
 
What is the cancellation policy for the race?
Only the most inclement of weather will cancel the event. The race will be delayed for 1 hr before cancellation.

GET READY MUD LOVERS!
WE'LL SEE YOU AT THE RACE!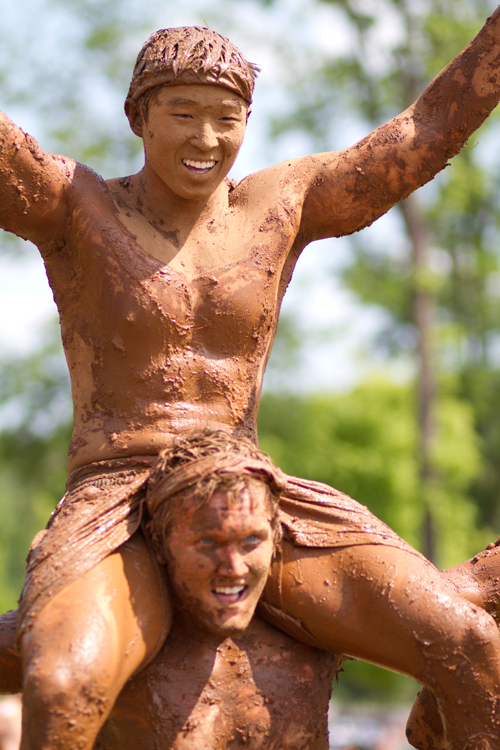 Please contact us with any questions!!!
All photos by Elisa Platillero
-

-

---------------------

---------------------------------------------
Many Thanks to Our Sponsors!!!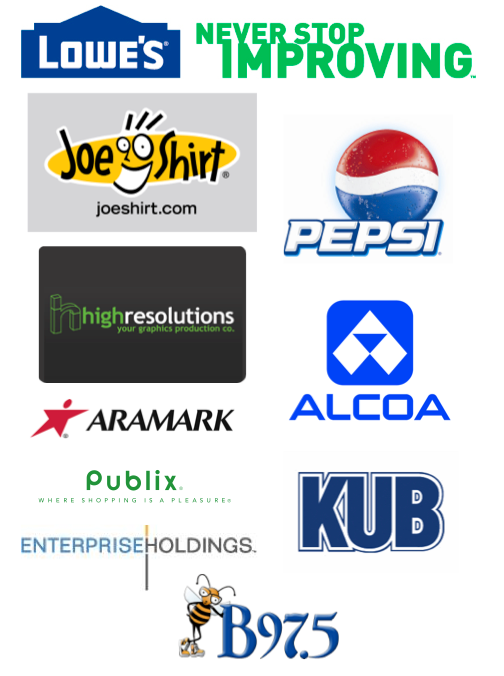 Where

Deep Well Farm
9567 U.S. 11
Lenoir City, TN 37772


Organizer
Race Director: Sean Smith
Phone: (615) 948-2710
Race Coordinators:
Adam Harris and Daniel Garza
Email: habitat@utk.edu