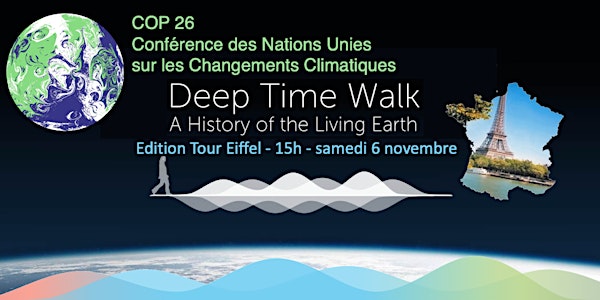 Deep Time Walk avec la COP26 (Marche du Temps Profond) - Tour Eiffel 15h
Vivez l'expérience d'une marche guidée, sur 4,6 Milliards d'année, de la création de la Terre à nos jours. En résonance avec la COP26.
By Olivier & les Amis de l'Ecologie Profonde
When and where
Date and time
Sat, 6 Nov 2021 15:00 - 19:00 CET
Location
Tour Eiffel RDV à l'entrée du Pont d'Iéna... à côté de la cabane "Aux Délices du Pont d'Iéna" 75007 Paris France
About this event
LE POURQUOI
Notre époque contient son lot d'imprévus, d'agitations et de tensions. Assurément, quand nous regardons autour de nous, sur de (trop) nombreux sujets : il y a urgence ! "Comment faire face au triste état de notre monde sans devenir fous ?", titre l'activiste Joanna Macy, dans son livre l'Espérance en Mouvement.
Et si, tout n'allait pas se résoudre avec un chronomètre ?! Prendre "son temps", c'est aussi prendre du recul, gagner en discernement, énergiser l'action juste. Pour agir vite, la précipitation n'est pas la seule voie d'action possible. Pour sortir du cadre et éviter le pied du mur, nous devrons sans-doute aussi sortir de l'horloge et apprivoiser son aiguille. Alors que tout semble s'accélérer, faire du temps un ami est une formidable aventure pour répondre aux enjeux de notre époque.
Des mouvements d'écologie profonde à la physique quantique, en passant par la slow culture, de nouvelles alliances se dessinent, au présent, avec les sagesses du passé et les désirs pour l'avenir. C'est dans cette veine que nous avons construit le programme en ligne (et dans des éco-lieux amis) "Alliance avec la Nature : nos Rêves au Coeur de la Nuit" (du 3 au 13 novembre). Nous sommes heureux de relier ces rencontres avec la communauté internationale Deep Time Walk. Depuis une dizaine d'années, cette approche ouvre de merveilleux espaces-temps en relation à la Grande Histoire du Vivant & aux enjeux cruciaux actuels. La démarche est simple : à travers une promenade guidée de 4,5km, nous traversons les grandes étapes des 4,5 milliards d'années où la biosphère a su se déployer, en traversant naturellement d'intenses rebondissements. Cette expérience tête-coeur-corps réveille nos esprits & soutient les mises en action.
LE OU & LE QUAND
Le 6 novembre 2021, dans de nombreux endroits à travers le monde, des Marches du Temps Profond sont organisées par des communautés locales. Au cours de cette journée de mobilisation citoyenne*, au milieu des négociations de la COP26 à Glasgow, nous sommes heureux de proposer une perspective radicale & créative sur les enjeux du présent. Les Deep Time Walks visent à encourager l'action positive et les dynamiques collectives face à l'urgence climatique et écologique.
Ainsi, les amis d'Alliance avec la Nature sont heureux de vous proposer une marche de 15h à 19h à Paris :
RDV à 15h, devant la Tour Eiffel... à l'entrée du Pont d'Iéna... à côté de la cabane "Aux Délices du Pont d'Iéna".
Nous partirons pour 4h de marche en direction des Tuileries, en expérimentant "Grandeur Nature" une Deep Time Walk ensemble.
Merci d'arriver à l'heure pour les inscrits. Nous nous mettrons en marche à 15h15 après une introduction qui nous fera rejoindre "l'époque de création du système solaire"
Venez bien couvert pour une rando de quelques heures. Super de prendre une gourde aussi :).
Cette rencontre est amicale. Sentez-vous les bienvenus, seul et accompagnés, si cette proposition vous parle. Vous pouvez contribuer à la Deep Time Walk grâce à l'association internationale : https://www.deeptimewalk.org/donate/
* Cette journée de découverte, de partage et de solidarité rentre également dans le cadre de la Coalition COP 26 qui demande notamment :
S'engager pour maintenir le réchauffement climatique en dessous de 1,5°
Pas de nouveaux investissements ni de nouvelles infrastructures dans les énergies fossiles
Non aux marchés du carbone ni aux technologies risquées et non éprouvées.
Reconnecter le système, en reconnaissant que justice climatique et justice sociale doivent avancer de paire
Pour un justice climatique mondiale : réparations et redistribution aux communautés indigènes et au Sud (réparations pour les pertes et dommages déjà subis, annulation des dettes du Sud par tous les créanciers)
...